Back to Blog
Finding Happiness and Salon Success: Salon Posta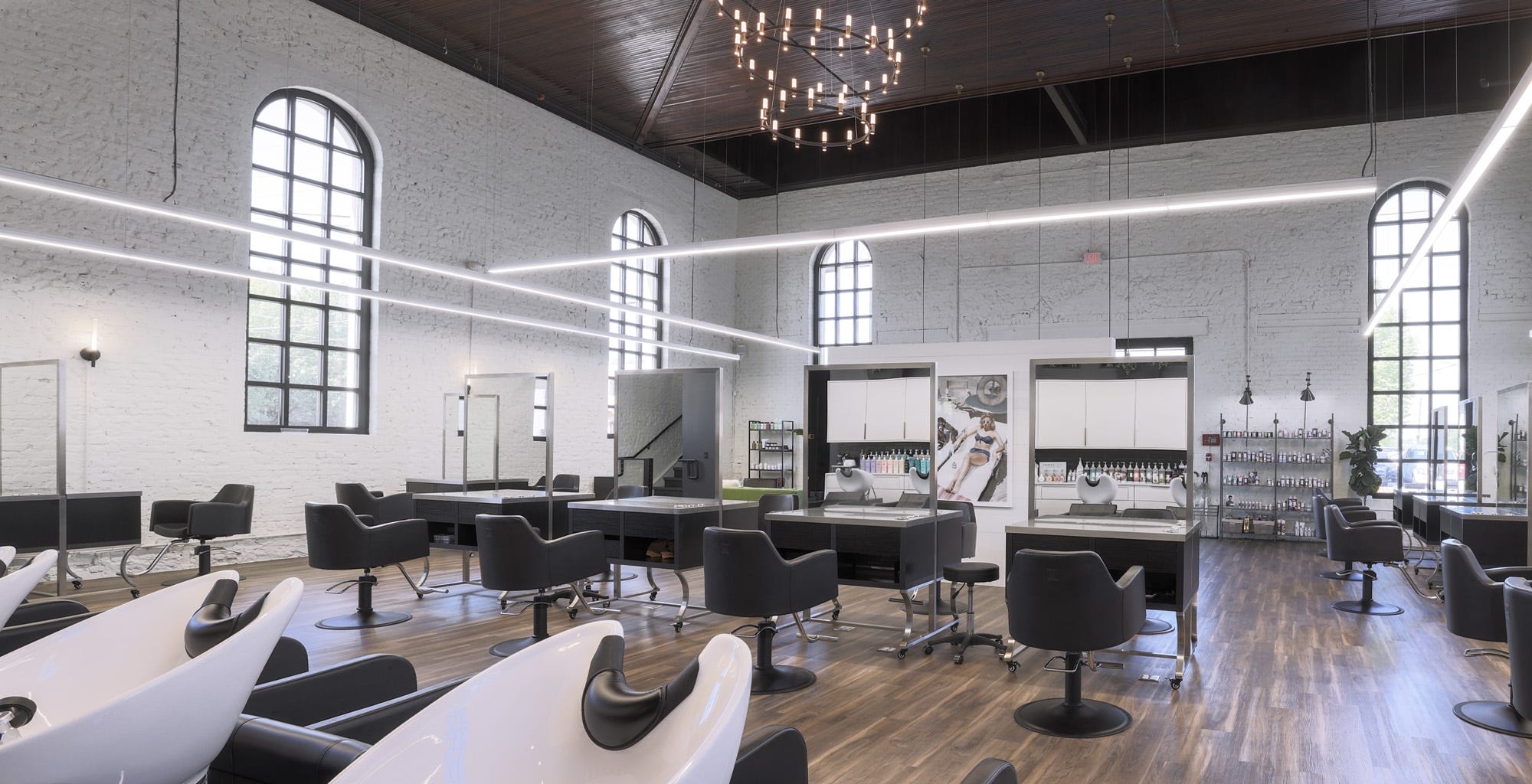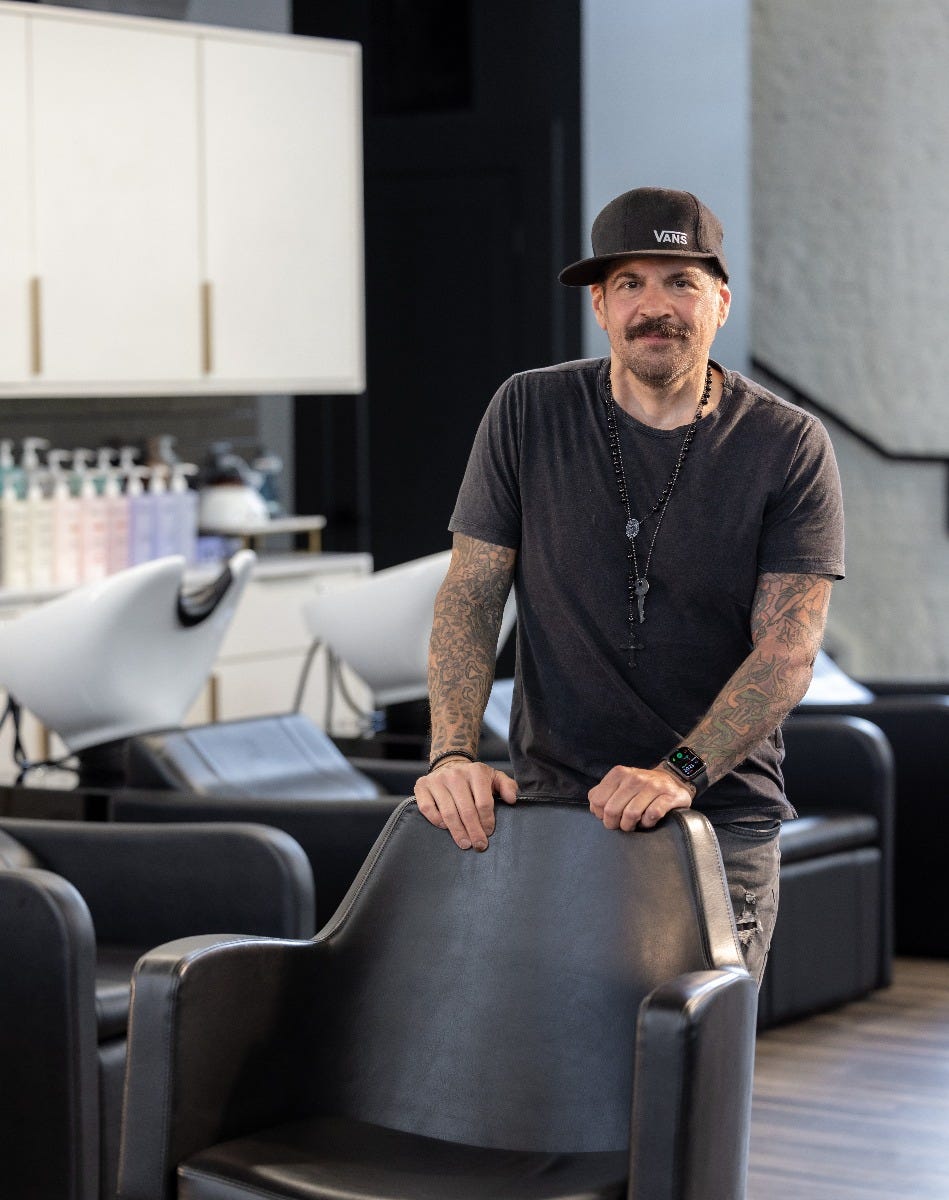 Stephen Posta | Salon Posta
There is a lot of fear associated with the concept of starting over, but for Stephen Posta, closing chapters of life that no longer suited him led to new beginnings and opportunities that paved the way to the success and happiness he's found today. Prior to his hairdressing career, Stephen felt he was at a crossroads in his life. After graduating high school, he started working in construction but found himself feeling uncertain and questioning whether or not this was the career path for him.
"Honestly I was at a midpoint in my life and didn't know if I should go back to school or continue my job in construction or try something new," explained Stephen. "I had a bunch of friends who were hairdressers and thought they had a cool lifestyle, so I said screw it! I'm going to do hair, and a month later I started beauty school."
Closing the construction chapter of his life and venturing into the world of hair opened so many doors of opportunity for Stephen. Throughout beauty school, he developed his artistry skills and found a true passion for doing hair. During this time he not only found a career he enjoyed, but also discovered the importance of working in an environment that complements and aligns with who you are as a person.
"I realized I could never be someone who is stuck working in a cubicle," expressed Stephen. "I'm a people person and could talk all day long, so discovering I could make a good living doing hair while also enjoying the everyday social salon environment felt like a win/win."
After beauty school, Stephen immediately got a job as an apprentice at Sassoon. Following that, he worked at a couple of salons in New York with friends who were Sassoon trained, bounced around to a few Sassoon schools for a couple of years, then moved down to Atlanta where he worked at some of the bigger, high-end salons. With Stephen's talent, finding work was never difficult, but he found himself back at one of life's crossroads feeling uncertain about what the next step should be in his career.
"At the time, I had a lot of personal things going on in my life outside of my career," said Stephen. "I always wanted to open my own salon, but I just wasn't where I needed to be mentally."
To clear his head in order to focus on his next step, Stephen took a brief sabbatical from the everyday salon working environment. He hung out in LA for a while and cut hair out of his apartment, then decided to move back to Atlanta where he worked in a friend's salon for a few years. During this time he crossed paths with another friend, and they decided to open a salon together in Kennesaw, Georgia called Dyer & Posta. Dyer & Posta has been a huge success since its start in 2008, but after 12 years of co-owning a salon, Stephen decided he wanted to branch out on his own.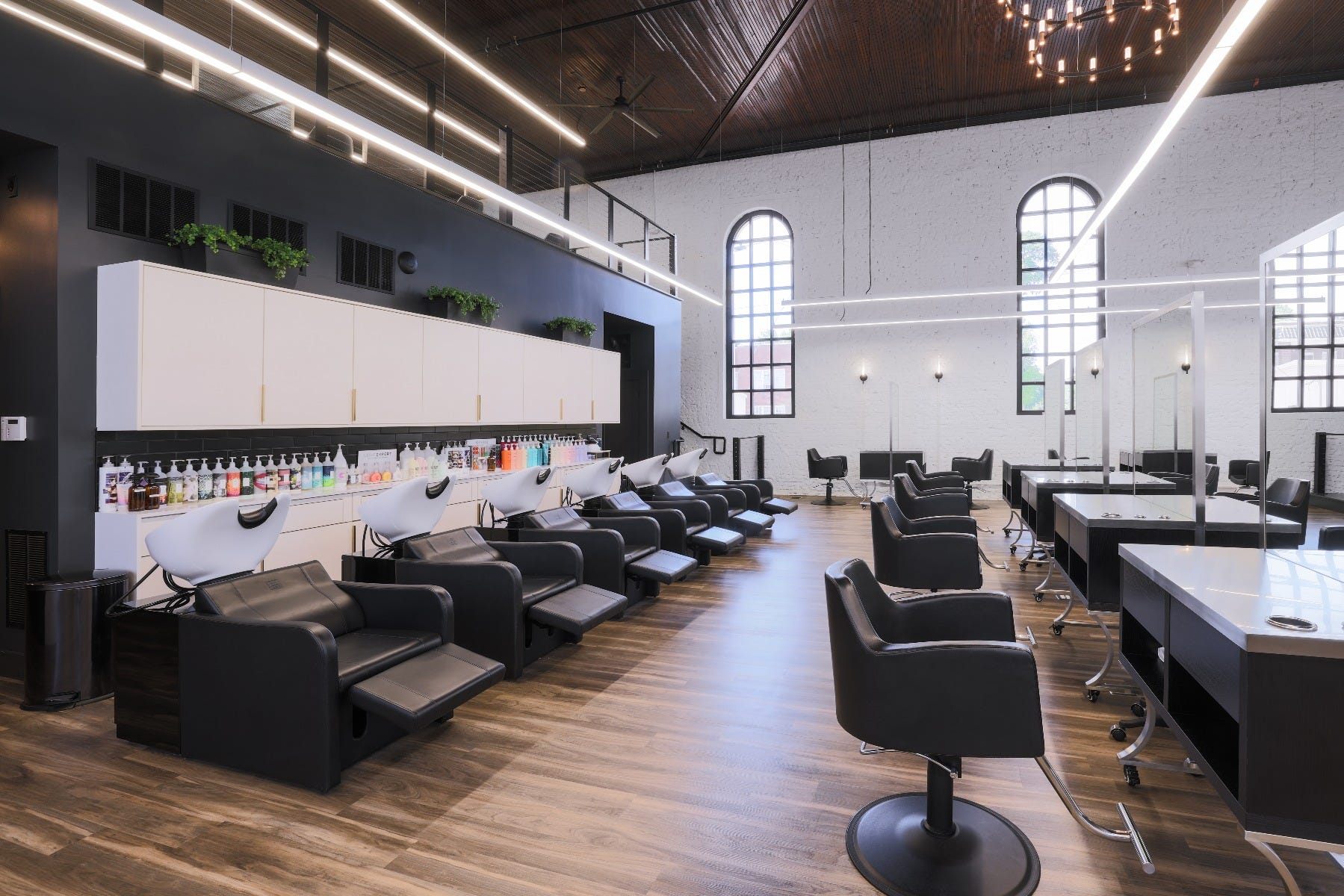 Venturi Styling Chairs, Hashima Shampoo Systems, & Aurora Stations
"After 12 years in business, my partner and I just grew apart and wanted different things," explained Stephen. "I realized, like I have many other times throughout my life, it was time to close that chapter in order to move forward and be happy. Opening my own salon was always a goal of mine, so when I started that process, everything began to brighten up."
With years of salon working experience and industry knowledge, Stephen knew exactly what he wanted his space to be and set out to find a free-standing building with its own parking lot. During his search for the perfect location, a friend of Stephen's reached out about an old, abandoned building he found with a lot of historical background. Since its construction in 1848, the building served as an opera house, three different churches, a car dealership, and a triage center during the Civil War. Stephen decided to visit the building, and although it would need some major renovations, he knew instantly this was the future location of Salon Posta.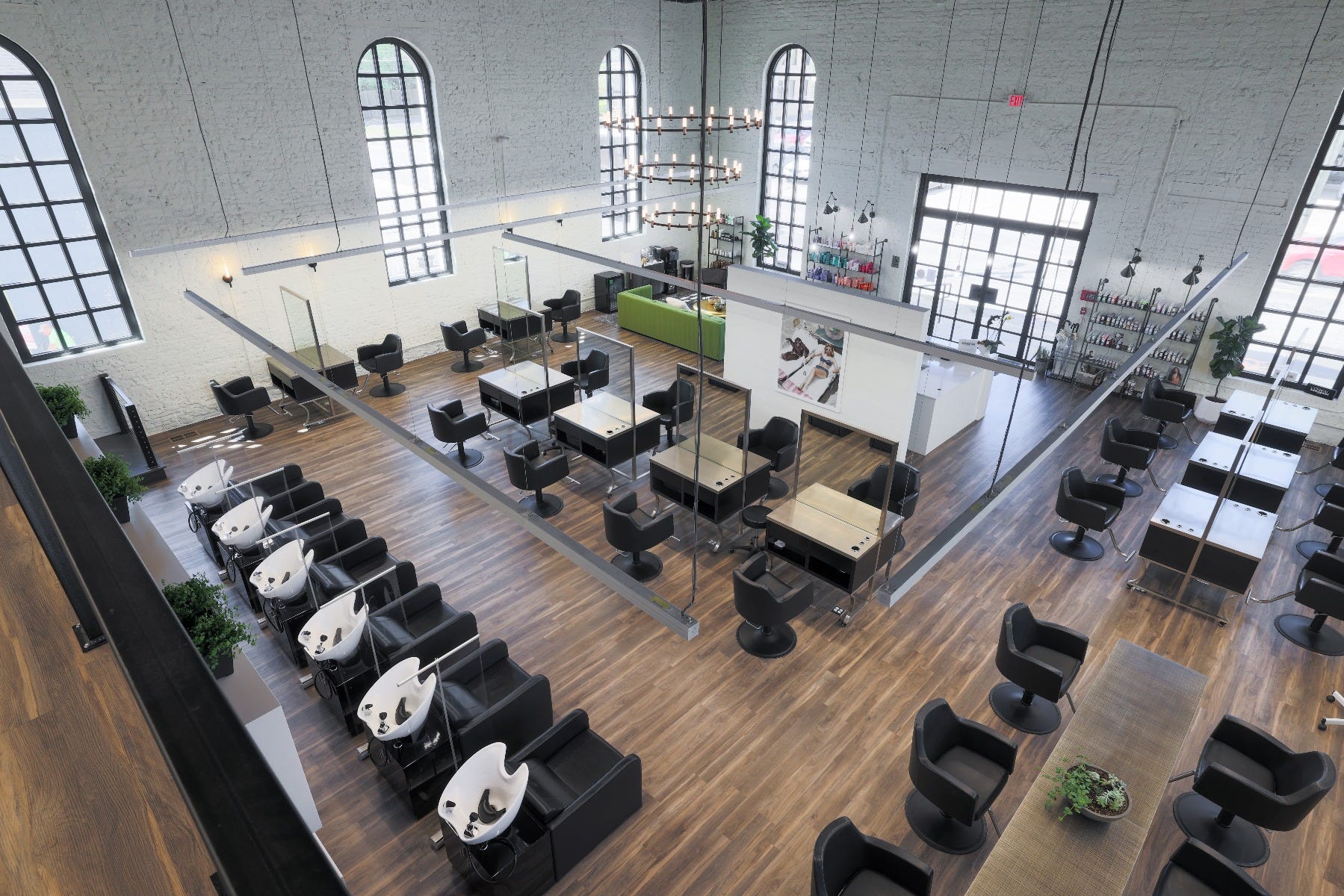 Venturi Styling Chairs, Hashima Shampoo Systems, & Aurora Stations
"The place was a dump and needed a lot of work," expressed Stephen. "But the moment I walked in, this peaceful feeling overtook my body, and I just knew I had found my salon."
After closing on the building December 7th, 2019, Stephen and an interior designer decided to pick out the salon equipment before anything else and design his space around it. Having worked in many different salons throughout his career, Stephen experienced equipment from a variety of companies and knew what brand he trusted.
"Without a doubt, I knew I wanted equipment from Minerva Beauty," said Stephen. "The price is right, the quality of the product is great, and whether your style is modern or streamline or whatever, Minerva has something for everybody."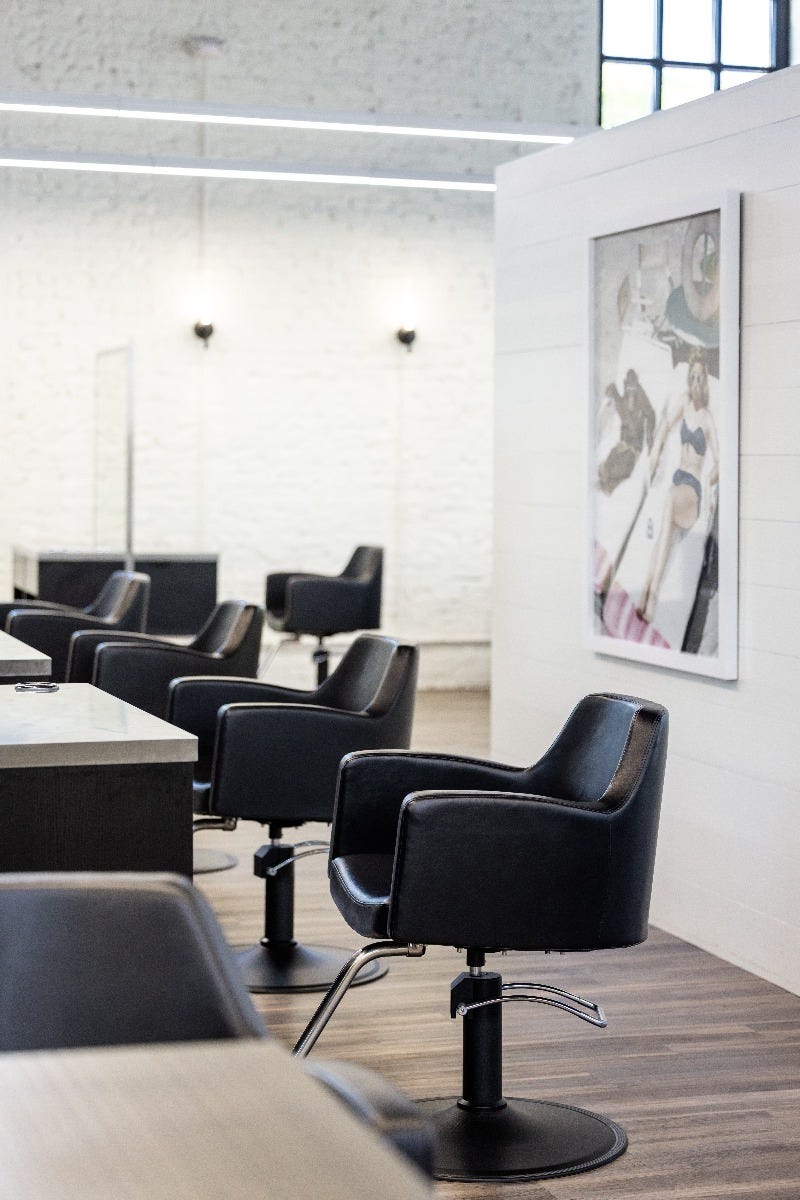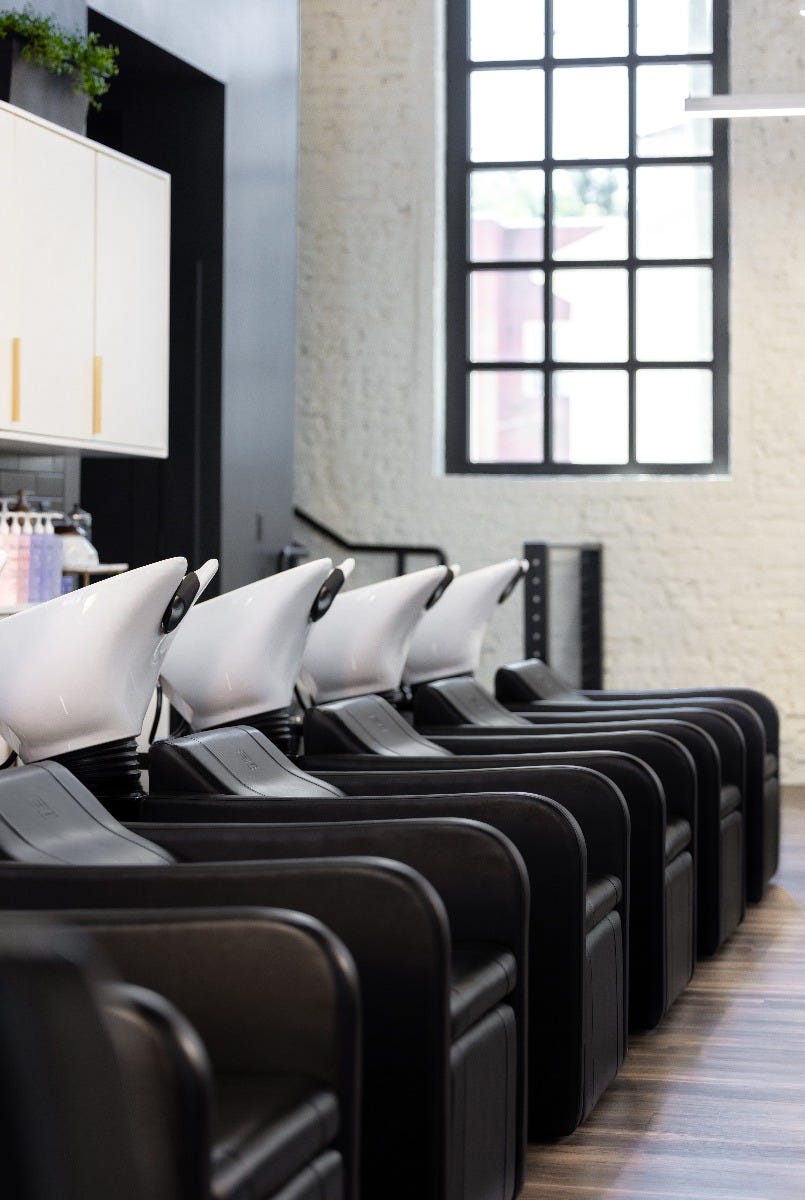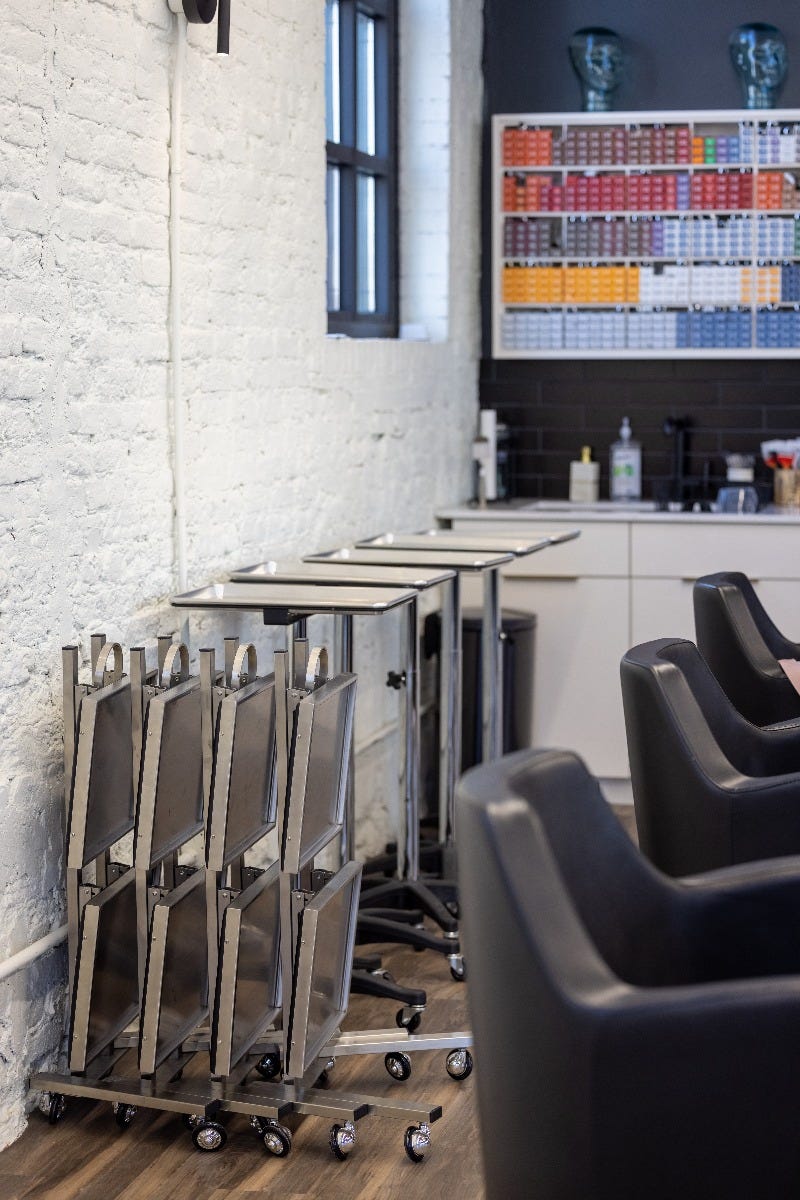 After shopping online and visiting Minerva's showroom a few times, Stephen chose Aurora Double Sided Stations, Kato Mobile Service Trays, black Venturi Styling Chairs with round black powder coated bases, Hashima Shampoo Systems in black with white bowls, Medusa Infrared Hair Color Processors in white, and Aluminum Mobile Service Trays.
"From shopping to placing an order, Minerva makes everything easy," explained Stephen. "The detail and texture of the black matte chair bases are the nicest I've ever seen. People compliment the equipment all the time, and I just tell them go to Minerva."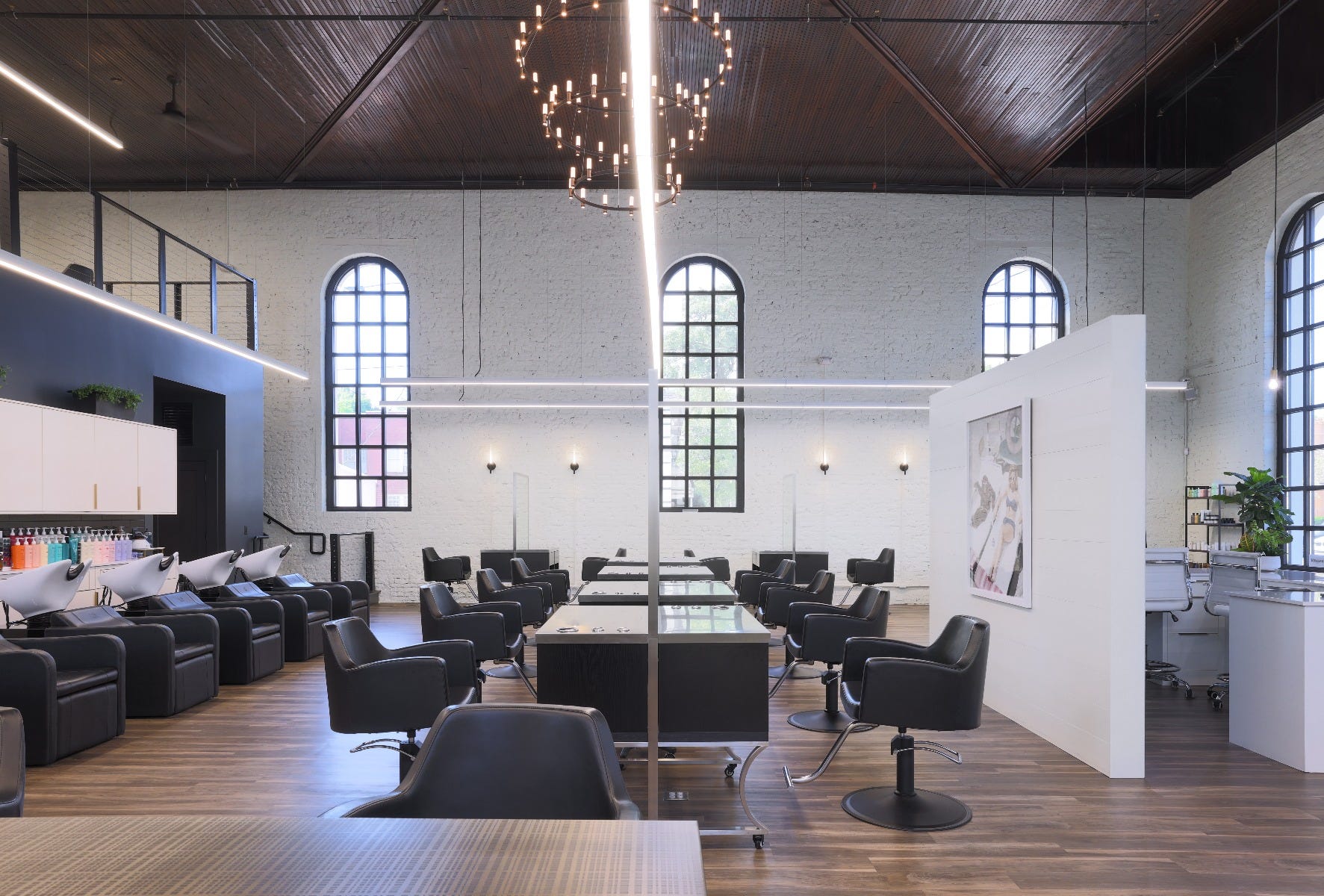 Venturi Styling Chairs, Hashima Shampoo Systems, & Aurora Stations
With the equipment selected and a year's worth of renovations later, Stephen opened the doors of Salon Posta on December 8th, 2020 and success flooded in. From the white brick walls, large windows, and lofty ceilings to the sleek and industrial salon equipment, Stephen stayed true to the building's former church roots but with an added modern twist. The atmosphere is relaxed and peaceful, and the energy of the space and staff is positive and inviting. Stephen is proud of every hard decision he's had to make, every chapter he's had to close, and every struggle he's had to face, because it has led him to the success and happiness he's found today.
"I'm the happiest I've ever been in my entire life," says Stephen. "And my advice to anyone on a similar path of wanting to open a salon is start small, stay humble, and trust the process."