Back to Blog
From Librarian to Salon Owner, She's Got It All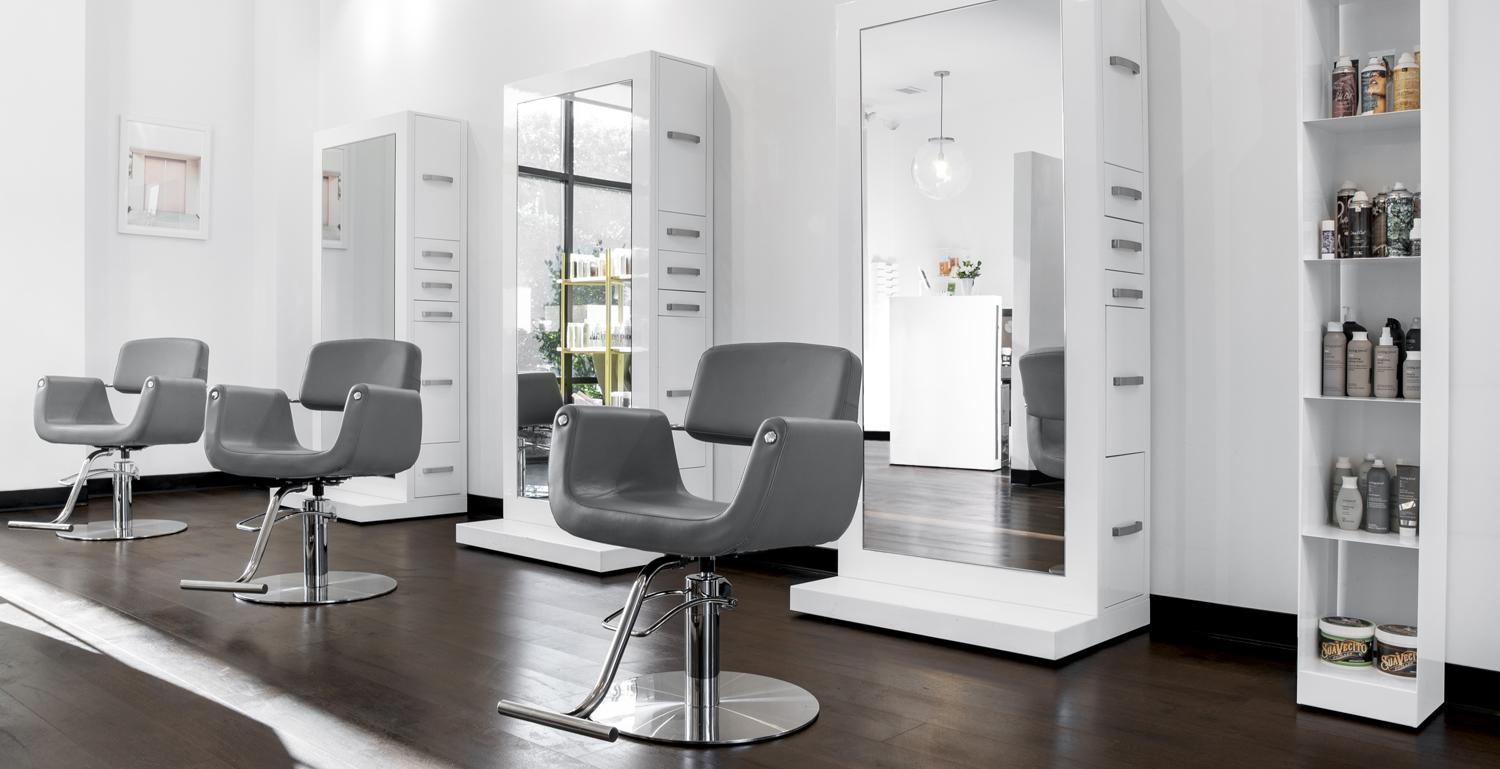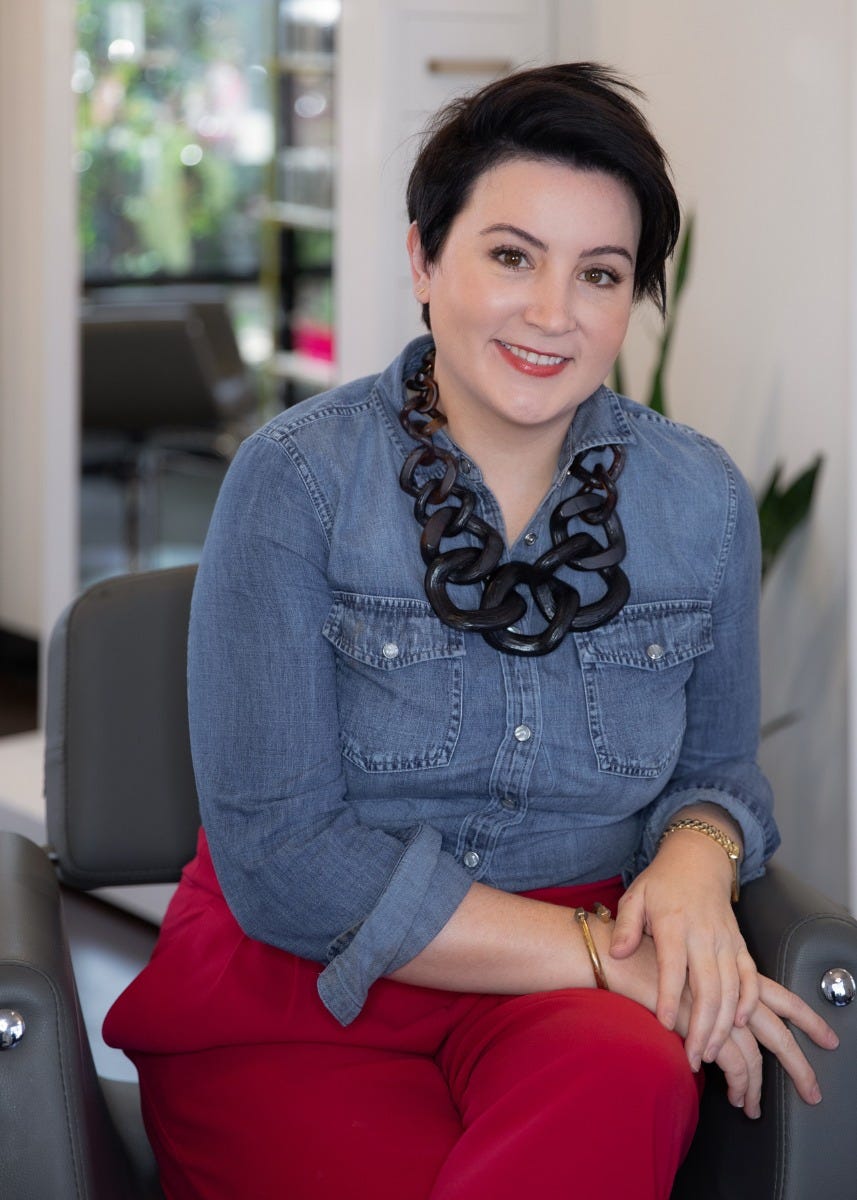 Melanie Baringer | Hologram Salon
From UGA grad to librarian to full-time hairstylist, Melanie Baringer has worked in a variety of environments. After working in multiple salons, Melanie decided she was ready to create her own and thus, opened Hologram Salon in Athens, Georgia. She designed an environment and space she and her amazing staff are proud to work in.
"I wanted my salon to be a positive and collaborative environment where everyone supports each other's vision of their career. I definitely think Hologram portrays that."
Modeled after her own personal style, Melanie wanted Hologram Salon to be a bright and clean space where clients feel all possibilities are open. With floor to ceiling windows that pour in natural light and white walls that are repainted once a month, Hologram Salon exudes simple luxury.
"I wanted Hologram to have the look and feel of a really swank hotel or spa. I like the Viceroy and Ace Hotel, because they're really clean and luxurious places. That to me is what the modern design provides," Melanie says.
When you're taking your first dive into entrepreneurship and looking to design a salon with a high-end feel, learning how to create luxury on a budget is key. After researching several salon equipment companies and finding them extremely overpriced, Melanie discovered Minerva Beauty. Minerva Beauty strives to provide quality equipment at an affordable price.
"In our industry things are either super, super expensive or really low-end. There's not a great middle ground. Minerva has a selection of really high-end furniture, but it's affordable which is great for a first-time business owner."
Purchasing equipment for a salon is a big decision, because it's a salon owner's investment towards their future. Affordability is important, but the furniture must be quality as well and sometimes that's hard to decipher from an online picture.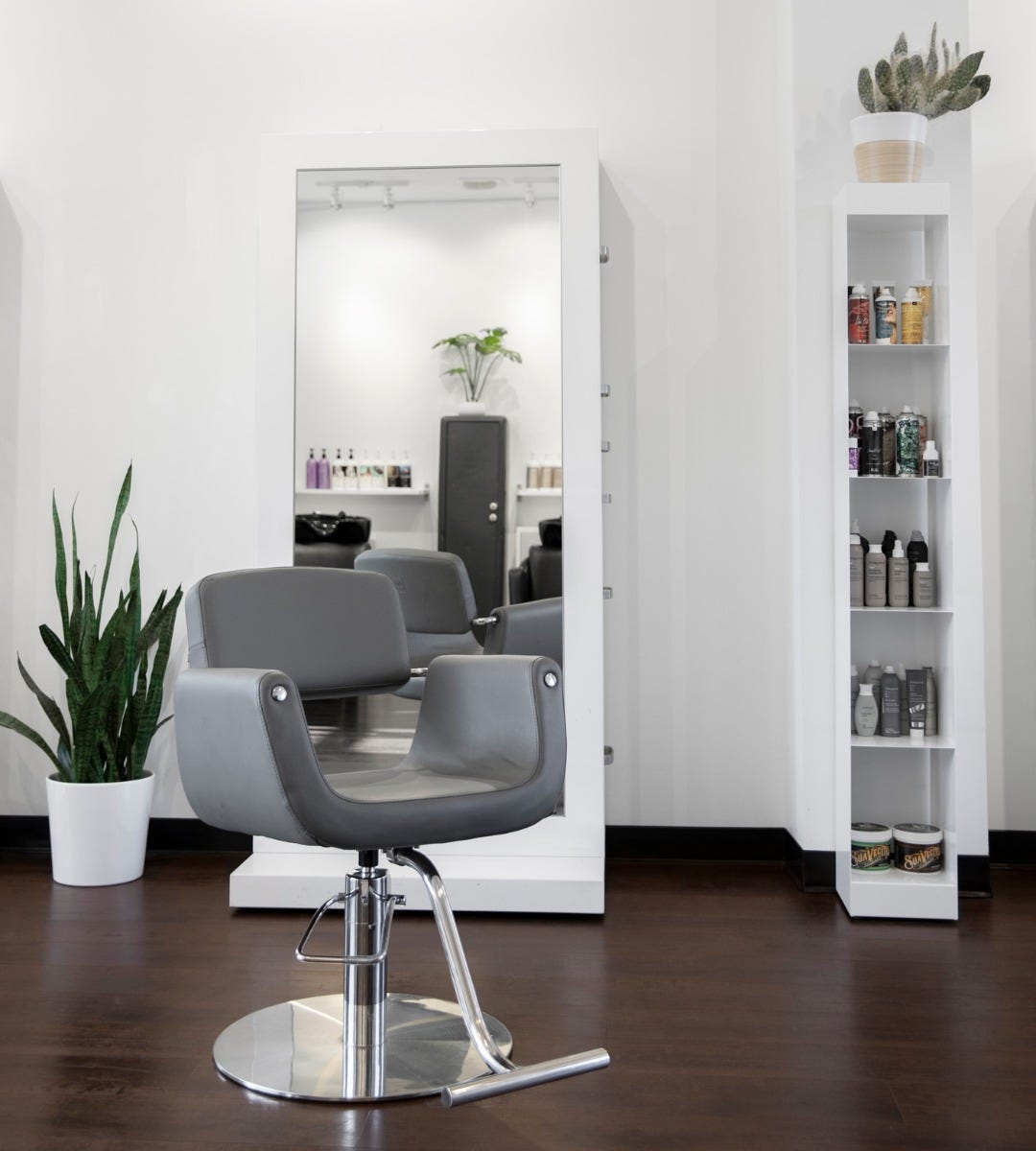 Corsa Styling Chair and Genesis Styling Station
With Minerva's headquarters being located in Monroe, Georgia, only a short drive from Athens, Melanie decided to take a tour of the showroom and test out the furniture in person. "I had an amazing visit with excellent customer service. I never had trouble picking out anything, because everything Minerva has is such great quality," Melanie stated.
After visiting the showroom, Melanie stayed in contact through email with the sales department throughout the purchasing process. "I was working about 60 hours a week as a full-time hairstylist, so I didn't have time to call or shop again in-person. I emailed with a sales representative, and they would always get right back to me."
Minerva carries hundreds of styling chairs and stations, offering a variety in design to fit every style, but also provide functionality for the stylists. Although the aesthetic aspect of the furniture is important, finding a design that is functional and works for salon owners and their stylists is vital.
With all of this in mind, Melanie chose Minerva's Genesis Styling Station in white, black Eros Shampoo Systems, and gray Corsa Styling Chairs with low profile round bases. "What I love about Minerva is your designs work for the stylists and that's really nice. The stations and chairs work for us. I'm happy with how everything has held up after more than two years of constant use," said Melanie.
Visiting Hologram Salon today, you'll see the beautiful finished product of Melanie's journey to becoming a salon owner. The salon is open, clean, bright, and welcoming. The energy from the staff is positive and flooding with support of one another. Hologram Salon recently celebrated two years of business on July 4, 2018. After touring the salon, speaking with Melanie, and hanging out with her awesome staff, the future for this salon looks brighter than its freshly painted white walls.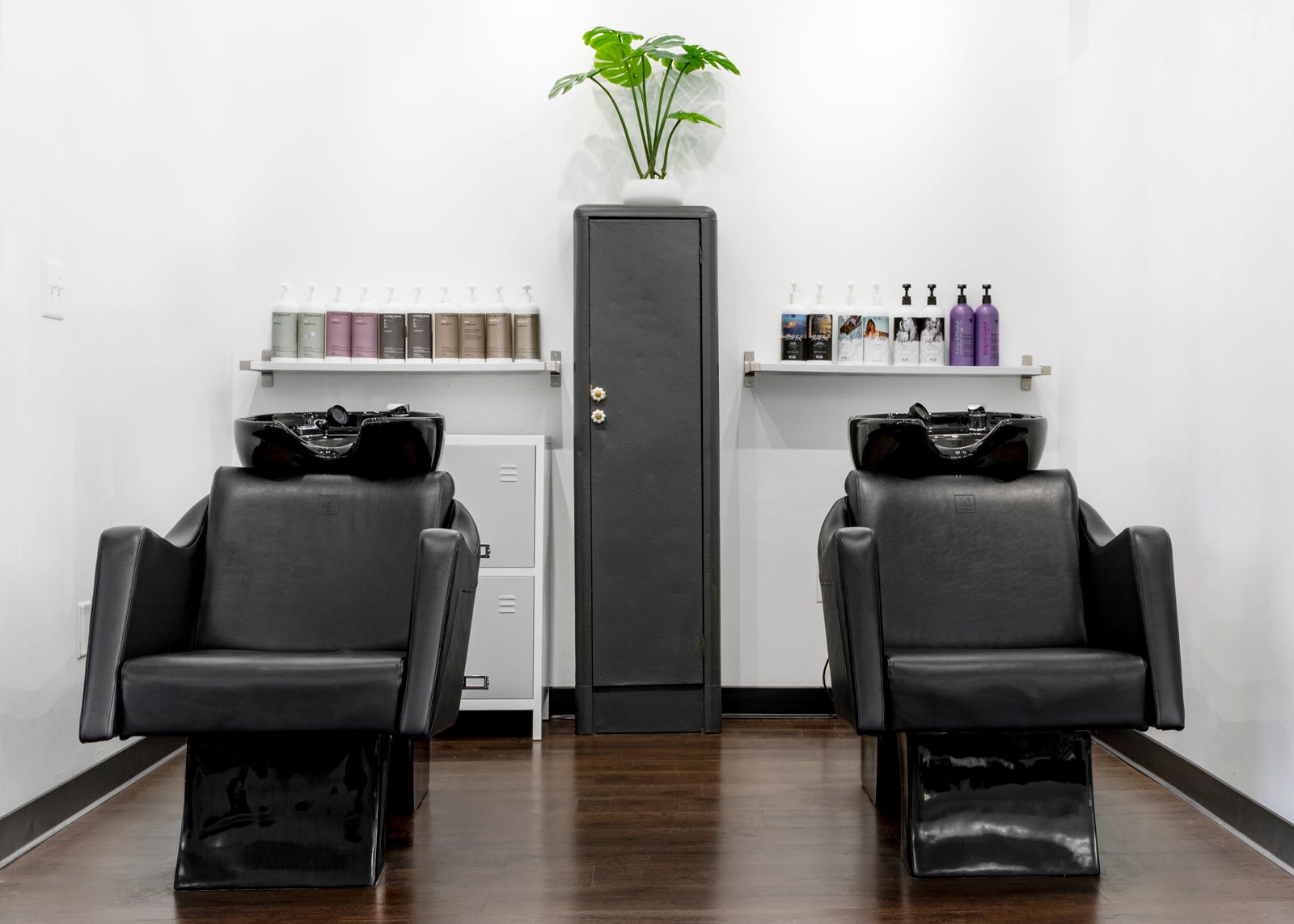 Eros Shampoo Systems
Corsa Styling Chair
The Corsa Styling Chair will bring a sense of elegance and style to any salon setting. It features a gently curved seat with a floating back for maximized space and comfort, high density foam cushioning with memory, a modern stainless steel T-Shaped footrest, and is completely covered in smooth vinyl. Pair this styling chair with the Corsa Shampoo System and the Corsa Dryer Chair for an elegant cohesiveness throughout your entire salon space.
Shop Now
Genesis Single Sided Styling Station
The Genesis Single Sided Styling Station's clean, sleek and modern style combined with its functional and durable design truly makes it the station that has it all. Towering at just over 6.5 feet tall, this station is the tallest in our line of salon equipment and features one full length mirror, two pull out work trays, eight spacious drawers, polished stainless steel hardware, and an electric-ready appliance drawer with built-in appliance holders. With hidden wheels on the bottom of the station, maneuverability around your salon space has never been easier. The Genesis Single Sided Styling Station is one every stylist can depend on and is guaranteed to elevate any salon setting.
Shop Now
Eros Shampoo System
Modeled after our Eros Styling Chair, the Eros Shampoo System features a bold, inverted seam pattern on one of our most comfortable chair tops. Covered completely in smooth vinyl with a hard outer casing, the Eros Shampoo System features high density foam cushioning with memory for maximum comfort, heavy duty 5/8" thick 7-ply plywood and steel reinforced frames, fully upholstered armrests, reinforced double stitching, black ceramic tilting bowl, premium gel neck rest, basket strainer, spray hose, UPC and cUPC certified fixtures, and flexible drain line. This shampoo system meets California TB117 Fire Retardant Standards. Pair this shampoo system with the Eros Styling Chair for a unique and cohesive style throughout your entire salon space. *Can be used as a backwash or sidewash
Shop Now