Back to Blog
From Theater Kid to Rockstar Stylist & Salon Owner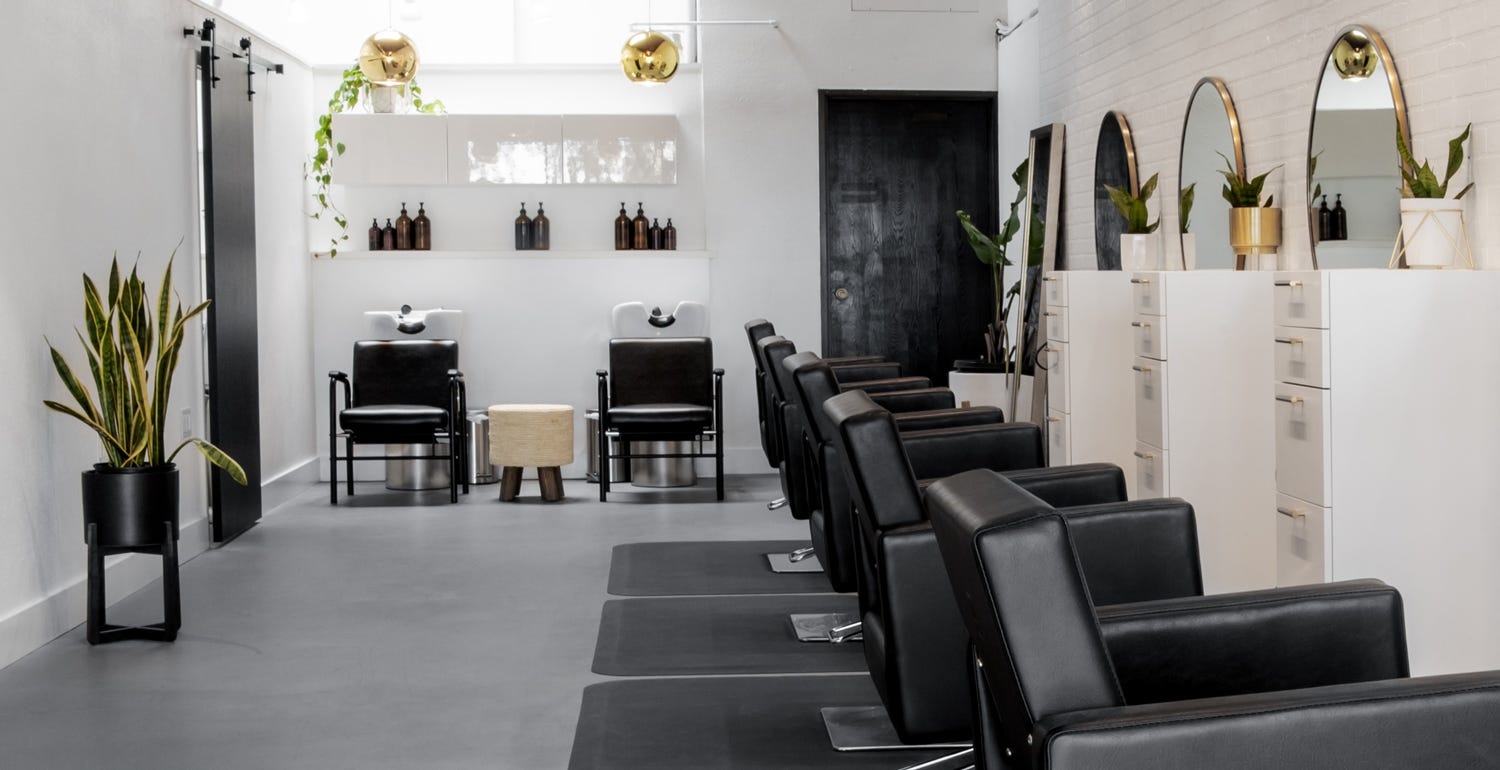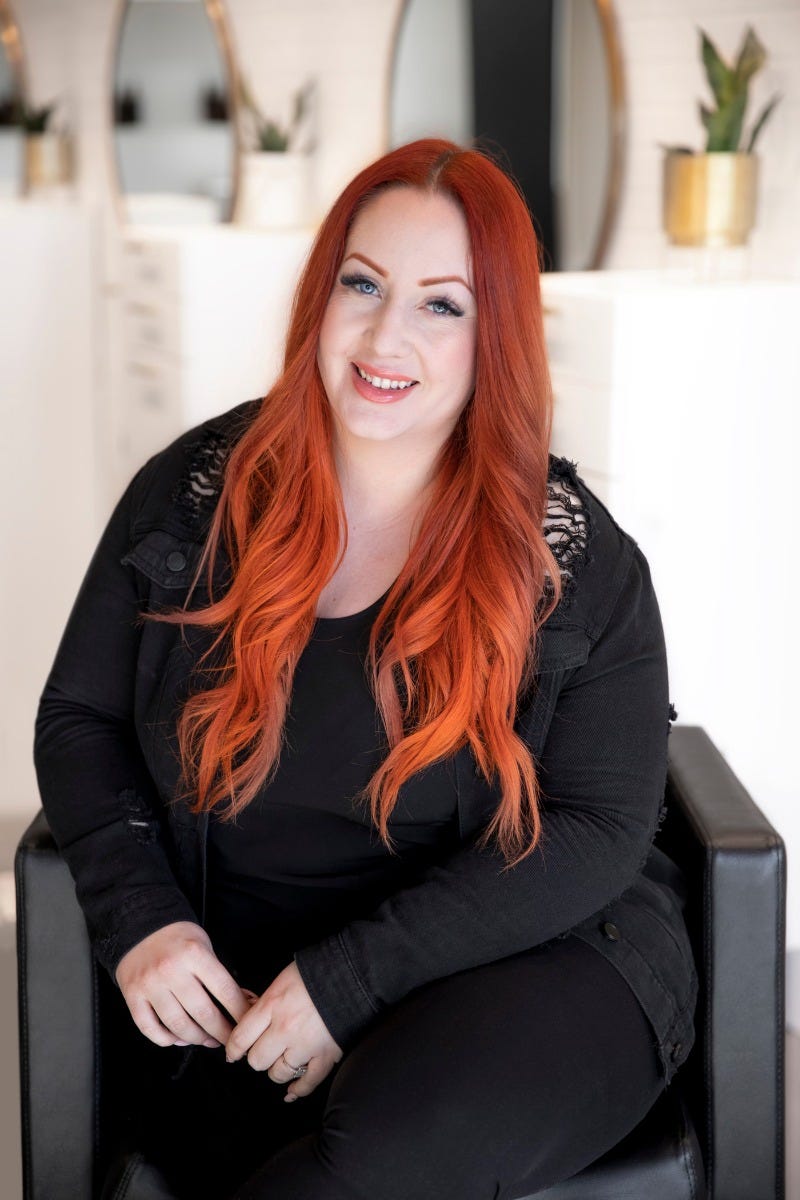 Constance Robbins | Kolectiv Salon
Life has a funny way of not always turning out the way we originally plan, and Constance Robbins can attest to that. In high school, Constance fell in love with theatre and had dreams of one day being on Broadway or becoming a popstar. After homeschooling for a year to work with a talent agent, she realized like anything in the entertainment industry, it wasn't necessarily a guarantee. To figure out her next step, Constance returned to public school and began a regional occupational program. "I was flipping through all of my career options and came across Cosmetology," explained Robbins. "I thought it would be pretty cool, because I could learn how to do hair and makeup for theatre and everyday life."
Although Cosmetology school was nothing like she expected, through a lot of hard work and perseverance, Constance graduated and obtained her hairdressing license. From there, Constance began working at a high-end salon in order to pay her way through community college where she was majoring in Theatre and Psychology. "I wasn't sure what I was going to do with the degrees, but both subjects really fascinated me," explained Robbins.
While preparing for her college finals, Constance's boss offered her a free week-long class at Toni&Guy Hairdressing Academy. This was a once in a lifetime opportunity but attending the class would mean missing all her finals. Once again, Constance had to figure out her next step and make a decision that would ultimately decide her future, and she decided her future was hairdressing. "Hairdressing encompassed everything I wanted to be doing in my life," said Robbins. "Everybody knows hairdressers are basically psychologists without the degree, and I realized I could be on stage performing as a platform artist or an educator."
From that moment on, Constance dove into hairdressing head first. With every class she took, the more empowered and confident she felt behind the chair, and her talent didn't go unnoticed. Along with being a professional hairdresser and platform artist, Constance became a Master Artistic Educator for Matrix and opened her own studio. "I was in my own private studio that was 99 square feet for three and a half years," explained Robbins. "I realized I needed a bigger place that had more options, because I knew it was time to continue growing."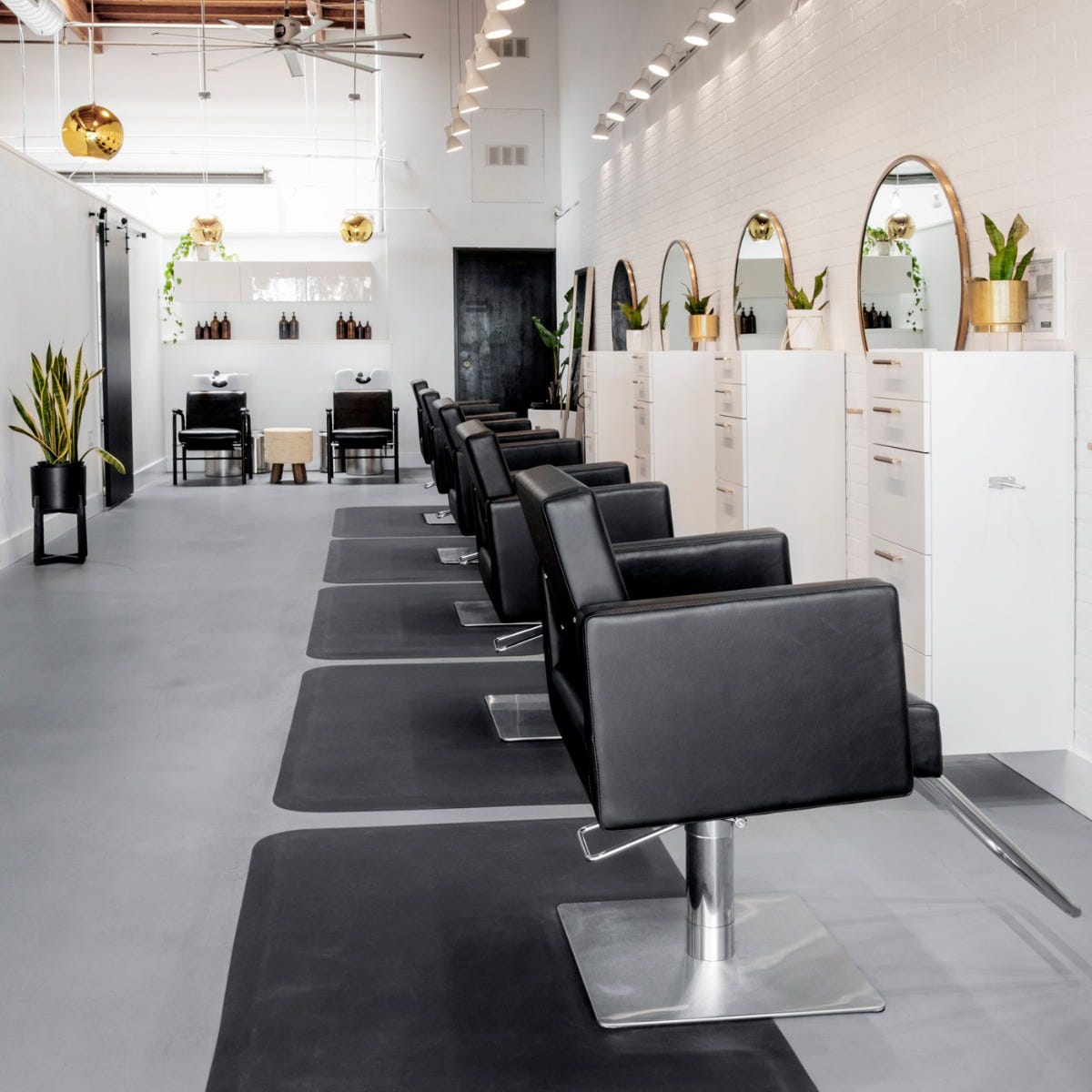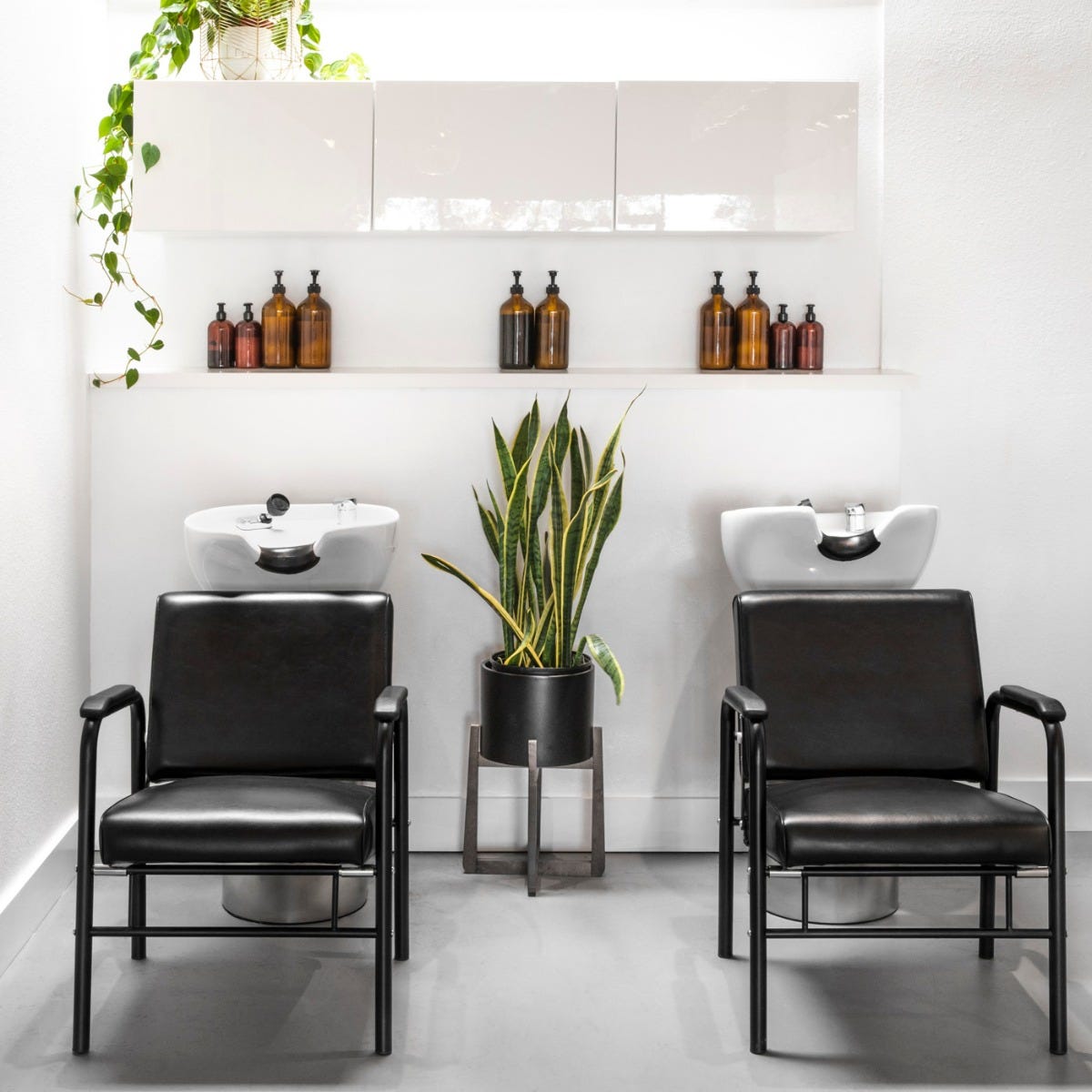 With a strong interest in social media and photography, Constance searched for a space that had natural light for photoshoots as well as plenty of room for her growing clientele. After a long search, she found a space that met all her specifications, but admits it didn't initially strike her as 'the one'. "It was a little intimidating at first, because the place was a total gut job," laughed Robbins. "I just kept getting signs that it was the right place, so I took the leap. It was one of the hardest and scariest things I'd ever done, but I would never go back."
Constance, along with the help of her supportive husband, turned the space that was once a gut job into the salon of her dreams. In her first private studio, Constance purchased two chairs and a shampoo system from Minerva. Now that it was time to outfit her newly renovated much larger salon space, she turned to the company she had trusted from the beginning. "What I noticed with a lot of salon equipment was that it either looked pretty or was comfortable, but there was hardly ever both," explained Robbins. "After using Minerva equipment in my private studio for over three years, I saw how the equipment not only looked high-end, but had the comfort and quality you can depend on." She purchased Avant Styling Chairs in Black, Anti-Fatigue Mats, Anchorage Auto Recline Shampoo Chairs in Black, and Montego Pedestal Shampoo Systems with White Bowls.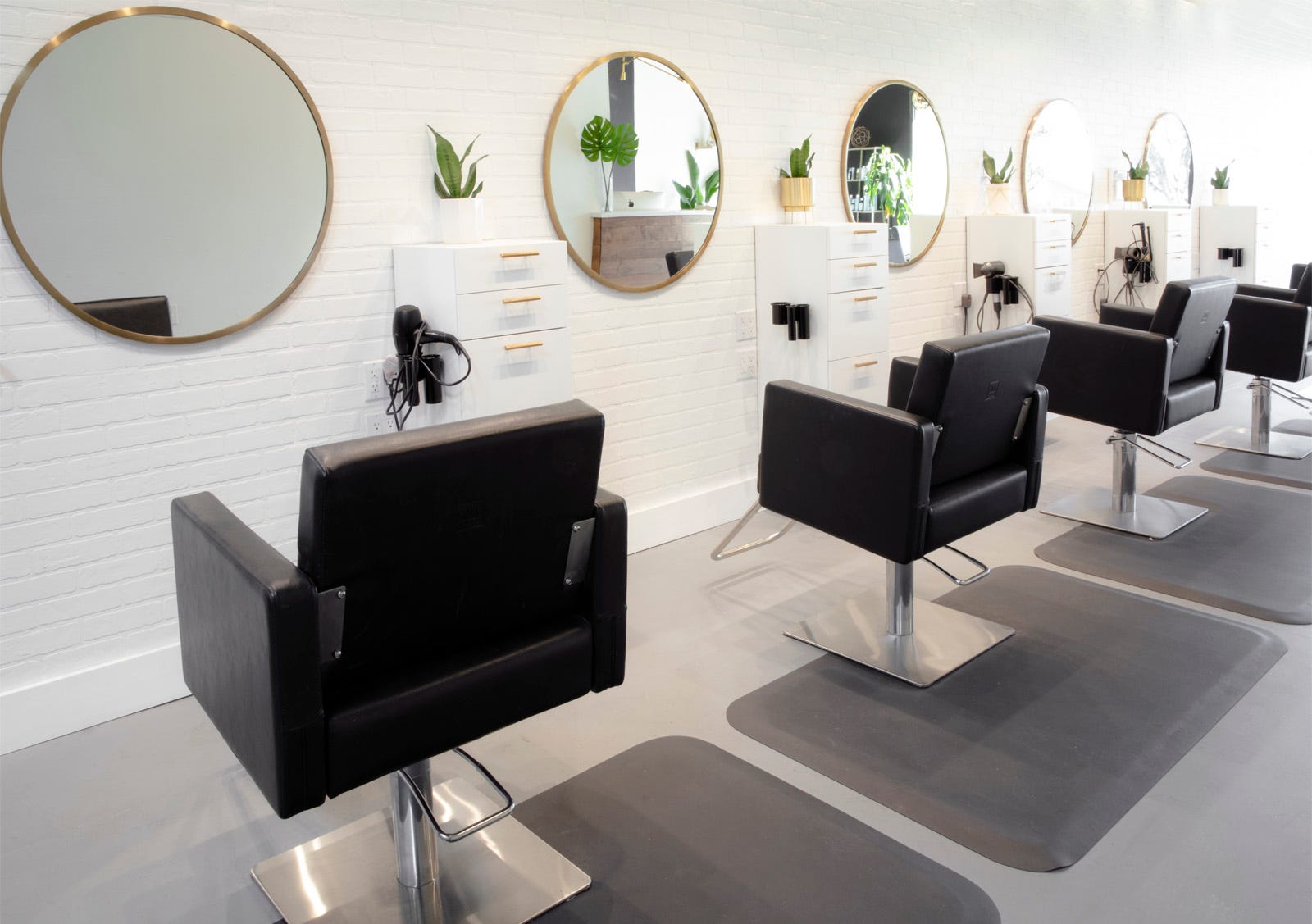 Avant Styling Chair in Black with Anti-Fatigue Mat
"Actually, the two chairs that I had from my old studio are being used in my new salon, and you can't even tell which is which," said Robbins. "I believe in Minerva so much, because everybody there truly cares about the customer and is willing to go above and beyond."
Kolektiv Salon opened its doors for business in early 2018, and like everything Constance has set her mind to, it has been a complete success. From the bright and airy feeling of the white walls and natural lighting to the serene décor and scent of essential oils floating through the air, the Kolektiv Salon experience combines luxury, comfort, and serenity. The décor of Kolektiv definitely encourages good vibes, but Constance explains how the people are the key ingredient to making the environment radiate positivity.
"The people in this space are passionate and love what they are doing," explains Robbins. "It's all about supporting each other and not being competitive, so a lot of the feeling and nature of the salon comes from the people." The fear of change and the unknown is the reason most people settle in life, but Constance Robbins isn't most people. The journey to where she is today was full of trials and tribulations, but Constance wasn't afraid to dive headfirst into the unknown and learned to embrace life's changes. Even though her life didn't turn out the way she originally planned, she is confident she is exactly where she needs to be.
"I kind of fell into hairdressing," explained Robbins. "But it was the most perfect happy accident, and I wouldn't trade it for the world."