Back to Blog
How Hair Transformed a Life: Meet Rhylee Grey Salon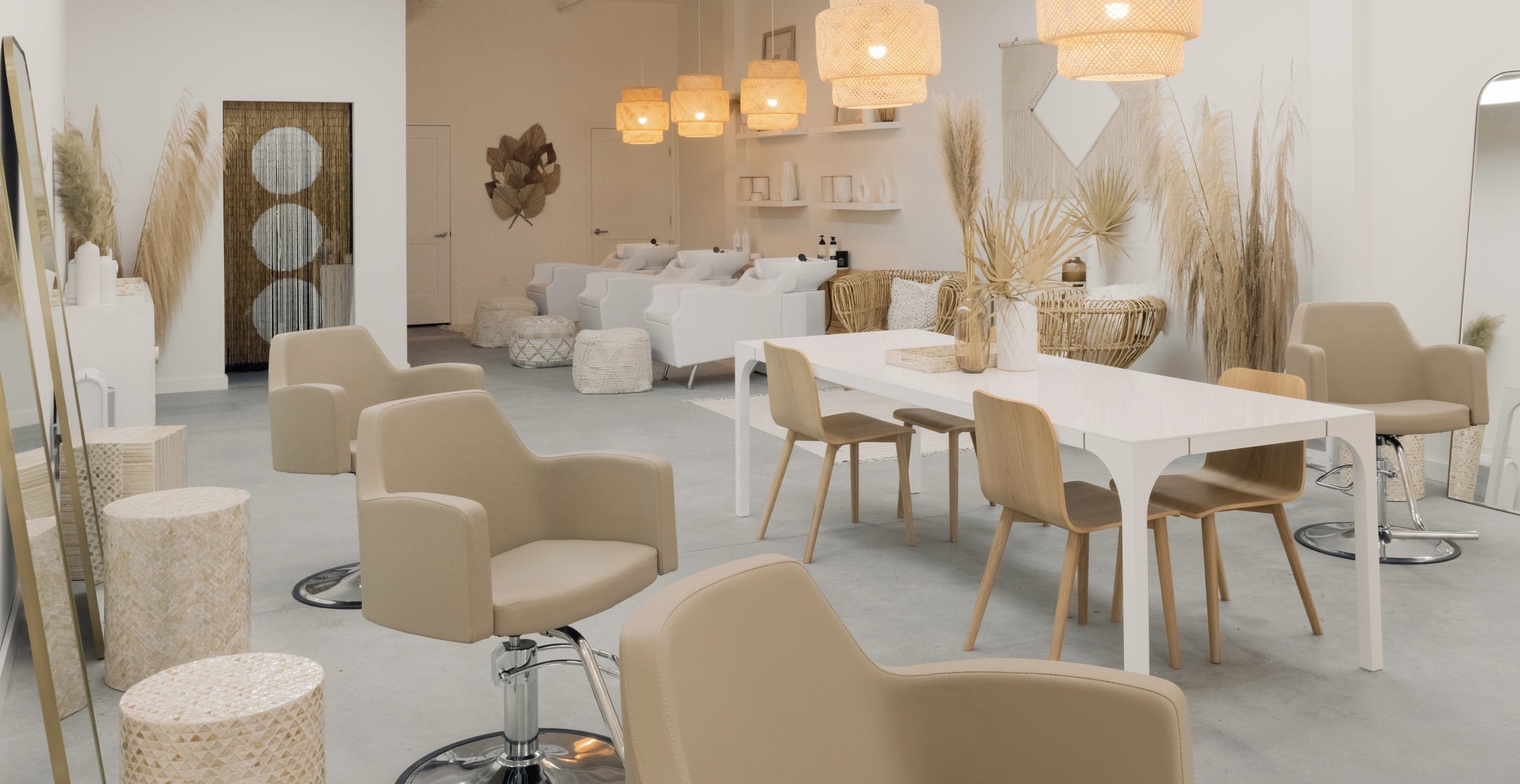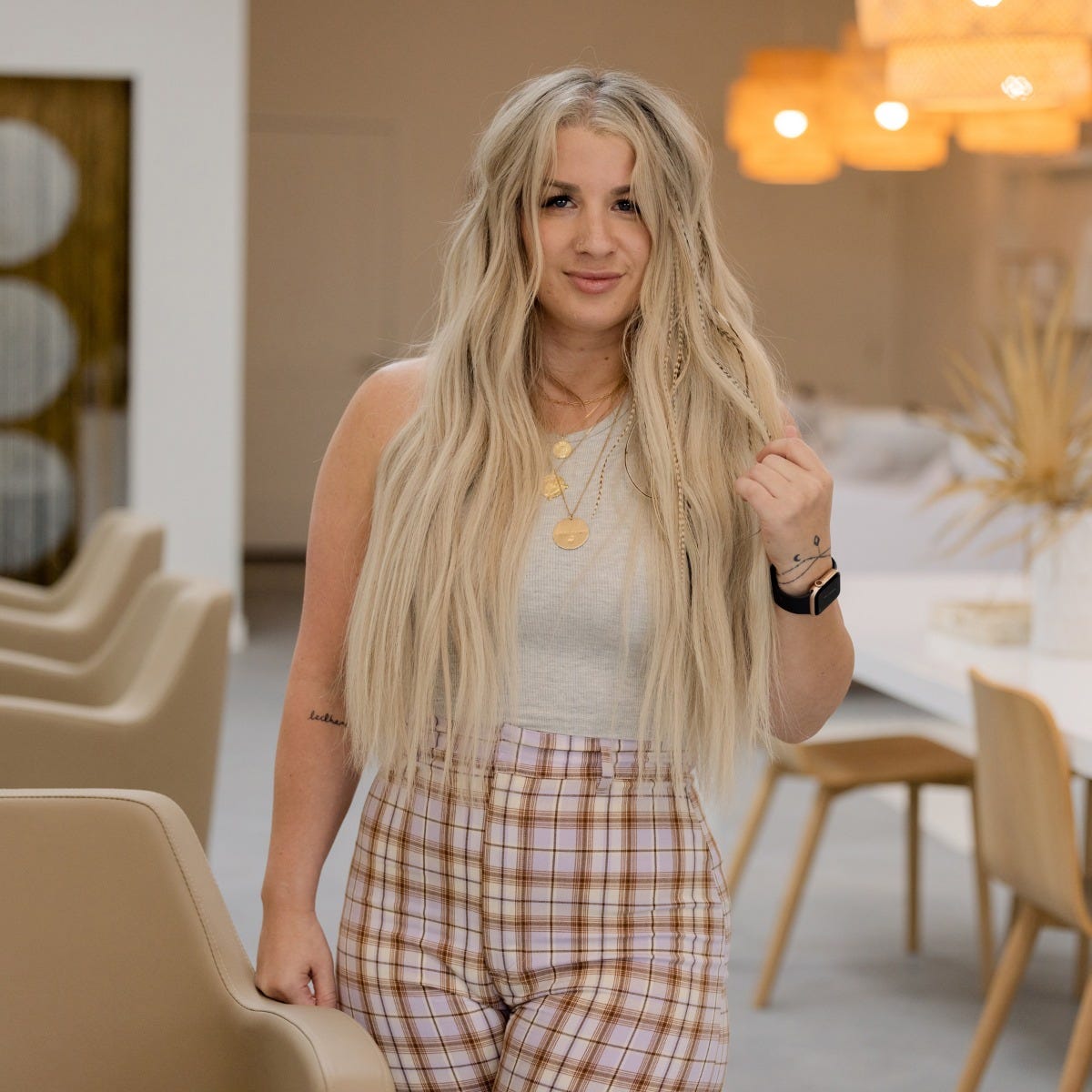 Amber Oberley | Rhylee Grey Salon
Hair can transform a person in more ways than just their style and appearance. For Amber Oberley, one hair appointment sparked a newfound confidence and sense of self that led her to where she is today. Growing up, Amber gravitated towards and had interest in the creative world of hair and beauty. However, with a family full of doctors and lawyers, Amber felt a sense of pressure to follow in their footsteps with a similar profession. After graduating high school, Amber went off to college to study accounting and immediately knew that wasn't the life for her.
"I literally had nightmares about how boring my life would be if I became an accountant," expressed Amber. "I never went to class and kind of had no direction in my life for a while."
During this time, Amber discovered she was pregnant with her first child, and everything changed. Amber's focus shifted from figuring out her plans for her future career to figuring out how to raise her daughter, Rhylee. Like any young mother, Amber was scared and felt the dreams she had for herself, including any possibility of having a career in hair and beauty, were over. Amber's mother, however, knew what her daughter was capable of and wasn't afraid to have the tough conversation about her future.
"My mom was actually the only person who always supported my dream of doing hair," Amber recalled. "We got into an argument about my future after my baby was born, and she forced me to talk about my dreams at a time when I felt like I had none. I finally admitted that my dream was to do hair at Fashion Week in New York. A month later, she passed away in a tragic car accident. After that, I was just like okay, I'm doing it."
And she did. Amber graduated top of her class at The Salon Professional Academy and started her career at Soda Salon in October of 2009. A few years in, Amber accomplished her dream of doing hair at New York Fashion Week not only once, but a few times throughout the years she worked at Soda Salon. With continued education both inside and outside of the salon, Amber became a true master of her craft, driving her involvement as a leader on Soda's education, bridal, and Children's Healthcare of Atlanta VIP teams.
Amber worked at Soda Salon for 9 years, and during that time, she got married and had her second child, Beckham. However, after some marital struggles with her now ex-husband, something in her shifted. She took control over her life, her decisions, and regained her sense of self – and it all started with one hair appointment.
"I always wanted hair extensions but was told 'no you can't do that' for a long time," Amber expressed. "After the situation with my ex, I immediately made a hair appointment and got extensions put in. Something in me just kind of sparked, and I was like 'This is it. This is who I am. This is who I'm meant to be'."
Amber dove headfirst into the world of hair extensions, and started researching, studying new methods, and even took multiple trips out to California to train and learn all there is to know about natural beaded rows hair extensions. Amber knew instantly this is what she wanted to do, and although it wouldn't be easy, she made the decision to switch her entire book of business and the clientele she had built for 9 years completely over to hair extensions only. While making this transition and renting a chair at a salon in the area, Amber realized things she wanted to change in order to give her clients the exact experience she envisioned for them.
"I was shampooing a client's hair, and it dawned on me that I will never have what I want unless I create it," Amber recalled. "I never thought I would open my own salon, but I was like, here we go!"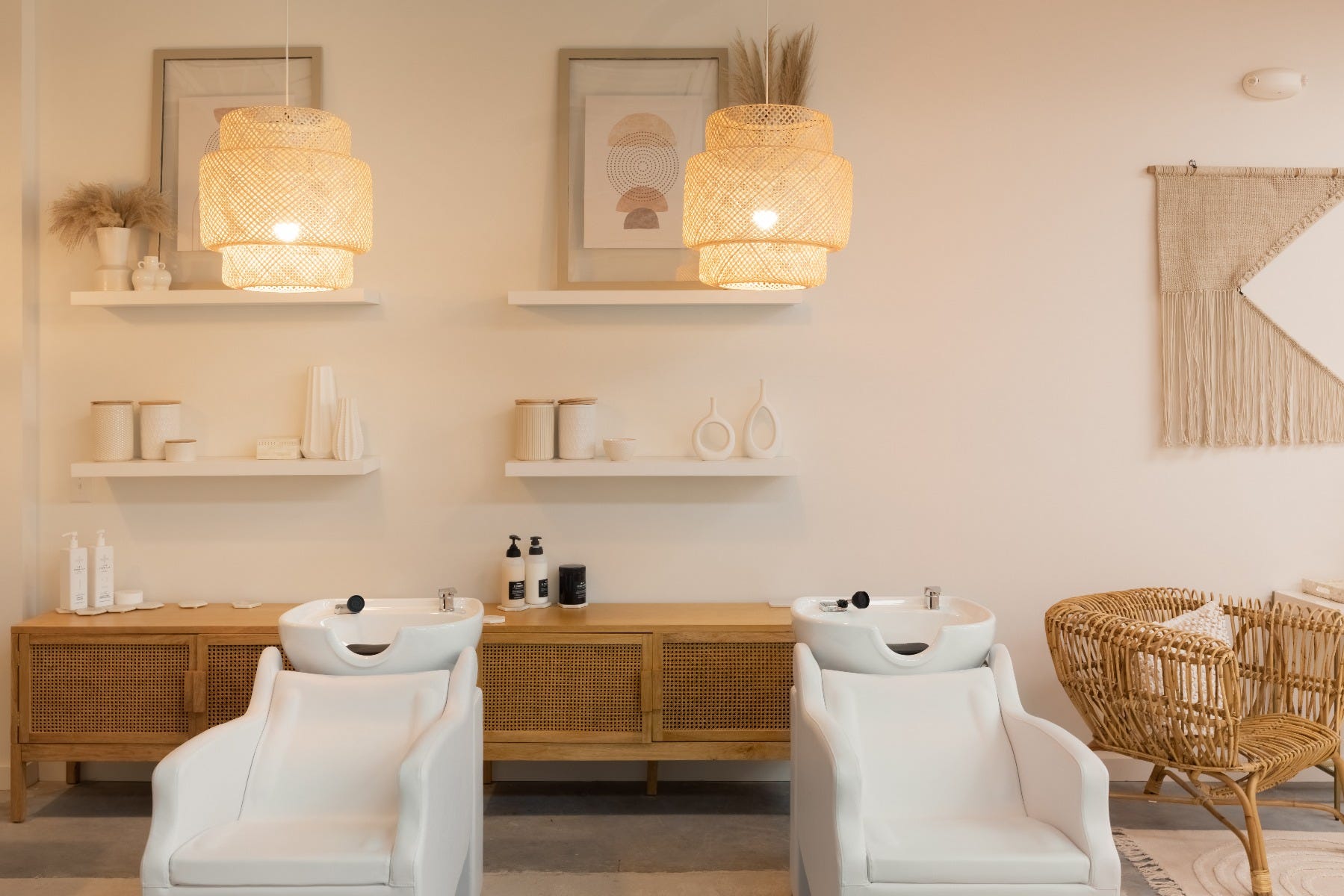 Avant Shampoo Systems in White
Amber set out to create a space that was completely authentic and genuine to who she is. She envisioned the aesthetic of her space to reflect her personality, soft and sweet yet bold and strong with a mixture of masculine and feminine touches. As for the name of the salon, Amber thought about everything in her life and focused on what mattered the most to her.
"My children mean the world to me and naming my space after them is the best way to honor that," said Amber. "My daughter's first name is Rhylee, and my son's middle name is Grey, so Rhylee Grey felt like the perfect name for my salon."
With the name picked out and an aesthetic in mind, Amber began her search for salon furnishings that tied her décor concept together. Having worked in several different salons throughout her career, Amber was familiar with Minerva Beauty equipment and knew that was the company she trusted to outfit her space. Living only an hour and a half away from Minerva Beauty, Amber decided to visit the showroom and browse the equipment in-person.
"I really love the range of colors and choices Minerva provides," expressed Amber. "Being able to test out the equipment and see all the style options made it so easy to find something that felt right to me and fit my aesthetic."
After browsing the showroom and experiencing the furnishings in person, Amber took a day to look over Minerva's website to finalize which color options worked best for the soon-to-be Rhylee Grey Salon. She decided to go with Venturi Styling Chairs in cashmere with round chrome bases and Avant Shampoo Systems in white with white bowls.
"It was so nice going on the website to finalize what chair color I wanted and knowing it was high-quality and comfortable, because I already sat in all the chairs," said Amber. "Everyone at Minerva was super helpful and made my shopping experience so easy."
Rhylee Grey Salon opened its doors on April 5th, 2021 and has been a complete success. From the wispy plants and soft neutral colors to the concrete floors and mixture of wood elements, Rhylee Grey incorporates the perfect balance of masculine and feminine touches and reflects the aesthetic Amber wanted to portray. It's warm, inviting, and a place made for beautiful transformations.
"My goal is to transform women and let them see how truly beautiful they are," expressed Amber. "Hair was a literal transformation in my life, so creating this space where women can be vulnerable and leave feeling their best means so much to me."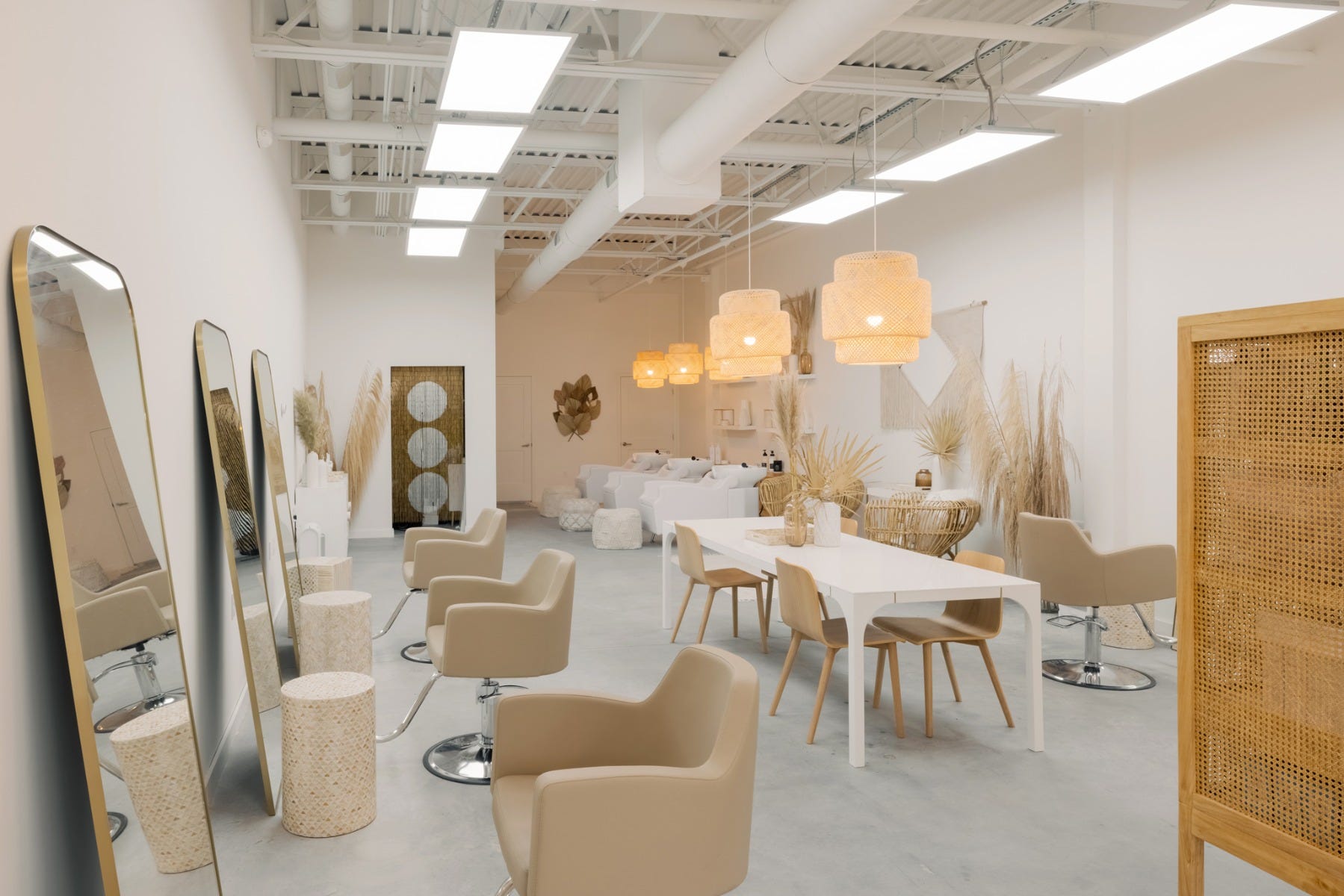 Rhylee Grey Salon
Amber has faced many trials and tribulations throughout her life, but her ability to remain strong and resilient paved the way to the successful, empowered, and accomplished person she is today. For those on their own journey towards salon ownership, Amber offers some advice.
"Stay true to who you are and what you want to do," expressed Amber. "If you have something really unique to offer the world, be deliberate about the energy you allow into your space and make sure to keep it true to you."