Back to Blog
Pro Musician Rocks Beauty Industry: Meet Invisible Bead Extensions Founder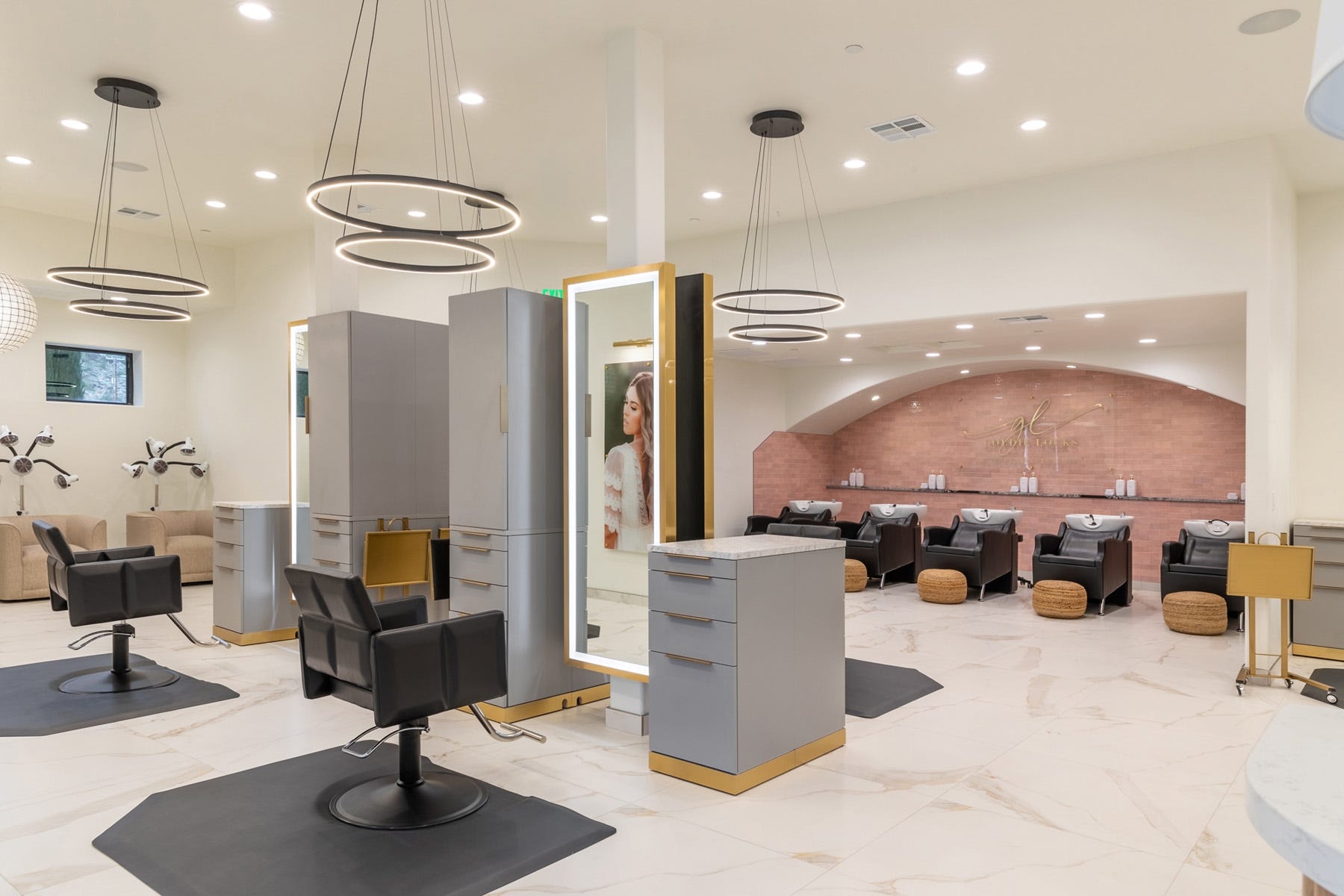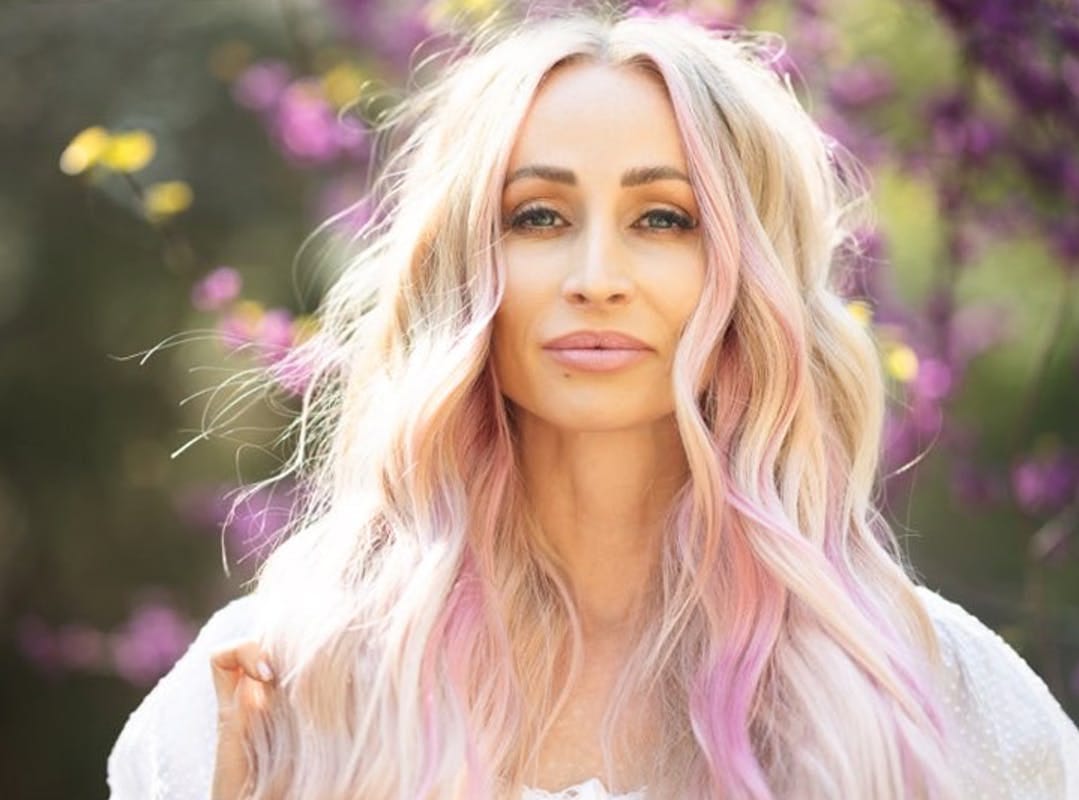 McKenzie Turley | Founder of Invisible Bead Extensions
Successfully making a name for yourself in the music industry or beauty industry is no easy feat, so imagine conquering both industries before the age of 40. Impossible, right?! Not for McKenzie Turley. Before completely revolutionizing the beauty industry as the founder of Invisible Bead Extensions (IBE), the first beadless extension flip-up that quite literally 'flipped' conventional methods of hair extension installs, McKenzie was a professional musician on scholarship at Brigham Young University for piano and opera. From growing up playing in a Christian rock band with her dad and four older sisters to teaching voice and piano lessons as well as singing professionally after graduating from BYU, music was McKenzie's entire life until she decided it was time for a change.
"I got to a point in my life where I wanted more control of my time," explained McKenzie. "I realized I needed to pivot to an industry that could be a creative outlet and allowed me to work with my hands and my mind like music had. Getting my cosmetology license and venturing into the beauty industry just perfectly made sense."
At the age of 33, McKenzie enrolled in night cosmetology school. With her husband looking after their four young children at home, handling the kid's homework, dinner, baths, and bedtime, McKenzie admits she questioned whether or not pursuing a career in cosmetology was the right decision. However, the moment she walked into her night classes, McKenzie was certain this was exactly where she was supposed to be.
"Every doubt escaped my mind the second I began cosmetology classes," expressed McKenzie. "Even though I had a late start to joining the world of beauty, I completely immersed myself in all things this industry has to offer and found a way to channel my creativity into a career I'm passionate about."
McKenzie recalls the first time she wore extensions, back in the day they were tape ins, and she jokes how even with all that tape and glue in her hair, she felt like a star. Her initial interest in hair extensions quickly turned into a passion throughout cosmetology school. McKenzie not only discovered a career that fueled her creative side, but also one that gave her the ability to support and positively impact women through a transformative experience.
"Hair extensions not only transform the way you look, but also the way you feel about yourself," said McKenzie. "Being able to provide this service to other women and watching as they leave your chair feeling empowered and more confident than they did before, it's so fulfilling. There's nothing like it."
With a true passion for hair extensions and the overall experience she could provide for her clients, McKenzie felt there had to be a better method for extension installs. She began heavily researching, studying other hand tied extension methods, and even kept a journal where she took meticulous notes after each client on what worked and what didn't. McKenzie had questions about all the extension methods before that no one could answer, so she was determined to find a solution…and she did.
"I never had the intention to create anything, let alone teach it," admitted McKenzie. "I was just trying to find a solution for my girls in my chair, a comfortable, safe, and seamless extension option."
Although new to the industry, McKenzie took the world of beauty by storm with her method of Invisible Bead Extensions (IBE). In 2019, she launched IBE on an online platform providing stylists with an incredible virtual education experience to become certified in the #1 most requested hair extension method that revolutionized the industry. Just like she flipped the industry with the method of IBE, named "The Original Flip-Up", McKenzie jokes how even her whole business process was flipped as well.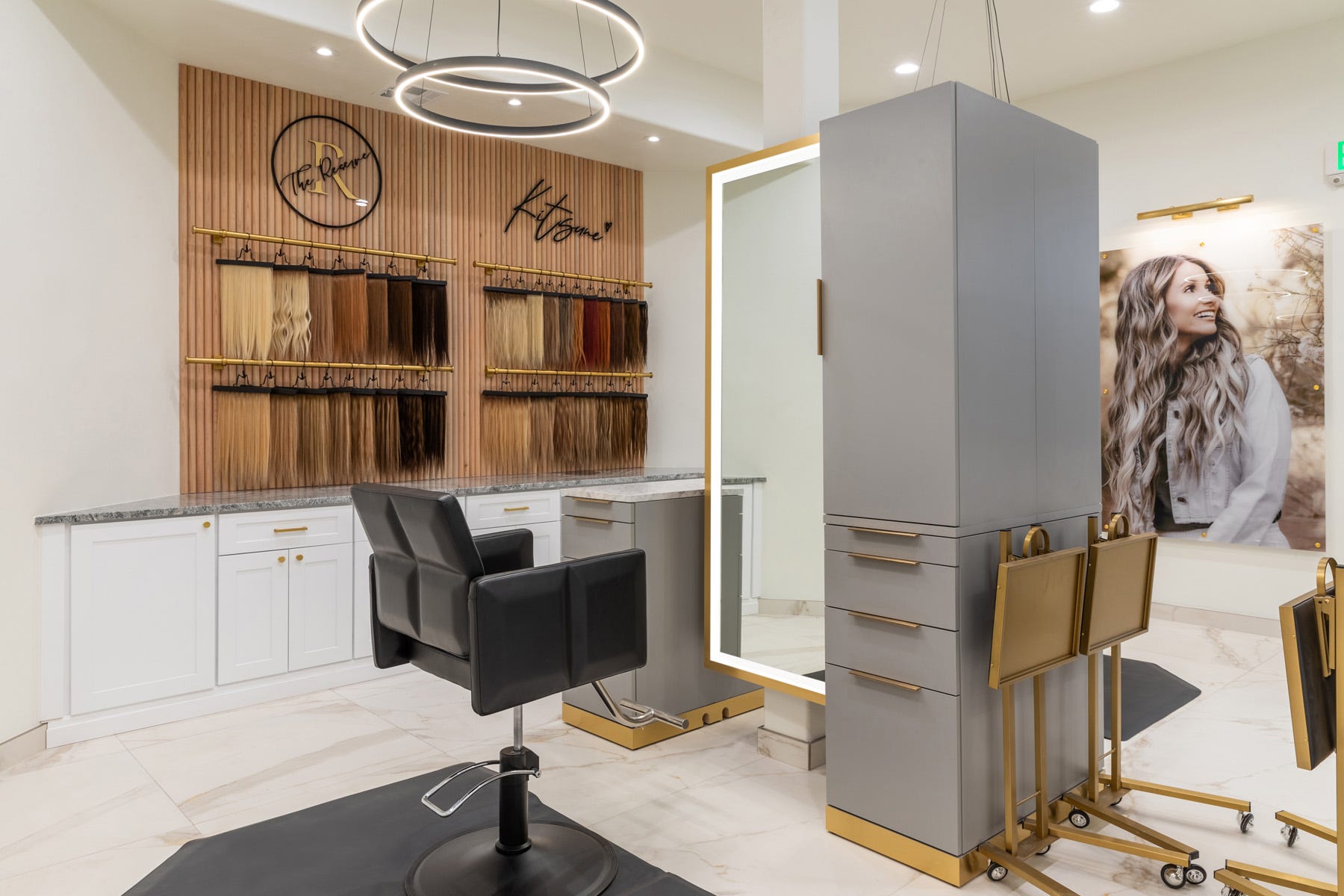 "We've definitely done things backwards here at IBE by starting out on a virtual platform only with no salon and no education center," laughs McKenzie. "After building this amazing online community, I just felt it was time to have an actual physical home for the IBE family."
McKenzie envisioned a space that could serve as IBE's flagship salon as well as an education center to host IBE classes in-person for the first time. After scouting out real estate in the St. George, Utah area, McKenzie came across an old jeweler's building that recently became available. From the lack of natural light to the yellow tinted windows and dusty brown interior, McKenzie was unsure if this was the right building for IBE's flagship and if it was even large enough to house both a salon and education center. Either way, she was determined to make it work, and shortly after renovations started, an opportunity fell right into her lap.
"I remember laying in the center of the floor for hours trying to figure out how to fit a salon and education center in this space," explained McKenzie. "Then the building literally right next door to us had their roof completely collapse in on them, so I made the owners an offer to buy it as is, and they agreed. It's crazy, the space for IBE's education center literally fell, well collapsed, into our lap."
With renovations for both the salon and education center well on their way, McKenzie started thinking about IBE's aesthetic and the equipment she wanted for her space. Having been a client in the chair a lot longer than she's been a brand owner and extension specialist, McKenzie thought about the experience and atmosphere from the guest's viewpoint.
"When a client sits in your chair, they are investing good money in you and your company," expressed McKenzie. "I wanted to create an atmosphere as luxurious as the services we provide to give our guests the whole IBE experience the moment they walk in the door. A space that's clean, crisp, and bright - where Restoration Hardware meets salon luxury."
Along with cultivating an atmosphere that enhanced the client experience, McKenzie also wanted to create an inspiring environment designed with functional equipment and plenty of storage space for her stylists. Throughout her career, McKenzie worked at salons furnished by Minerva and had first-hand experience with the quality equipment provided. When it came time to furnish IBE's flagship salon and education center, Minerva Beauty is the company McKenzie trusted to get the job done.
"For me, there was no question on where I was getting my equipment, because the answer is always Minerva Beauty," said McKenzie. "I've experienced the quality of the equipment as a stylist, I've seen the huge selection and style variety Minerva provides, and overall, I just trust the company as a whole."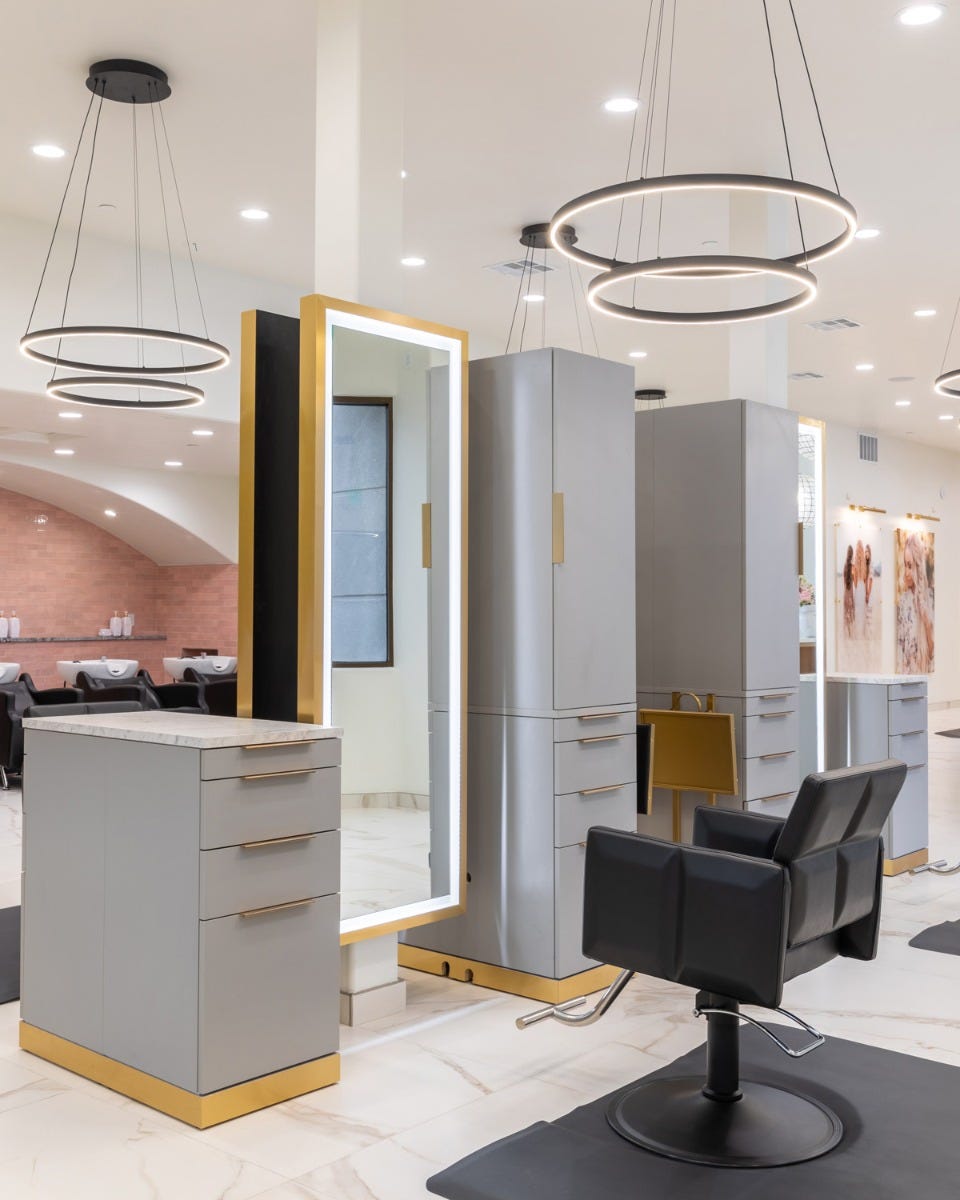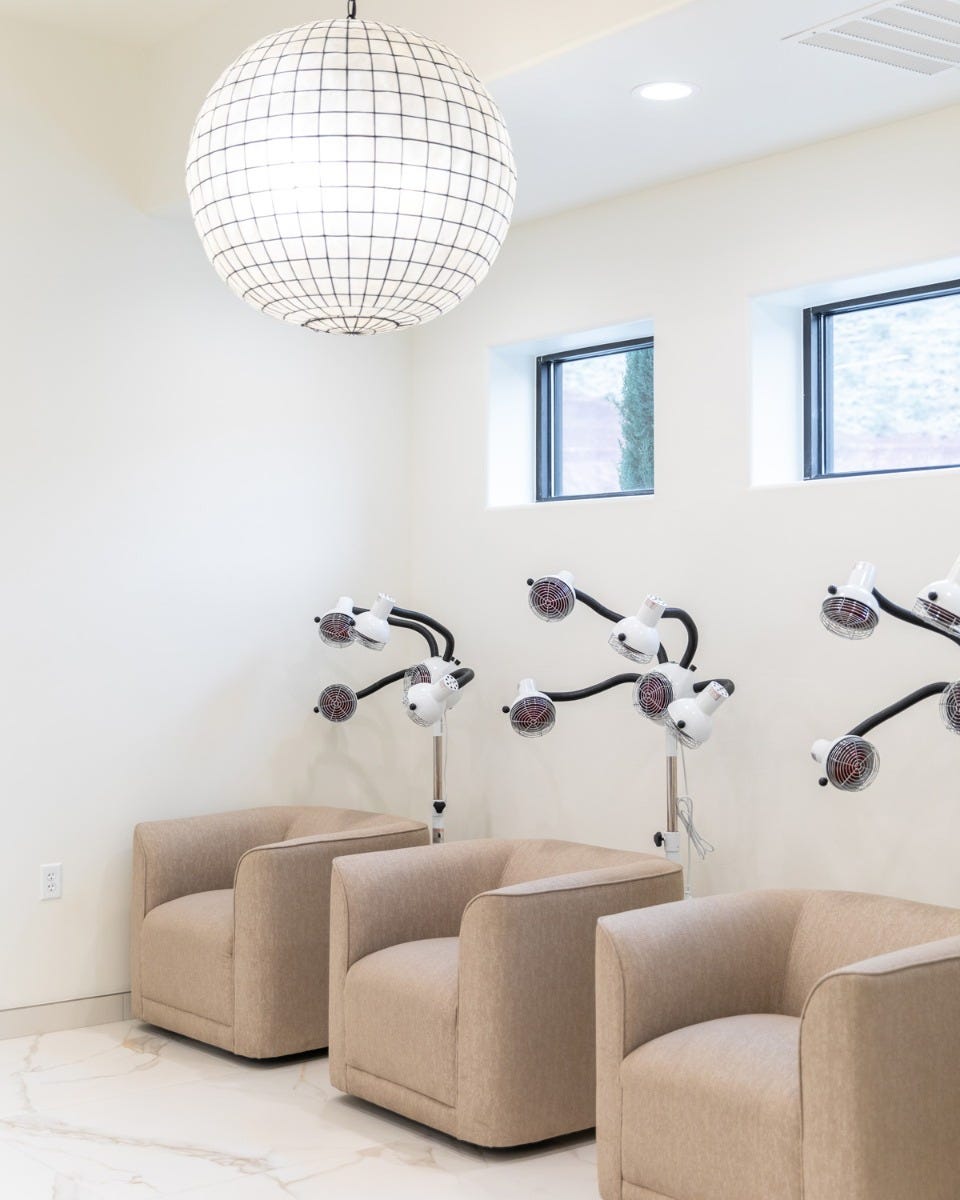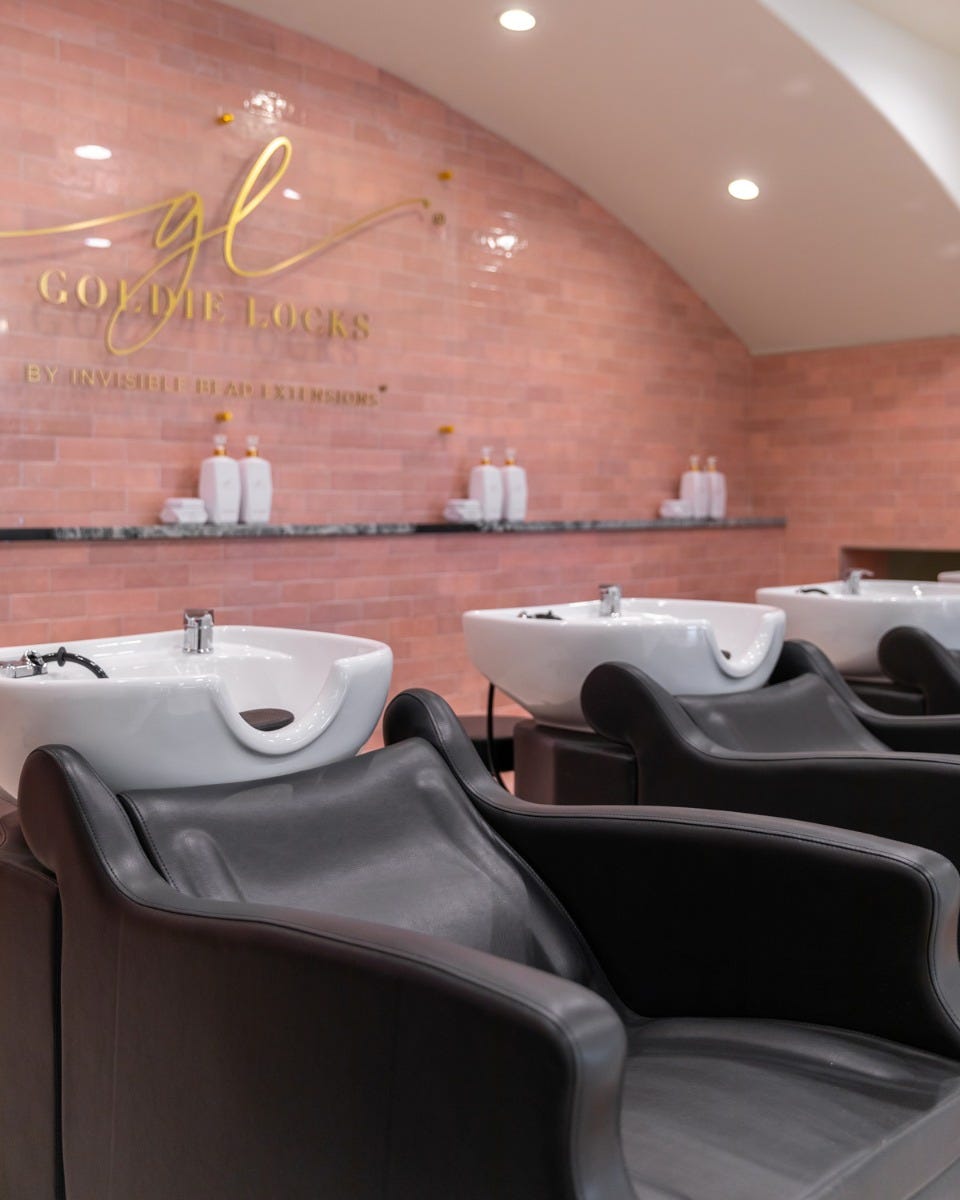 McKenzie outfitted her entire salon with Minerva equipment and chose most of her furnishings from the Minerva Designer Series – a premier collection of high-end salon and spa equipment designs custom built in the United States. She achieved her salon luxury look with Astoria Styling Stations and Cabinet Towers, Aventura Full Length Rectangle LED Mirrors, Aria Styling Chairs, Avant Shampoo Systems, Watson Salon Service Trays, Portofino Salon Trolleys, and Medusa Infrared Color Hair Processors.
"I love the Designer Series, because I was able to completely customize my equipment to perfectly fit the aesthetic I envisioned," expressed McKenzie. "Not only is the furniture beautiful, but it's also functional and truly built for the stylist. There are all these hidden compartments for your tools and products and so much storage space, literally everything you need is at your disposal."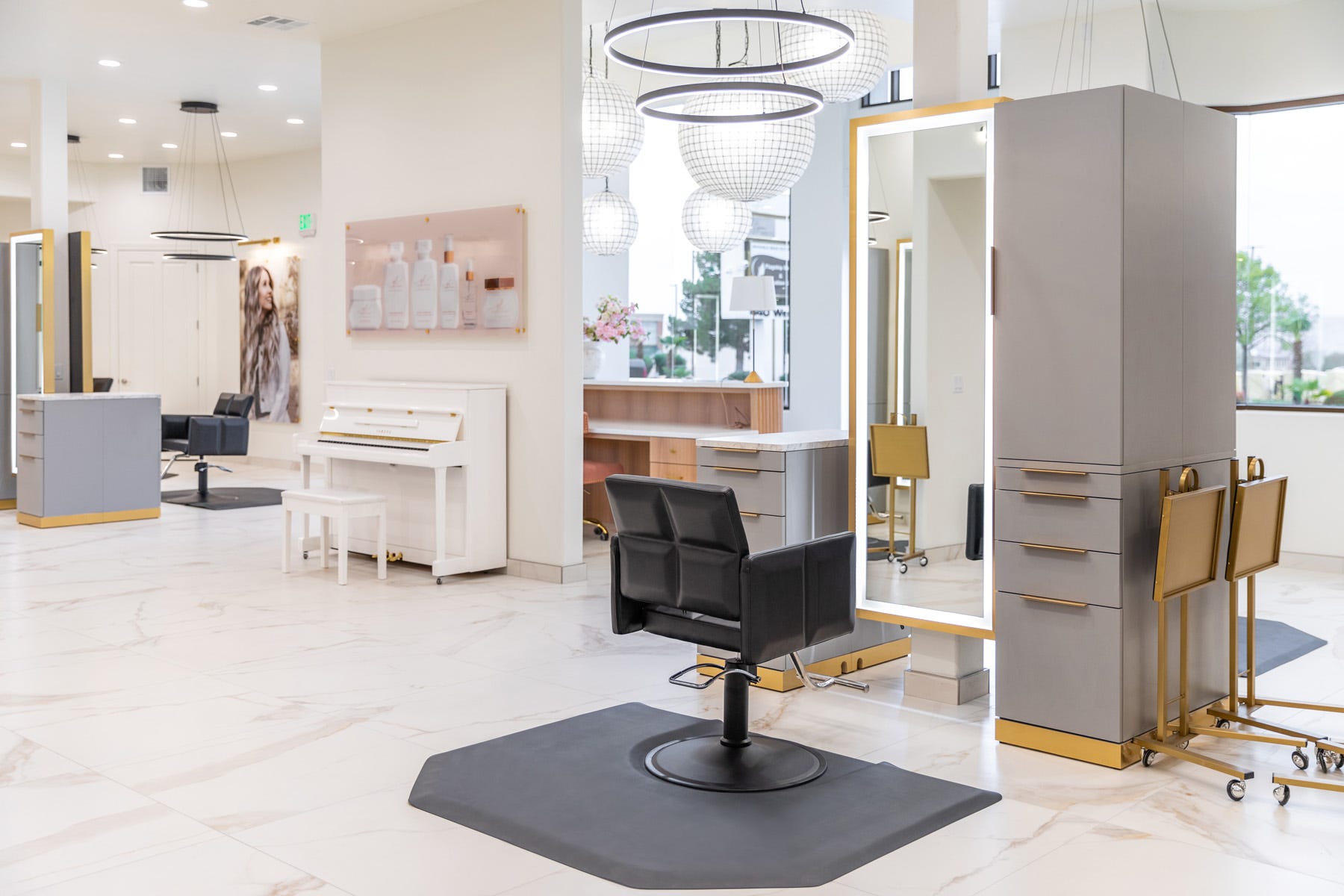 Walking through the doors of IBE's flagship salon is an experience in itself. From the stunning white marble floor to the elegant furnishings and light fixtures, IBE is a breath of fresh air and salon luxury at its finest. As you make your way around the space, you may find McKenzie playing the pearl glossed Yamaha piano in the middle of the salon – because where else can you get your hair done while being serenaded by a professional musician? IBE's flagship is so much more than a salon. It's a safe space that supports and empowers women. It's a place of learning and growth for beauty professionals. It's a magical experience of transformation from the inside out. It's a home to the IBE community.