Back to Blog
Three Salon Floor Plans, One 1,400 Square-foot Space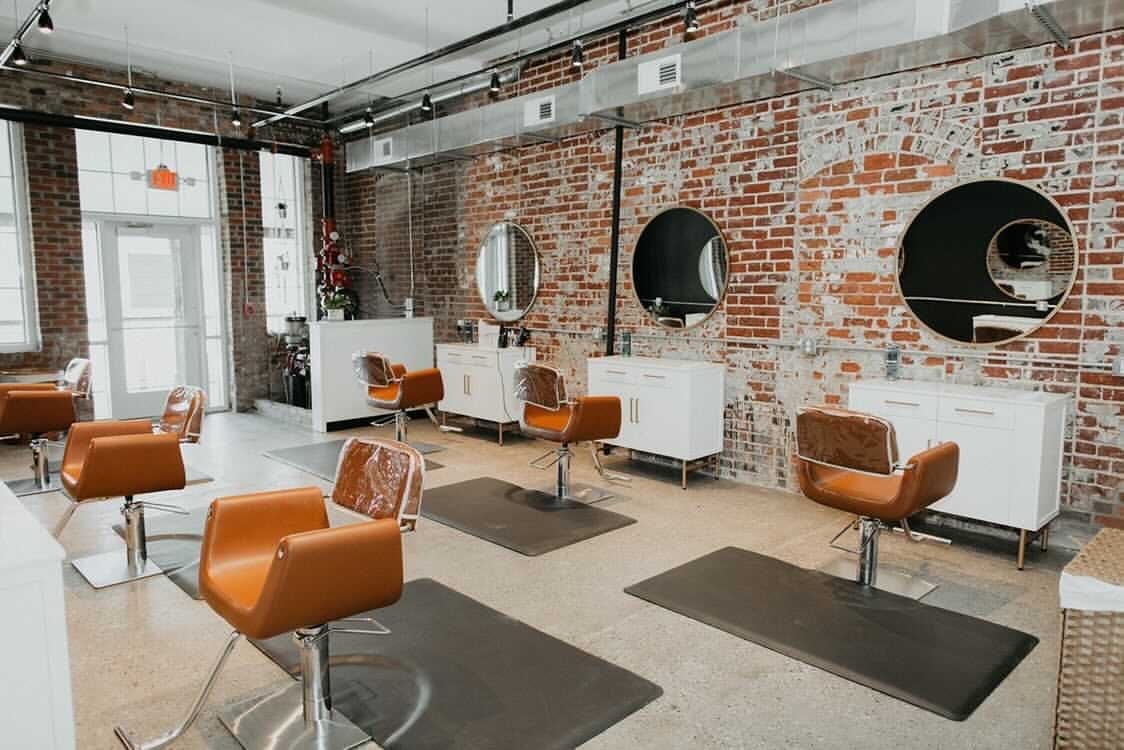 Whether you are remodeling an existing space or starting with a new build, mapping your salon layout can seem rather daunting when there are so many factors to consider. When questions as simple as where to place retail arise, it is easy to get overwhelmed. The good news is an empty floor plan has countless possibilities, and Minerva Beauty has some inspiration and design tips to share!
To help you make the most of your space, we have designed three small hair salon floor plan layouts using a basic 1,400 square-foot salon space. Focusing on function, proper equipment placement, and smooth traffic flow, each floor plan is complete with a reception area, styling stations, processing area, shampoo area, color mixing room, restrooms, and back of house. In addition to the floor plans, we have a few tips to share regarding various sections of a working salon to further help you along.
Reception Area Plan:
When it comes to the reception area, you will probably want to fit in a front desk, lounge seating, and retail display, but instead of breaking it up into various mini zones, try to blend everything through thoughtful furniture placement and the clever use of color, lighting, décor, and floor surfaces.
Carefully consider how a client will maneuver the space, as you do not want the entrance to be overly crowded or hard to walk through. The retail space needs to be a central part of the salon layout, so it is best to avoid hiding your retail in a corner or behind the desk, as doing so will only discourage clients from browsing the products on display. You may even want to place your reception seating next to your retail displays to encourage guests to shop products while they are waiting on their services.
Salon Styling Area:
Sufficient workspace is of top concern in the styling area, as you want your stylist to have enough room to work comfortably while also fitting in as many clients as possible. Ideally, the first styling chair should be a minimum of 24 inches from the wall, and there should be up to 54 inches between styling chairs from center to center. If you have the flexibility to provide more room, then consider doing so to provide more comfort for your clients and help stop noise from traveling between each stylist's area.
Additionally, think about the shape of our space. For long, narrow salons such as the examples provided, you may want to go with styling areas for your hairdressers that are less deep. Sometimes pairing a salon mirror with a free standing styling station can do the trick. Or you could even consider using double sided styling stations and running them down the center of your salon.
Shampoo Area:
If your space allows, shampoo units should be placed in a tranquil area away from the bustle of the salon for the ease of your clients. Just like the styling area, it is very important to allow sufficient workspace throughout your shampoo area. A good rule of thumb is to give your clients at least 32-42 inches between shampoo chairs, a minimum of 24 inches behind for the stylists to work, and a similar amount at the other end for the client's legs.
Shampoo systems come in all shapes and sizes. Some are deeper and take up more space, but they may also provide an additional level of comfort for your guests. Others have a smaller footprint which are great for small spaces such as salon suites or narrow salon washrooms. Most of Minerva Beauty's shampoo systems can be used as a side wash or backwash so finding the right fit and look for your space should be easy with our vast collection of colors and styles.
We hope that you can use these hair salon floor plans and salon planning tips as a starting point for inspiration to ensure that your final space is conducive to work, inviting to clients, and suits your salon's aesthetic. Use our handy 2D design tool to start planning your new salon, spa, or barbershop today!

Floor Plan 1: Rustic
Starting at the entrance and working towards back of house, the first salon floor plan design we have to share features generous retail display, a large reception desk, a small waiting area, 8 styling stations, 3 shampoo chairs, a spacious processing area, a color mixing room, a storage/breakroom for employees, and 2 ADA accessible restrooms.
The design style is rustic and what better way to go rustic than by using Minerva Beauty's Reclaimed collection? Check the product list below to get the look yourself!
Shop our Reclaimed Rustic Collection to get the complete look!

Floor Plan 2: Sleek & Traditional
The second salon floor plan design features an open concept with reception, retail space, and waiting area opening to the working part of the salon. To ensure every nook and cranny is used effectively, Minerva's Argonne L-shape Retail Display stylishly makes the most of the retail space. Continuing into the salon, you may notice the number of styling stations does not match the number of styling chairs (7 stations and 9 chairs to be exact). How is this possible? Well, our Athens Double Sided Styling Stations provides extra space for additional clients and stylists! The Double-Sided stations are cleverly placed at an angle to break up the salon in an interesting way and ensure there is ample room behind each chair for stylists to work and move around comfortably. Much like the previous floor plan, the Sleek and Traditional also features a processing area, 3 shampoo chairs, a color mixing room, a breakroom that doubles as storage, and 2 ADA accessible restrooms.
Check the product list below to get the sleek and traditional look yourself!

Floor Plan 3: Modern Chic
Last but not least, the Modern Chic floor plan is the most intricate of all. The reception area features a small desk front and center ready to greet guests as they enter. A trio of Brighton Retail Displays lines one side of the wall to offer plenty of aesthetically pleasing space for retail products. Unique from the other floor plan designs we have shared, the Modern Chic provides a makeup station complete with the Milano All-Purpose Chair and Astoria Styling Station. Moving along into the main part of the salon—8 styling stations are split apart by a wall down the middle, but the stations still flow together nicely with large, open doorways on either end. Both sides of the salon have a small processing area flanked by Brighton Retail Displays. Towards the back of the salon, 3 Vantage Shampoo Systems are placed in a quiet corner away from the hustle and bustle of the salon. A color mixing room complete with the Broadway Color Bar and Broadway Trio Color Rack is conveniently located just beyond the shampoo area with access through the break room.
Check the product list below to get the modern chic look!