Back to Blog
How to Notify Clients of a Salon Price Increase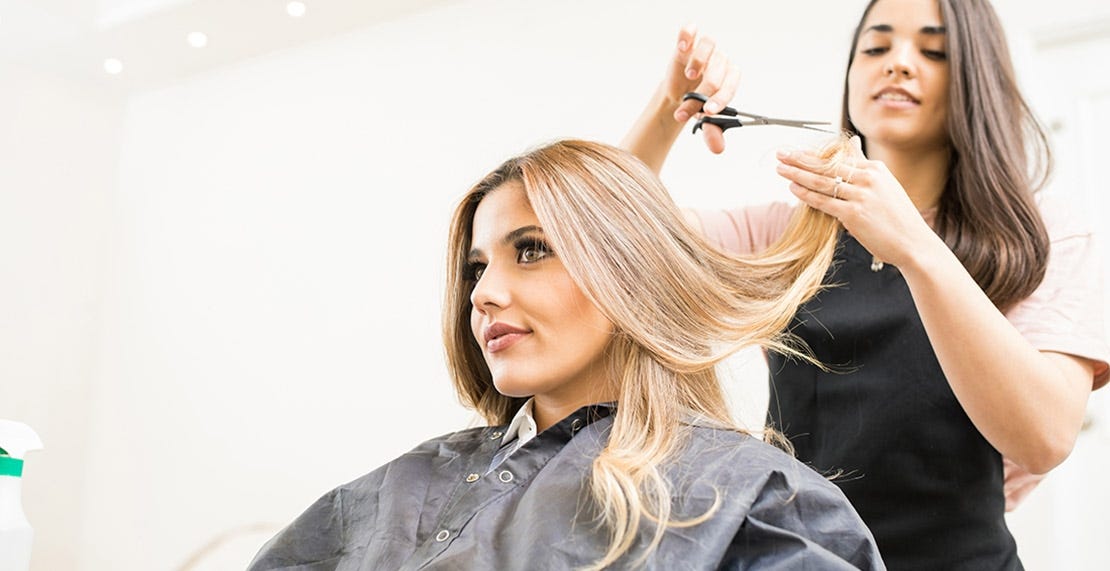 Highly qualified staff & high demand can be reasons to increase your prices (Photo by Antonio Diaz)
If you're considering raising your salon's prices you might be wondering if a price increase notice will scare away clients, how much and when you should raise your prices, and most importantly: how to inform your current clients. This article will help you decide whether or not a price increase is the right move right now, as well as how to let your clients know you're increasing prices.
How Do I Know If I Need to Raise Prices?
There are a variety of reasons why a barber shop, salon or stylist may decide to increase their prices. Here are some common situations that indicate it's time for a price increase.
You haven't increased prices in a while. As a rule of thumb, you should at least review your salon pricing every 12-18 months to make sure your business maintains healthy profit margins.

You have added new services to your offering. If you now offer a greater number of services, or you now offer specialized services that are more complex and time-consuming (like hair extensions or bayalage), your prices should reflect these improvements.

You have added new skills to your services. If hair stylists or nail technicians continually seek out continuing education opportunities and grow their skillsets, they deserve to charge more as their expertise increases.

Product prices have gone up. Inflation, product development and market demand can all lead to price increases for the beauty products used in your salon, which can eat away at your margins.

Rent for your salon has increased. It's common for essential business expenses like rent, utilities, insurance, permits, bookkeeping, advertising and employee benefits to increase over time, which means you need to increase your own prices accordingly.

You've elevated your salon equipment and decor. It's important to cover your costs when upgrades to salon furniture and tools provide a better experience for customers.

Business is booming and you are booked 85 percent of the time. When demand is high, especially if you're putting in long hours each day, that's a good sign it's time for a price increase.

You're charging less than the competition. Do some research and see what close competitors in your area are charging for the same services. If other salons charge more and are consistently busy, that's a sign your pricing is lower than the market rate.
Shop Minerva Beauty's Salon Equipment
When to Increase Salon Prices
Once you've decided you need to raise your salon prices, the next step is getting the timing right. It's best to set a calendar reminder so you can review your costs, competition, improvements, and profit margins at regular intervals. If you neglect this type of analysis you could be leaving money on the table.
If possible, aim to announce your next price increase as the winter holiday season is getting started, around early to mid-November. Many people are expecting to spend more money this time of year, and because schedules tend to fill up with extra travel and events it's a less convenient time to search for a new salon or stylist.
Graduation season (generally late May or early June) is another good time to announce a price increase because it's a time of year associated with transition and new beginnings. People also tend to be busy planning for summer travel and events, so a price increase notice won't make as big of a splash as it might during a quieter time of year.
Try to avoid announcing a price increase in January, because that's when many people are taking a closer look at their holiday spending and new year's budget. On a similar note, avoid raising your prices during the month before tax filing is due, because people tend to have more stress around money matters during tax season.
How Much to Increase Your Salon Prices
Ideally you should limit each price increase to 10% or less. This is another strong reason to assess your salon service pricing on a regular basis, so you can keep up with rising costs and avoid a huge price hike. It's not reasonable to ignore your pricing structure for years and then try to make up for lost revenue all at once. If that's the position you're in, consider planning a series of gradual price increases over time to prevent sticker shock.
If your services are currently priced at $5 or $10 increments, try to keep the same format when prices go up to maintain a familiar "feel" in your price list.
Of course there are always exceptions to these general guidelines. Market trends, competitive positioning, customer loyalty, exclusivity of services and the value you communicate will all affect your clients' perception of a price increase.
Other Price Increase Considerations
Besides raising the price of services, consider these additional ways to boost revenue:
Retail product prices - If your salon sells retail products that are popular with customers, make sure your profit margins on product sales are healthy.
Rewards program - Offering a points-based rewards program or other method that allows clients to earn discounts or freebies can help offset the inconvenience of a price increase and encourage loyalty.
Tiered pricing - If your salon employs stylists with varying degrees of experience or expertise, you can adjust pricing for individual services accordingly.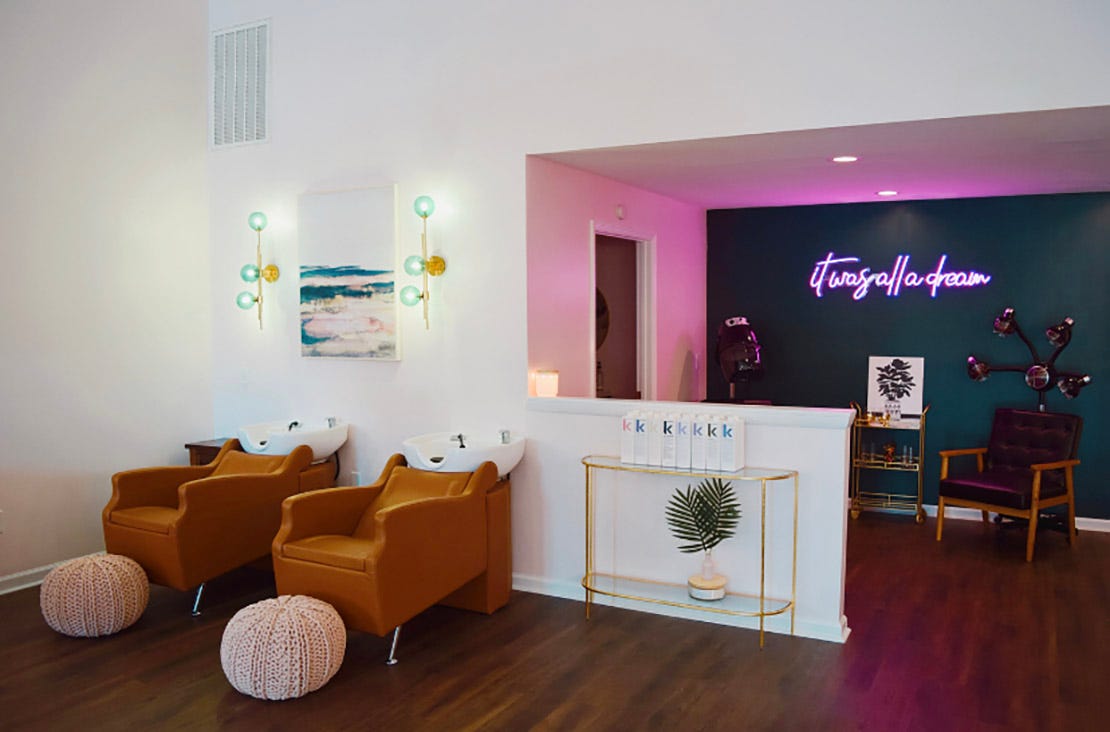 Make sure your pricing structure is aligned with market conditions & customer value perception
How to Inform Your Clients That You Are Raising Prices
One of the hardest things about raising your prices is having to let your guests know that you will be doing so. Of course, you don't want to upset your current client base or turn off potential new clients with this increase, but if your business substantiates it, you should increase your prices. Here are some tips on ways to approach telling your clients about the new price increase.
Be transparent – Your clients are loyal to you and they want you to succeed. If you're raising prices to account for your own increased expenses or a new elevated shampooing experience, share that with them. You can position this as "We are actively improving our salon to boost the quality of service for you."
Be direct - Don't beat around the bush or apologize for raising your salon prices. You have the right to run a profitable business, and your employees rely on you to make sure the business operates successfully and sustainably.
Be positive - Express gratitude for the loyalty your clients have shown, and emphasize how much you appreciate them. Express excitement about providing increased value to those who support your brand.
Ask for feedback – If you want to find a price increase that is feasible for your salon and your clients, you can always notify clients that you will be increasing prices and ask them for their feedback. This is a great way to involve your clients and let them know you care.
Talk about timing - Make it clear which date the price increase goes into effect. Tell your clients whether or not appointments already on the books will be subject to the price increase or not. It's considerate to provide at least 4-6 weeks notice of a price change. The last thing you want is for your clients to feel surprised or deceived when they show up for their next appointment.
Communicate across all channels – You never want your clients to feel blindsided by a price increase, which is why it's critical to let clients know you will be increasing your prices through every medium. You should let clients know via email, text, social media, in-person and any other way you communicate with your clients. Square Appointments lets you customize your mobile booking page with a notice, and send messages to clients in your system, which is another great tool to help get the word out.
Shop Minerva Beauty's Shampoo Systems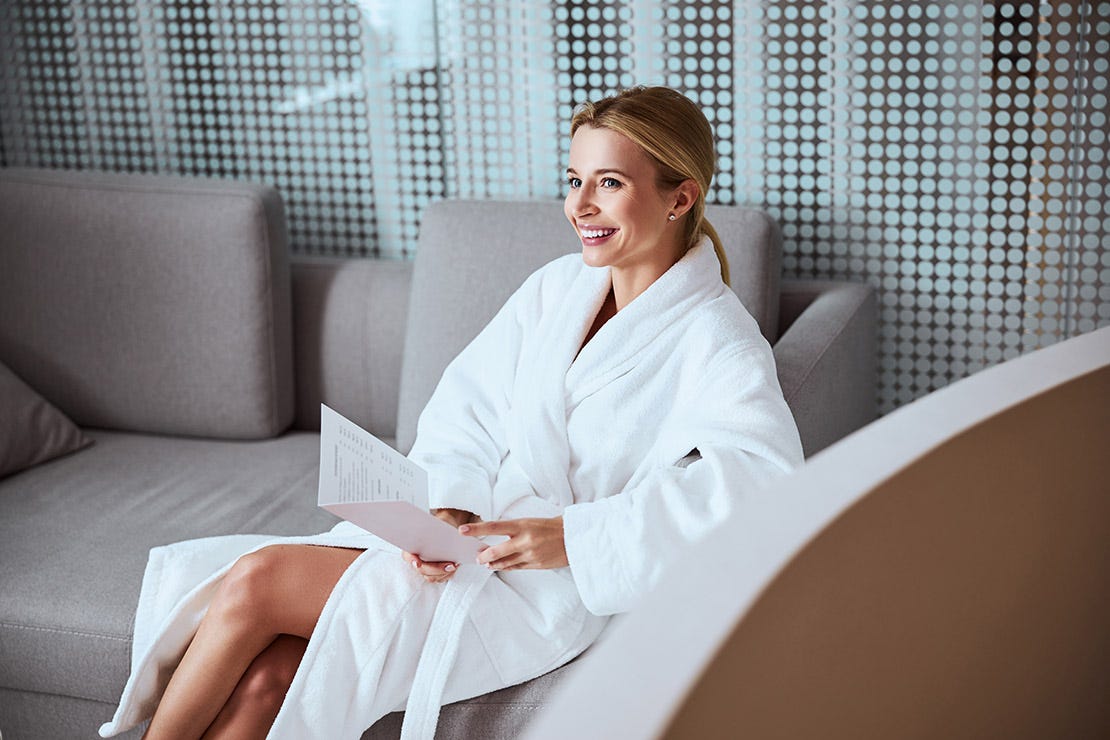 Be prepared to explain the reasoning behind your price increase when customers ask. (Photo by Yakobchuk Viacheslav)
How to Write a Salon Price Increase Notice
Posting a sign in your salon's reception area is an important part of being transparent and giving your clients the opportunity to ask questions. A well-written notice can also be used on your website, email, and socials. The number one rule is keeping things clear and concise, though you may want to tweak the wording to best suit the platform and available space.
Here are some templates you can use to create a price increase notice for your salon:
Price Increase Notice (Option 1)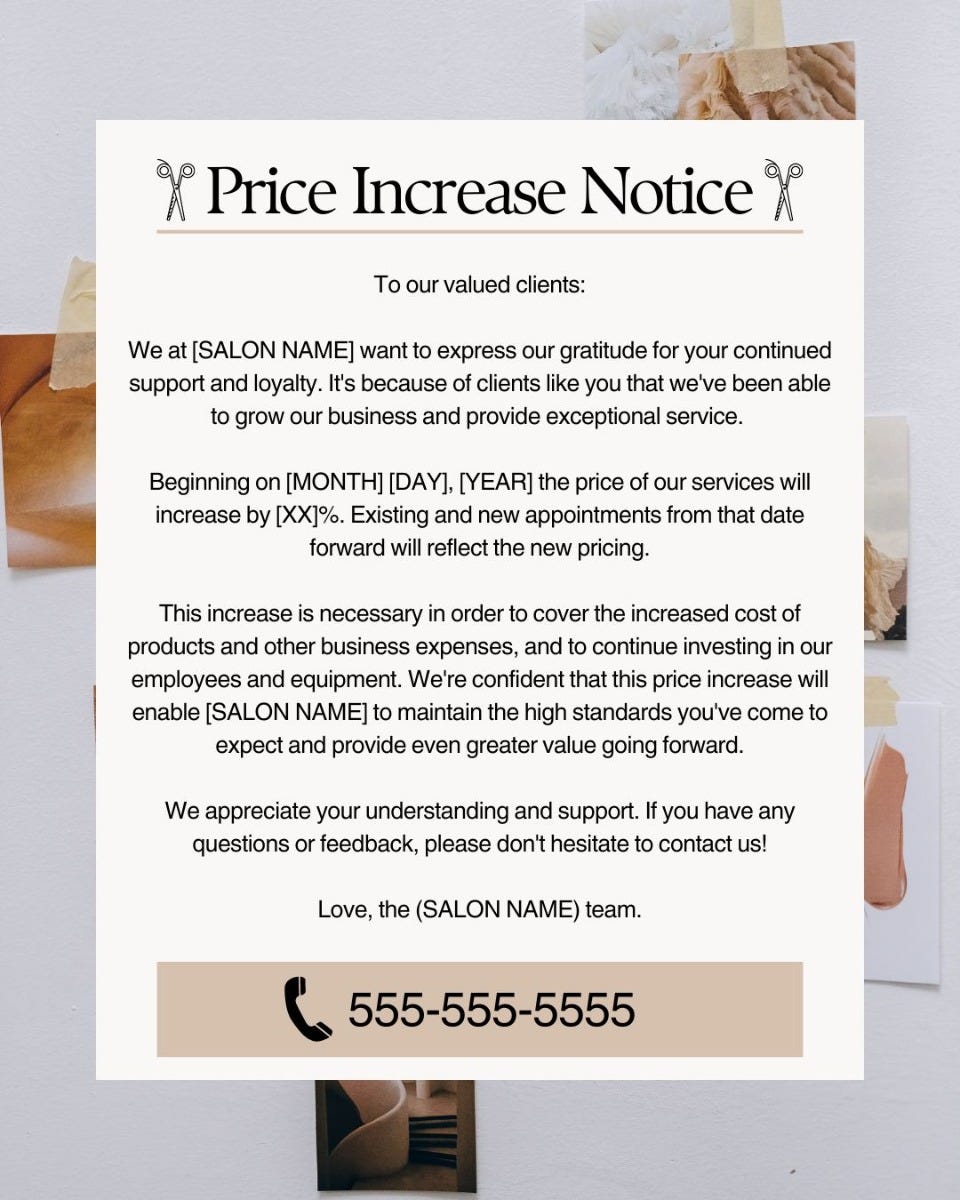 Price Increase Notice (Option 2)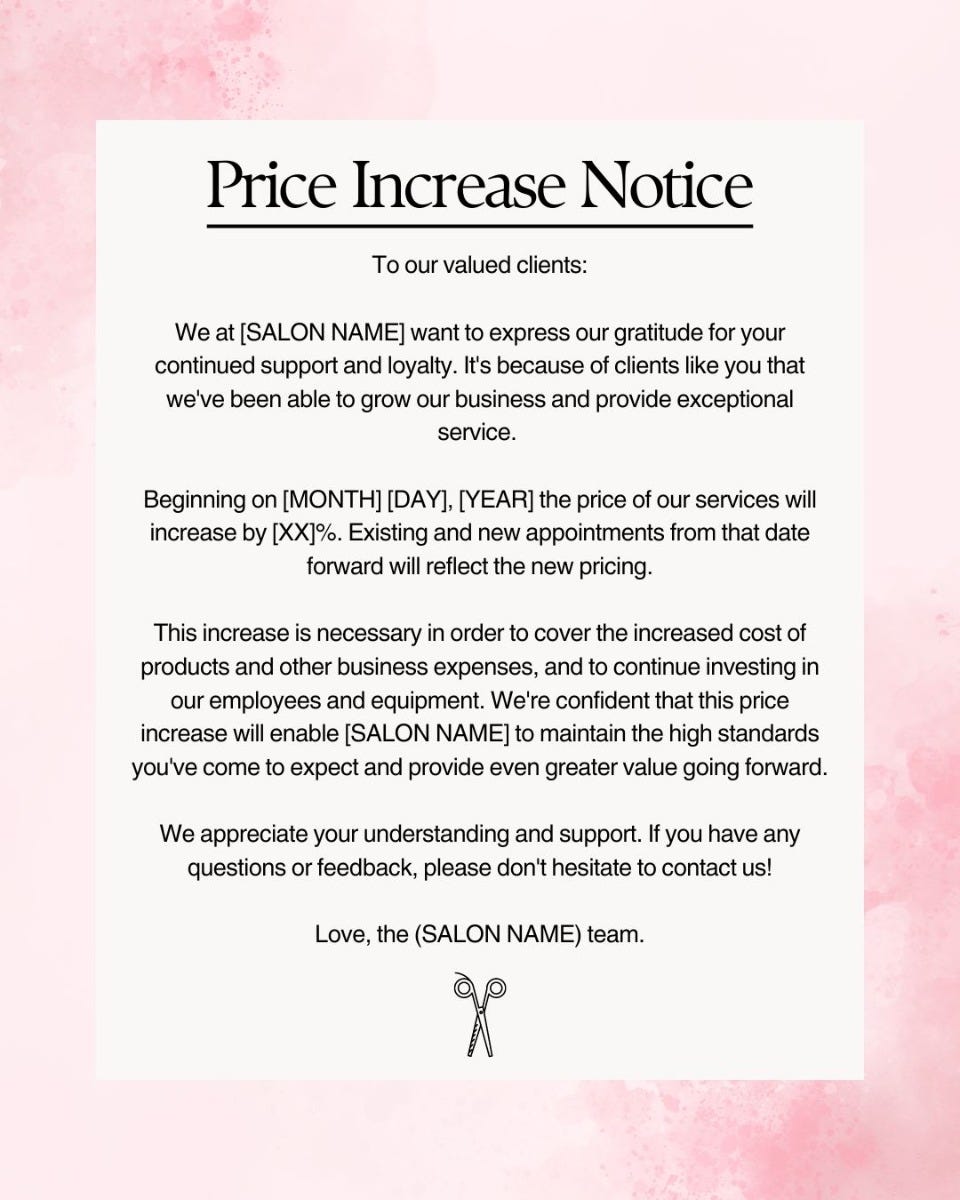 Price Increase Notice (Option 3)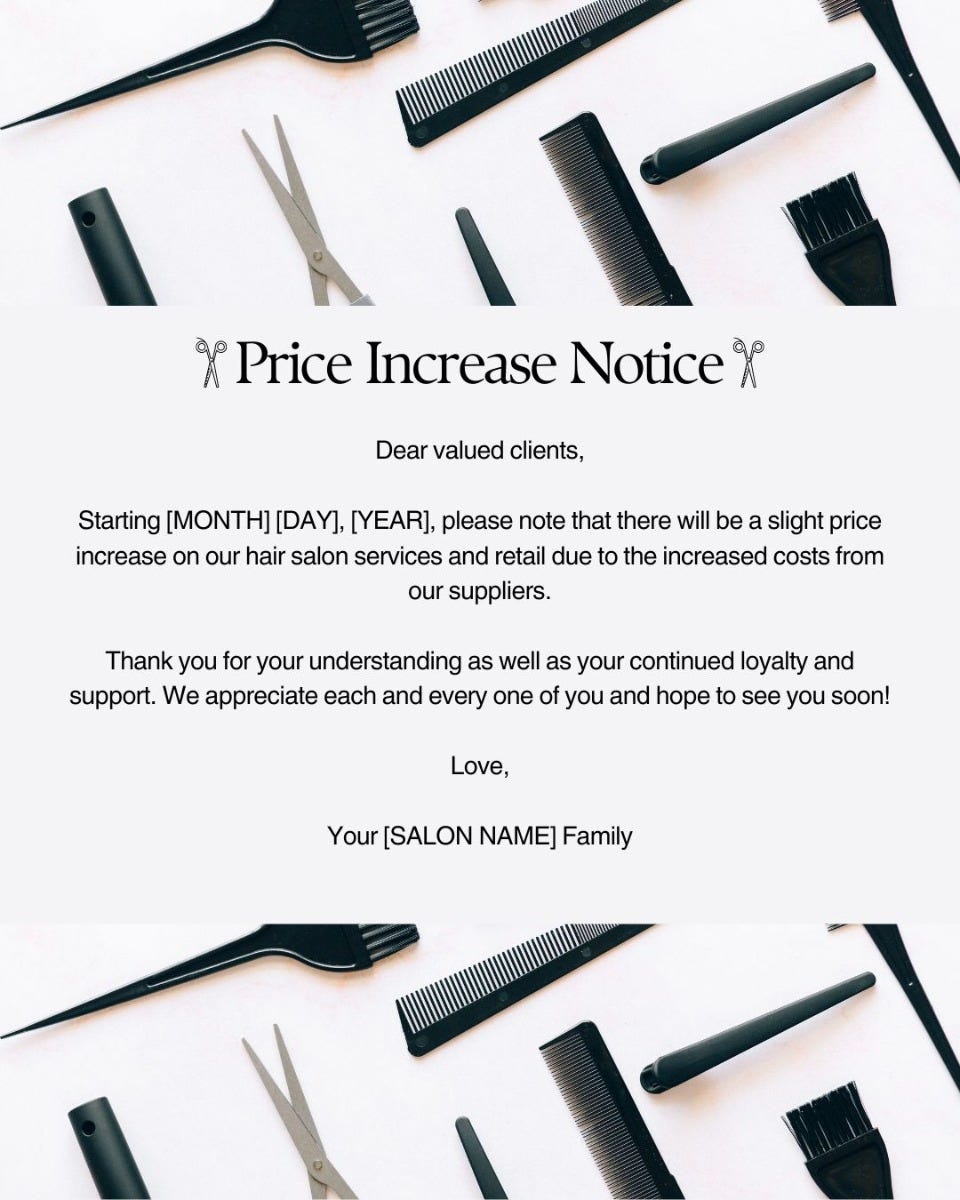 Customize and download your own salon price increase notice with these Minerva Beauty templates on Canva
How to Write a Salon Price Increase Letter
A price increase letter is a formal way of letting your clients know that you plan to increase your prices. The letter outlines exactly how prices will increase, as well as when and why. This is a great way for you to deliver all of the details your clients will need to know. Here are some things your letter should include:
Your logo, brand name, salon address & phone number

Headline announcing the price increase

Date price increase takes place

Old pricing compared to the new pricing

Reasons for the price increase

Any special promotions you will continue to offer

Contact information for the salon owner
Example of a Salon Price Increase Letter
If Minerva Beauty were a salon and we needed to raise our prices due to a general increase in the cost of supplies and operating expenses, this is how we would write a price increase letter. Feel free to adapt this template for your salon:
---
Minerva Beauty [logo]
[address / phone number / email]
date
To Our Valued Clients,
Notice of Salon Price Increase
In order to keep up with rising product costs, salon equipment updates and continuing education for staff, Minerva Beauty will be increasing our prices for the services listed below starting on November 1, 2023.
Highlights from: $150 to $165

Balayage from: $140 to $155

Hair cut from: $60 to $70
We continually invest in top-quality products and equipment to improve the services we are able to provide you, and we are confident that this price increase will come with increased value and more tailored salon services.
As always, we greatly appreciate your support and loyalty. If you have any questions, please contact [salon owner] of Minerva Beauty at the number below.
Sincerely,
[Salon Owner], Minerva Beauty
(phone number/email)
---
We hope you are feeling much more confident about the decision to increase your salon prices and make the announcement!
Keep reading to learn the key benefits of hiring a business consultant for your salon, spa or barber shop.