Back to Blog
10 Steps to Create a Salon Business Plan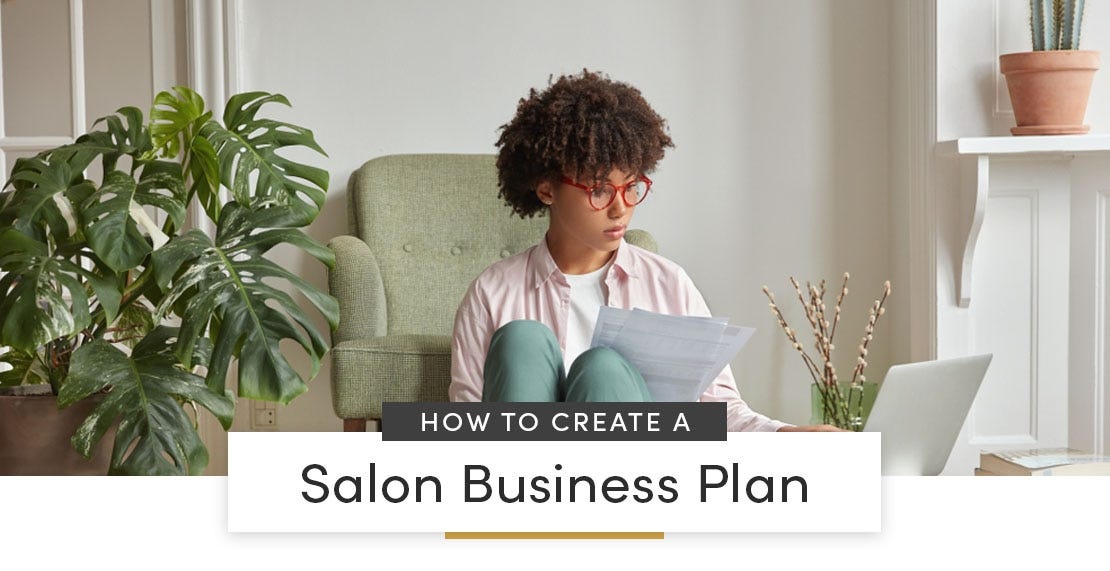 Are you in the early stages of planning to open a salon? What an exciting time! While you're probably very eager to open your business and create the salon of your dreams, there are many challenges and obstacles ahead that you will need to prepare for.
As your one-stop shop to purchase salon supplies and everything else you could need to fill your salon, Minerva Beauty wants to be a resource that you can leverage throughout your journey. We have created an extensive guide on how to create a business plan for salon and spa owners so that you can get started off on the right foot. This guide will help you create a business plan that is adaptable, thorough and customizable to your business and goals. Best of all, these business plan tips are helpful for all salon types including hair salons, nail salons, spas, barber shops and more.
What Is a Business Plan?
A business plan is a formal document that you create to outline your business goals, how you plan to achieve those goals and the timeline in which you plan to reach them. Here are some of the things you will find in a business plan:
Financials for the year

– Every business plan should include your financial plans and budget for the first year you're in business. You may need to have different budgets set for all aspects of your business like renovations, purchasing equipment, hiring talent, marketing and your grand opening celebration.

Goals

– In your business plan, it's important to include short-term and long-term goals. What do you want to accomplish in the first 6 months? In 5 years?

Salon space details

– Where will your salon be? The location, remodeling and decor plans should also be documented in your business plan. Including your salon's goal aesthetic and information about what things like the

salon stations

will look like is also helpful to include.

Market analysis

– To open a salon and business that is going to thrive and grow, you will need to include a market analysis in your salon business plan. The market analysis will be helpful in identifying potential competition in the area, as well as ways that your salon can differentiate itself.
Shop Minerva Beauty's Luxurious Beauty Salon Equipment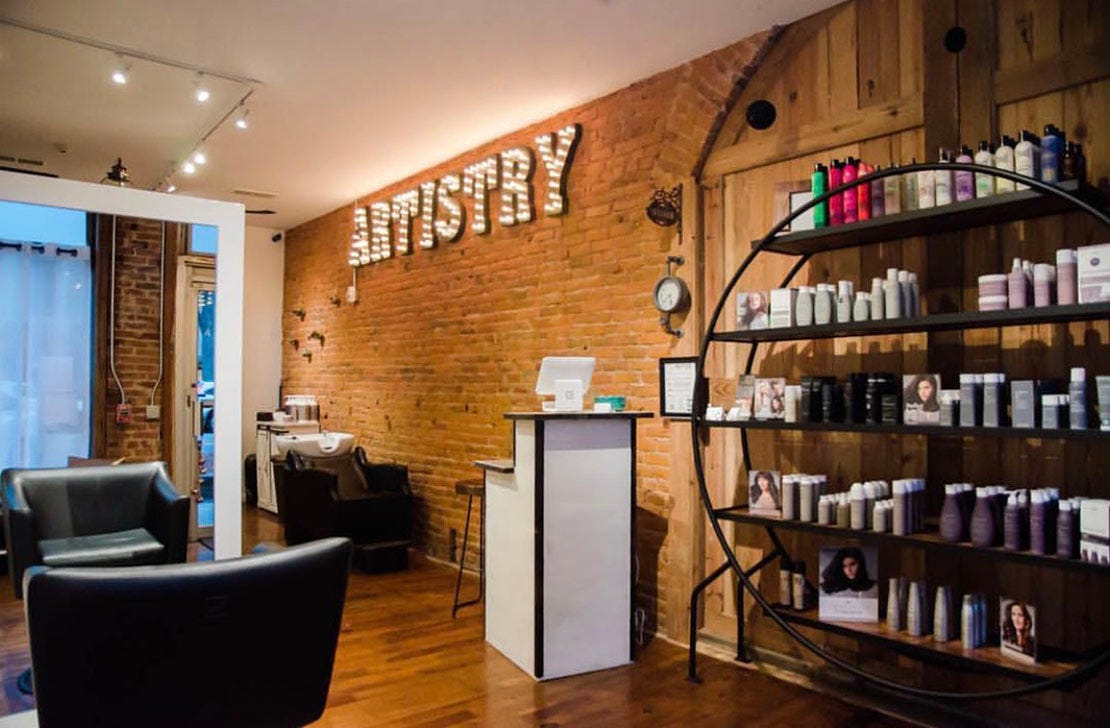 A salon business plan sets you up for success from day one. (Photo by Andrey_Popov/Shutterstock.com)
Why Is Having a Business Plan Important?
Creating a business plan is no easy feat, and you may be asking yourself why you need one. While it may be tedious and stressful to create one, we are here to assure you that it is well worth your time to create a business plan that is scalable and thorough. Here are some of the most important reasons why a business plan is so crucial:
Having a clear view of financials can keep you on track

– There are a lot of things to prioritize when you are opening a salon – one of them being financials and budgets. In your business plan, you'll need to keep details about your budget so you can refer to it when you're doing things like

purchasing salon reception desks

and other equipment.

Writing down goals is critical for business growth

– Studies show that

written goals are achieved more

often than those that aren't. Goal setting and tracking is an integral part of creating a business plan that works for you. Whether you have short-term or long-term goals for your salon, writing them down in your business plan is a great way to set them into motion.

It's easier to secure funding and get support with a business plan

– If you plan on financing or getting a loan to open your salon or for

purchasing styling chairs

or other pieces of equipment, having a business plan can be helpful. Lenders or interested partners usually want to see a business plan before they provide funding or a loan.
Taking the time to create a business plan for your hair, beauty or nail salon will also help you visualize your goals and help you think of things you otherwise may have forgotten about prior to opening.
How to Create a Business Plan for a Salon or Spa
Now that you understand the importance of having a salon business plan, as well as what to include in one, it's time to create your very own business plan. Here, we will walk you through the steps and share important tips along the way.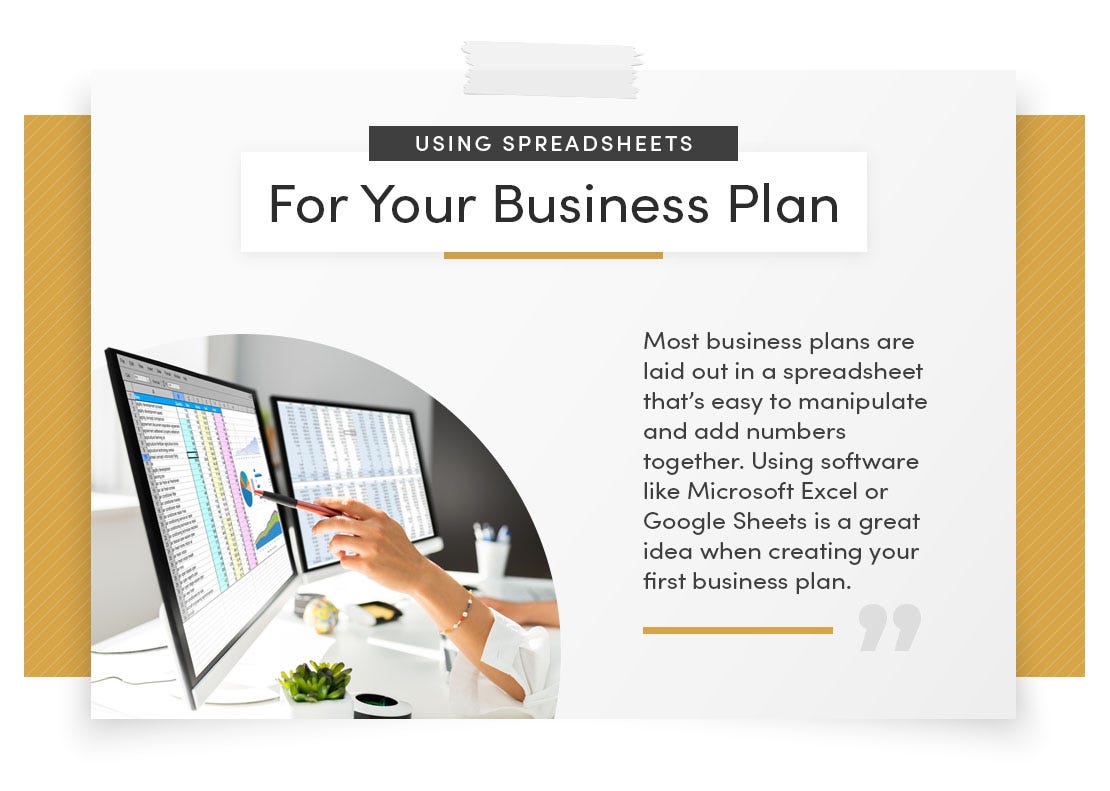 You can find spreadsheet business plan templates that make things easier. (Photo by WAYHOME studio/Shutterstock.com)
1. Create a Spreadsheet
Most business plans are laid out in a spreadsheet that's easy to manipulate and add numbers together. Using software like Microsoft Excel or Google Sheets is a great idea when creating your first business plan.
2. Come Up with Your Salon Name & Mission Statement
Within your business plan, you will want to include your salon's name and mission statement. A mission statement tells the story of your company and how you plan to stand out. Your mission statement may come together right before you open your business or as you create your business plan. It's okay to write down something that's adaptable and flexible. Before you lock in your salon name, it is also smart to check social media and website domain availability to make sure you are not choosing a business name that is already taken, or one that too closely resembles the name you have chosen.
3. Create a Moodboard or Lookbook for Investors & Clients
Along with the rest of these essentials, now is a fantastic time to come up with a basic brand guide and moodboard or lookbook. This can be an invaluable asset when presenting your business to investors or creating an advertising strategy.
4. Note How You Plan to Establish, Register & File Your Business
As you open your salon or spa, there will be steps you need to take in order to secure certifications, register your company — and its name — and more. In your business plan, you should include your plans for covering all of the legal and official processes.
5. Involve a Financial Advisor (optional)
If you would like extra guidance when it comes to setting a budget or creating a business plan, you can hire or solicit advice from a financial manager or industry professionals you trust. It's a great idea to have a financial advisor on your side who can help you foresee costs you may not be expecting to incur or business milestones that are important to include in your business plan.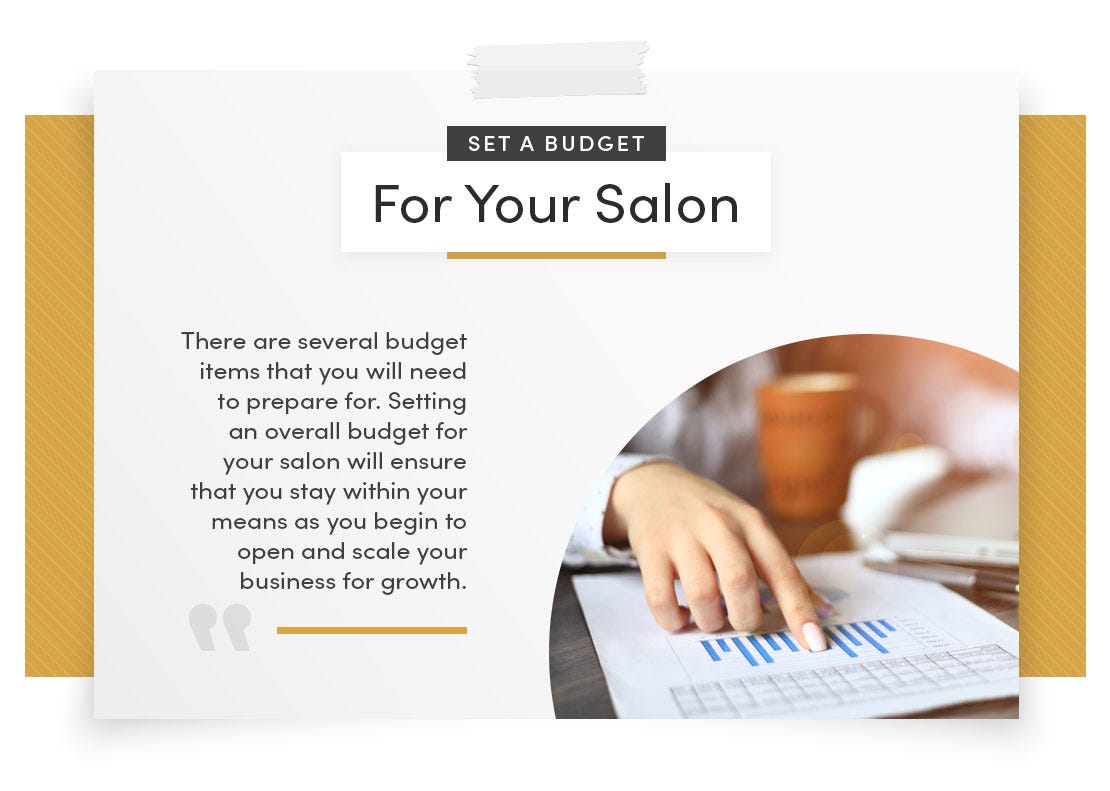 Protect your business investments with thoughtful budgeting.(Photo by fizkes/Shutterstock.com)
6. Set a Budget
As a new salon or spa owner, there are several budget items that you will need to account for and prepare for. Setting an overall budget for your salon will ensure that you stay within your means as you begin to open and scale your business for growth. Opening a salon comes with a lot of expenses — both large and small things that can add up over time. This is why it's critical to set budgets for each area of your business. As you create your budget, you are going to want to be frugal and flexible. Many times, costs can turn out to be greater than expected. However, you can keep yourself from overextending your budget by building in flexibility and staying below your means wherever possible. Here are some costs you should consider for your budget:
Financial services/advisor

Purchasing or leasing a space

Renovations

Monthly rent & utilities

Insurance

Interior design

Equipment

Salon tools

Talent acquisition & compensation

Training & education

Marketing (digital & physical materials)

Grand opening costs

Salon software like

Square POS for salons
Use our smart spending guide for insight into which items are worth investing in versus those you can bargain shop for, plus money-saving tips for salon and spa owners.
7. Include Plans for Securing Funding
Whether you have the cash flow to open your salon or you will be seeking additional funding or finances, it's important to include these sources in your business plan. You want to keep track of all the money coming in and going out. Here are some of the things to include in this section of your business plan:
Loan information

Investor information

Your own cash contributions

Any additional means of funding
Remember that for certain essential items, you can always consider financing salon equipment to help offset the initial costs of starting your business.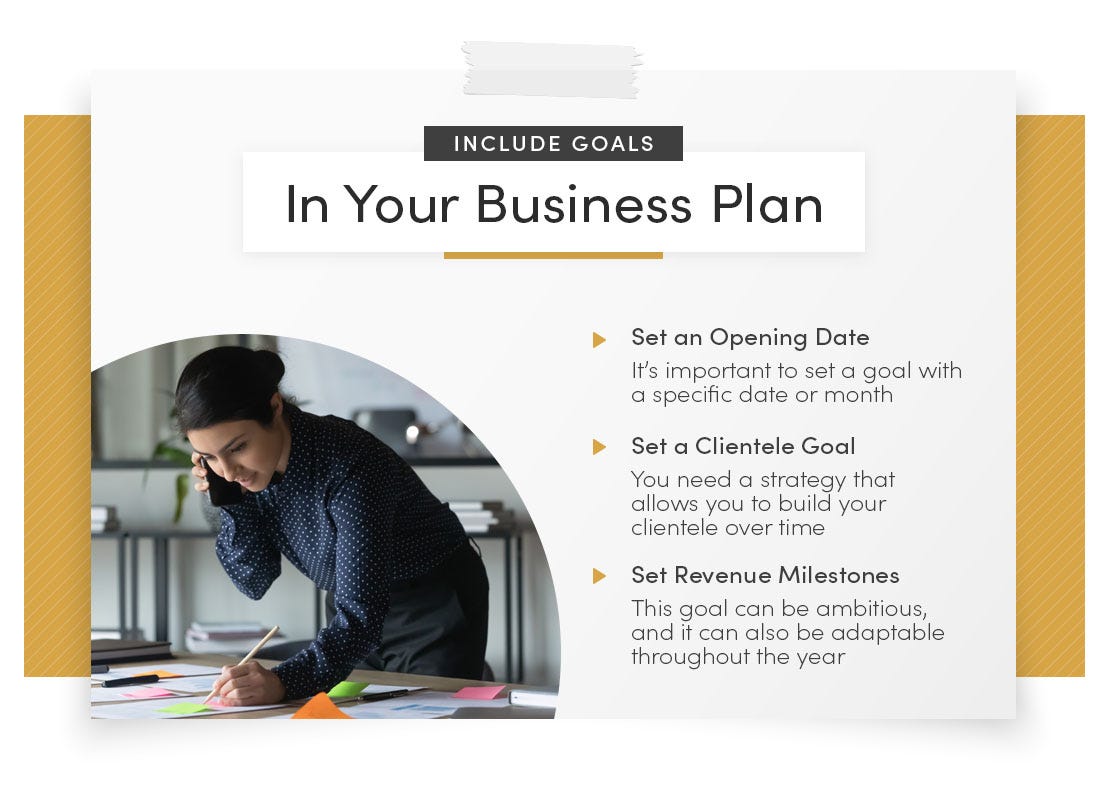 Business plans with goals keep you moving forward.(Photo by Monkey Business Images/Shutterstock.com)
8. Create Short-Term & Long-Term Goals
You will want to include goals in your business plan to help guide your salon's opening and success. In your business plan, you will want to include both short-term and long-term goals. While long-term goals may take more time to achieve, they should still be realistic and attainable for you and your business.
Set an opening date

– When will your salon open? It's important to set a goal with a specific date or month that you want your salon to open so that you can plan accordingly. Setting a date on your business plan will not only light a fire under you to get your business started, but it can also be helpful to have a set date to tell contractors or other parties who are helping you open your salon. For example, if you are renovating your space, your contractors need to have a date by which they should have their work complete.

Set a clientele goal – It's important to have both a short-term and long-term clientele goal because you will want to have clients right when you open, but you will also need to have a strategy that allows you to

build your clientele over time

. A great short-term client goal would be to set a realistic number of clients you want to open your salon with and develop a strategy around how to attract and

retain salon clients

as you gear up to open. To hit the number you want, you can bring clients you had with you from a previous salon or attract new clients through your social media presence, website or

promotions you are offering

.
Set revenue milestones

– For your first year in business, how much revenue would you like to bring in? This goal can be ambitious, and it can also be adaptable throughout the year as you get to know your business, staff and clients a little more. This is where knowing your costs can be important as well. Knowing your costs can help guide your revenue milestones because you have a clear picture of what you need to bring in to make your salon profitable.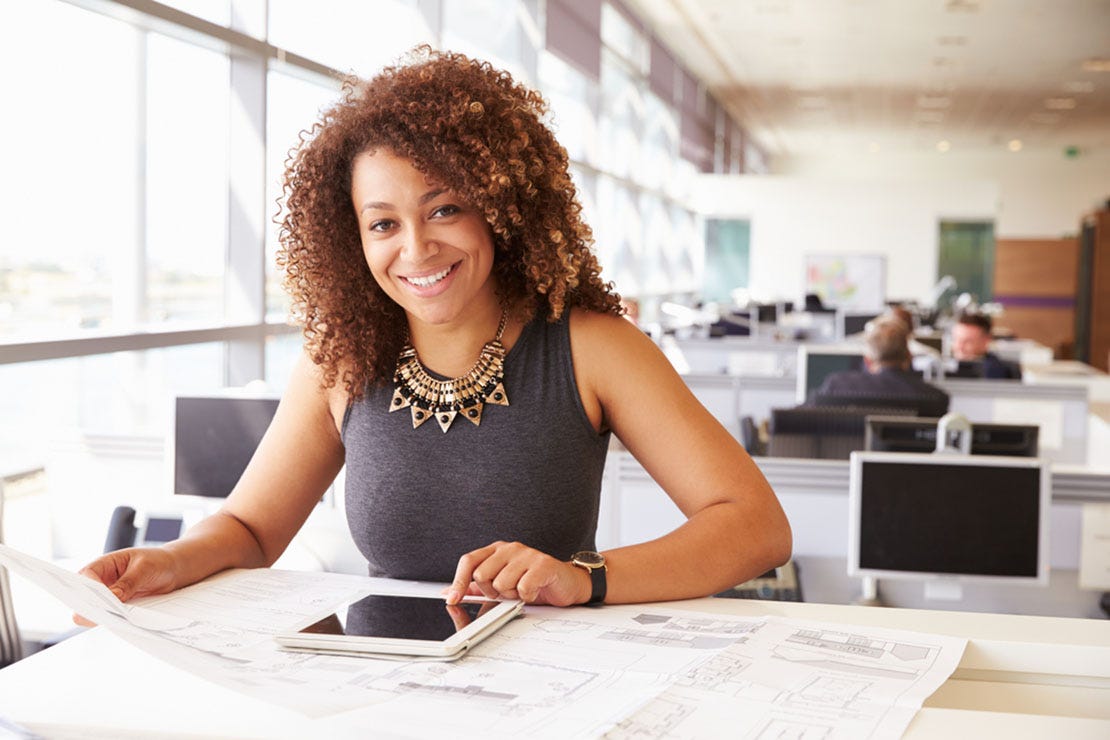 Where you open your salon can be just as important as the space itself.(Photo by goodluz/Shutterstock.com)
9. Conduct a Market Analysis
As you are beginning to shop for salon space, you will probably be looking at different locations in a variety of regions. But how do you know where the best neighborhood is for your salon? Conducting a market analysis will help you determine the best spot to open up shop. A market analysis is an important part of a business plan as it can affect a variety of factors. Here are some things to consider when conducting your analysis:
Competition

– As you look for spots to open your salon or spa, you should keep an eye out for other salons and competing businesses. If there are a lot of salons in the area you like, you may want to pick an area that has fewer salons so that your salon can stand out.

How your salon can differentiate itself

– As you look at competitors in your salon's new area, you will start to see how your salon can stand out and differentiate itself to win over clients. Take note of these key differentiators in your business plan as they can drive certain decisions.

Location

– Location is critical when you are opening a salon, and conducting a market analysis will help you determine if a location is ideal for you. Your space should be easily accessible to all clients and in a bustling part of town.
10. List Your Services
Once you have determined the list of hair, nail or beauty services you plan to offer, it's a great idea to include them in your business plan. It's also a smart decision to list the tentative prices you plan to charge next to your services as this could help you plan better financially and give you a more holistic look at how your business will operate.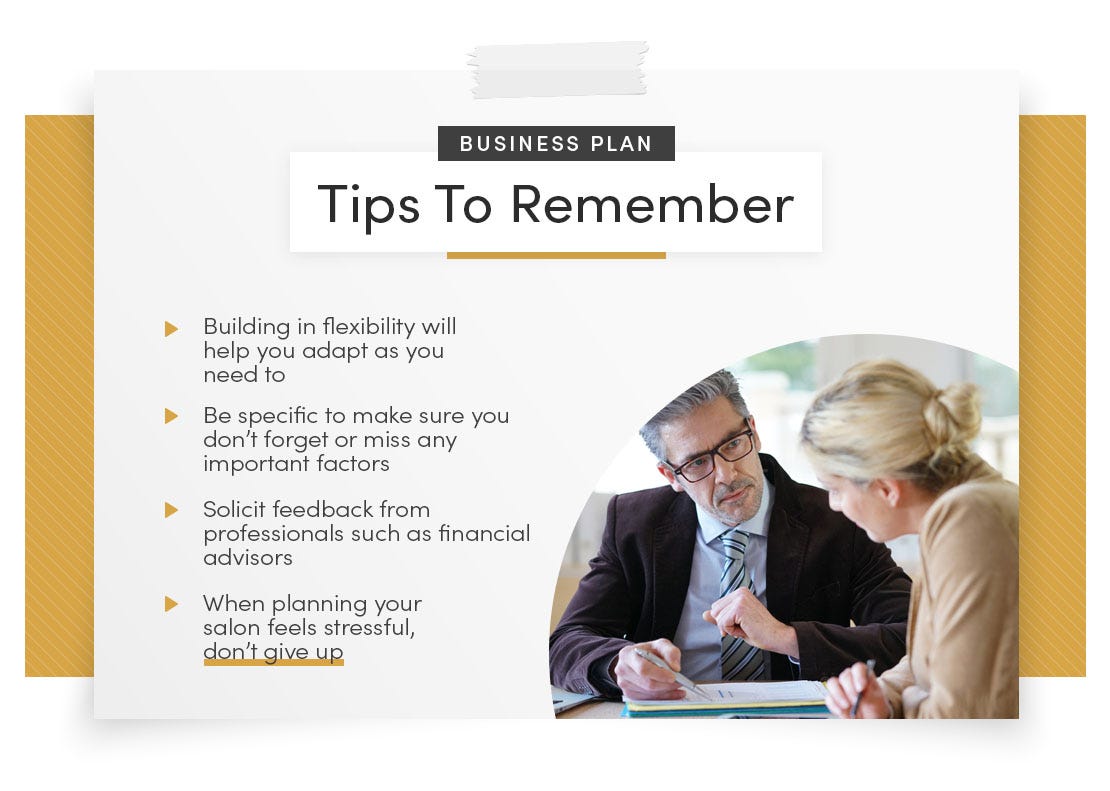 Don't hesitate to consult with professionals when planning your business.(Photo by OPOLJA/Shutterstock.com)
Tips to Remember as You Create Your Business Plan
Now you're ready to create your business plan. As you put together this official document, here are some additional tips to keep top of mind.
Flexibility & adaptability are key

– While some aspects of your business plan may seem like they need to be set in stone, building in flexibility will help you adapt as you need to.

Be specific

– Whether you are going over financials, noting the

salon chairs you love

or setting goals, it's important to be specific. Your business plan will guide you through creating a business and you want to make sure you don't forget or miss any important factors.

Solicit feedback, advice & help

– If you are feeling overwhelmed by this process, it's a good idea to solicit feedback from professionals such as financial advisors to help guide you.

Keep going

– There will be obstacles and many hoops to jump through, but opening this salon is your dream! When planning your salon feels stressful, don't give up.
It's official – you are one step closer to creating the ultimate business plan for your new salon. Keep reading to learn about how much it costs to open a salon, and which questions you should ask before buying an existing salon business. We've also created guides that cover the basics no matter which type of business you're creating:.