Back to Blog
9 Salon Marketing Ideas You Can Use Right Away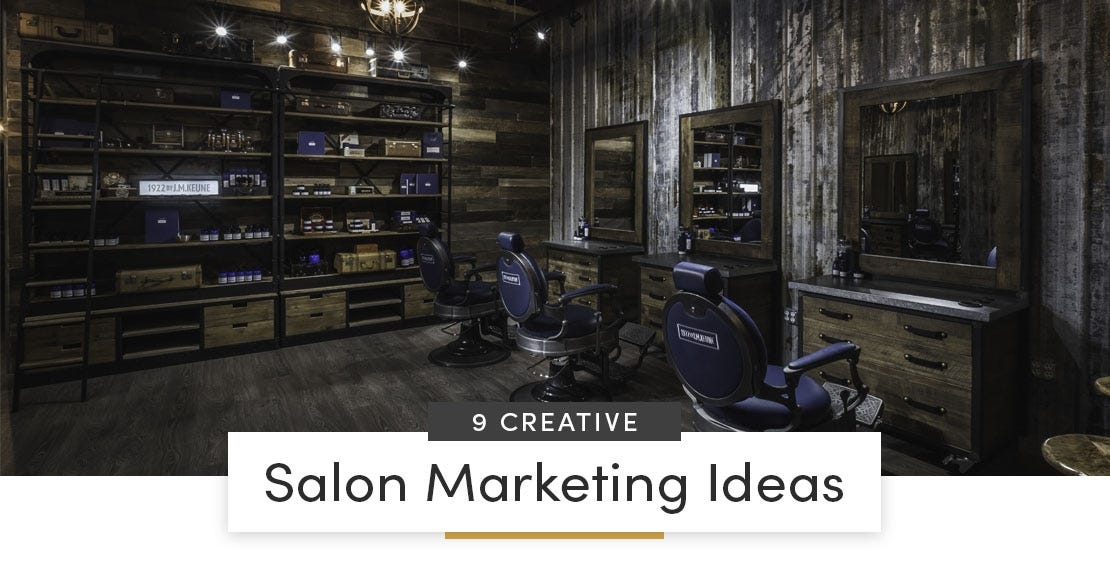 Now, more than ever, it is critical to properly market your salon, barber shop, spa or beauty business. Salon owners always want to gain and retain clientele who keep your business running. You also need to attract top talent to ensure that your salon offers the newest services at competitive rates. It's also important for your hair, nail or beauty salon to have marketing channels for sharing important messages with clients and prospects. These messages could include new services, special discounts, new staff and any other important updates your clients should know about.
We've gathered the top 9 marketing ideas for salon and barber shop owners to drive more awareness and ultimately more business:
1. Establish a Strong and Relatable Social Media Presence
Social media is so much more than just posting fun graphics or behind-the-scenes shots at your salon. On social media, you have a unique opportunity to attract new clients, tell your salon's brand story and keep your current clients engaged.
Here are some platforms and outlets you can leverage: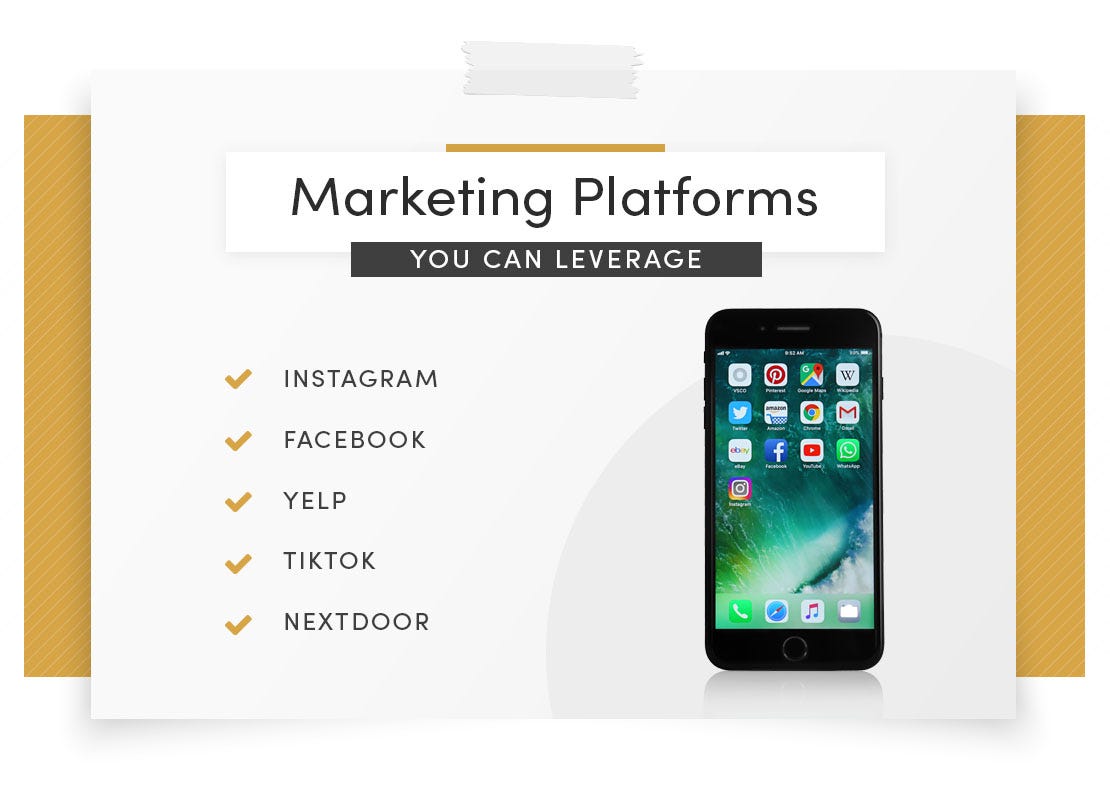 There are many others - out which social media platforms are most popular among your clients & staff
Instagram: Ideal for sharing attractive visuals like makeovers & new salon equipment

Facebook: Comprehensive platform with options for advertising, connecting with groups & engaging with customers

Yelp: Being listed on Yelp can help increase exposure, though it may not reach as many younger people

TikTok: Showcase trendy hairstyles, tips & challenges to attract a younger audience

Nextdoor: Make hyper-local connections with residents in your area and establish your salon as a community resource
Each social media platform has its own unique features and user base, so be sure to consider your target audience, marketing goals and resources when creating a social media marketing strategy.
Here are some unique ways to leverage social media to enhance your marketing efforts: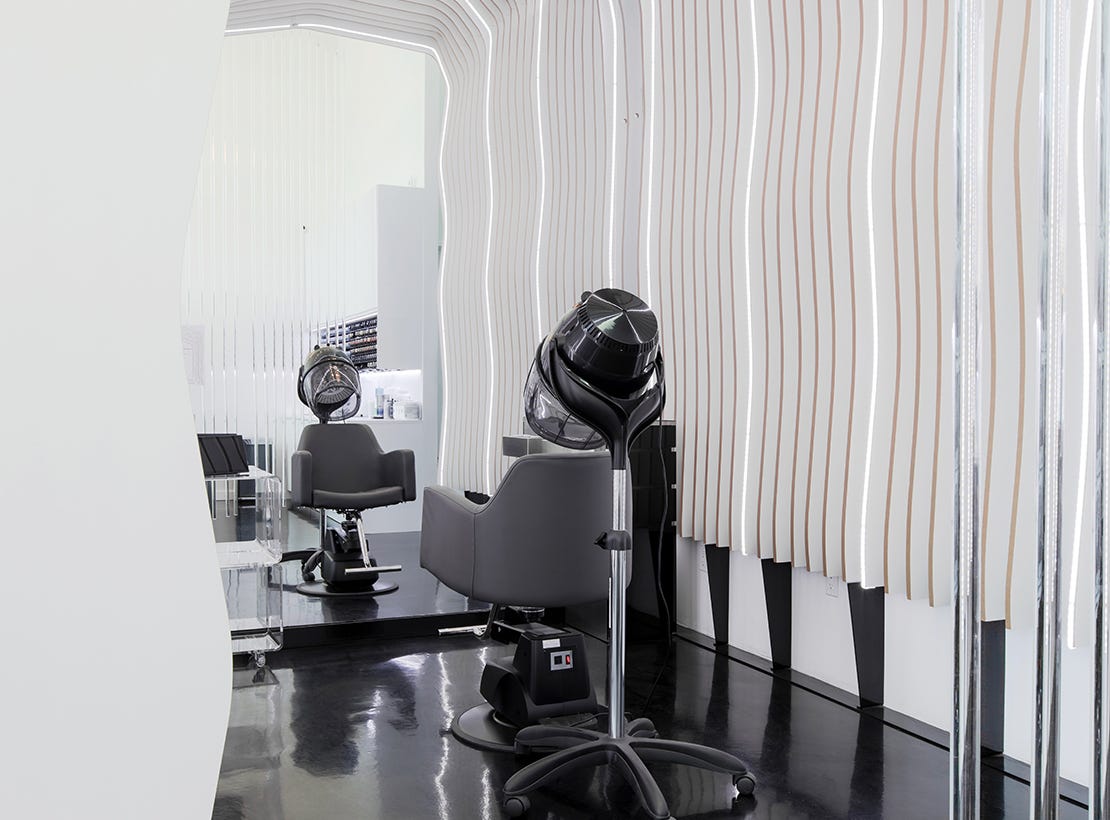 Create Photo Opportunities and Social Moments – One way that you can get creative with your digital presence is by creating Instagrammable and photogenic opportunities around your salon where clients can take photos of their new hair or nails, or share their thoughts as they enjoy a new treatment. You can encourage your clients to post to social media by placing plaques or flyers with your salon's social media platforms and any specific hashtags at your salon reception desks so that guests know how to interact with you digitally.
Host a Giveaway – Hosting a giveaway is a great way to get new clients into your salon or encourage current clients to try a new service. Giveaways are also a fun way to engage with your clients on social media.
Create Social Profiles for Your People – Aside from having a social media account for your salon, you can also ask your stylists to create their own social media accounts on Instagram and encourage them to regularly post their work and clients. This will only broaden your reach and expand your presence. Plus, having accounts for your people will make your salon seem more personable. You can create signage placed by your stylists' salon chairs that includes their social media info for their clients to see and interact with.
Leverage Video on Social Media – If your salon has any unique or trendy services, capture a video and post it on your social media platforms with relevant hashtags so that they reach a wider audience and attract new clients. Videos perform very well on social media, which makes it a great tool to use.
2. Use Email Marketing to Deliver Personalized Messages
Email lists are a very effective way to continue marketing your salon to your existing clients while also creating a space to share product sales, promotional messaging and more. Text promos have also been increasing in popularity as a form of marketing contact. You usually get your clients' email address and phone number when you book their appointment, so why not put that contact information to good use by crafting an email list?
Design Engaging and Creative Email Templates – Make the most of your email marketing by designing email templates and campaigns that are fun and engaging. These campaigns and emails can include information that your clients look forward to receiving like updates about new services or special promotions. You can build user-friendly and creative email templates on websites like Mailchimp, ActiveCampaign and intercom.
If you have outreach software or a platform that sends regular notifications and emails to your clients, you can also leverage these to build campaigns. Square salon booking software offers an email marketing service and helps you collect customer email addresses. It even groups clients by casual, loyal, and lapsed so you can tailor your messaging.
Emails are a direct way to stay in touch with your clients, keep them in the loop and offer special discounts.
3. Take Advantage of Marketing at Your Salon
Marketing isn't all digital — even though we are largely handling communications digitally and reaching new clients in a digital way. There are many opportunities to market your business from inside your salon: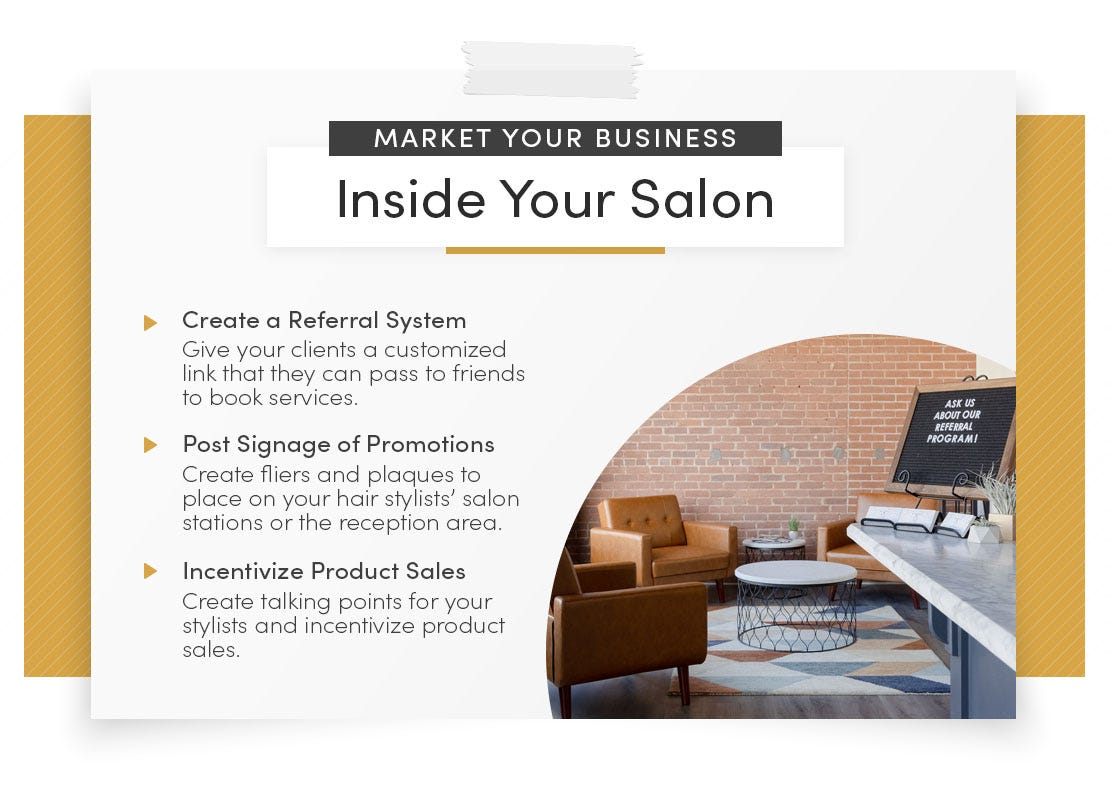 Marketing inside your own salon can increase client loyalty & help secure your revenue stream
Create a Referral System – Word of mouth is still a very popular and effective technique to get the word out about your salon. By creating a referral system for your clients, you're empowering them to spread the word about your salon while also offering them incentives like discounts or free products. To create a referral system that works for you, you can always tell your clients to have their friends share the name of the person who referred them or you can give your clients a customized link that they can pass to friends to book services.

Post Signage of Promotions – If you're having any promotions — whether it be product sales or a discount on new services — you can create fliers and plaques to place on your hair stylists' salon stations or the reception area. This is also a great way to share news about new services or highlight services that aren't being booked as often.

Create Talking Points for Stylists and Incentivize Product Sales – If you want to boost product sales or highlight your salon's very own product, a good way to market these offerings is by creating talking points for your stylists and incentivize product sales. You can have your stylists organically weave these products into their styling services while talking about the products in a way that influences clients to purchase. Sometimes, the best way to market your salon is through your people!
Another easy way to market inside your salon is by making it easy for clients to buy gift cards at reception!
4. Create Thoughtful and Timely Promotions
Having regular promotions tied to holidays or special times of the year can draw in a lot of business for salons. The benefit of having these promotions regularly and happening around the same time every year is that your clients associate this promotion or this time with your salon, which makes them excited to come in and try new services. Having consistent promotions is also a great way to give back to your clients. This creates a positive experience for them and makes them more likely to share your services with their friends. Hosting regular promotions will also give you a great opportunity to attract new customers. You can share these promotions on your social media accounts, email lists, text alerts and you can ask your stylists to talk about these promotions with their clients, too.
If you're looking for some salon promotion ideas, we've got you covered! Start with this guide to five salon promotions proven to work.
5. Design and Create Branding that Works
It's important to create branding materials that effectively tell your business's story while also attracting new clientele or talent. If you're hiring a marketing firm or PR agency to assist with your marketing, they may be able to completely handle your branding efforts. However, if you're handling marketing in-house, you will need to get crafty and do research on effective branding strategies. But here are a few factors to consider as you start branding your salon, spa, or barber shop.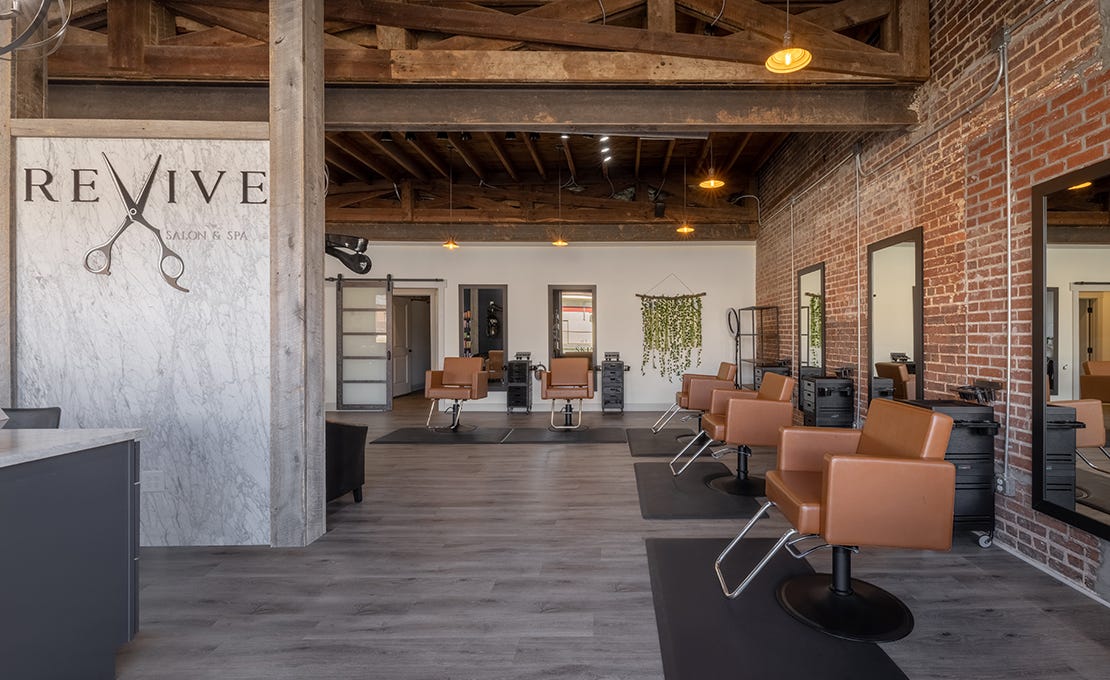 Understand your target audience & build a brand identity that aligns with their aspirations
Determine a Brand Story and Color Scheme – Any time you are creating visual materials to represent your business, it's really important to think about the color scheme that you want to choose. Does your salon already embrace a current color scheme? You can do research on effective color schemes for salons or play around with different hues to find the perfect fit.
Create Mockups and Promotional Materials on Canva – If you're not graphic design savvy, you can easily create mockups of a logo or any other marketing materials on Canva. You can either use these materials you create for social media promotion or email newsletters. If you plan on hiring a graphic designer, you can use these as a baseline to take to a graphic designer and ask them to improve it. Canva is very easy to use and usually has many premade templates that can be customized to fit your brand.
6. Show Up In Search
Your salon website and free local listings are important tools to leverage if you want to attract new clients. People search online every day for salons and stylists nearby. Even a small and simple website is better than not having any online presence of your own, because it gives you a home base that all your social media platforms and local listings can point to. Use these search-based marketing ideas to increase your visibility:
Get a grasp of basic SEO — Search Engine Optimization my seem intimidating if you've never learned about it, but the basics are easy to grasp, and there are plenty of DIY guides for beginners online.
Claim & verify your listings — Find or create your Google Business Profile, Bing Places listing, Apple Business Connect listing, and Yahoo Local listing. The most important thing is making sure the details (contact information, address, business hours) are correct and uniform across all of them, and that they include a link to your website.
Publish unique & helpful content — Depending on your skillset and available time, you may want to partner with a professional to help you out with website content. You can create blog posts, FAQs, image galleries, service detail pages and much more. Figure out what your target audience wants to know, and share details and insights specific to your salon and experience.
Start a YouTube channel — YouTube is the second biggest search engine in the world! If you're creating video content, it's smart to create a YouTube channel in addition to posting videos on social media. Learn how to optimize your video content for search, and make sure each video description includes a link to the most relevant page of your website.
Consider paid search — Advertising on search engines is another option which can draw more traffic to your website. It can be especially helpful for highly competitive search terms, or in early days as a short-term strategy while your website is gaining traction in organic search.
7. Promote & Protect Your Reputation
You need to proactively manage how your salon business is perceived by potential new customers. Local service businesses rely heavily on customer reviews posted on Google, Facebook, and other online platforms. If you don't have time to solicit, monitor, and engage with your reviews you should hire a professional online reputation manager or marketing specialist with experience in this area.
Generate new customer reviews - Make it easy for clients to leave you a review on Google or the platform of your choice. You can send links to leave a review by email or text, post QR codes in your salon, and train your staff to ask satisfied clients to leave a review.
Reply to all reviews - Make a habit of reading your new reviews on a regular basis, and respond to them. Thank clients for leaving a positive review, and try to smooth ruffled feathers if a negative review is posted. People will evaluate your business not only by the reviews people leave, but by the quality and professionalism of your responses.
Consider your curb appeal - New customers don't just judge your business by its reviews, but by its appearance. Make sure your salon facade is in good repair with eye-catching branding. Post helpful signage, pick up litter daily, take advantage of window displays if you have them, and ensure your salon's entryway and reception area make the right first impression.
8. Connect With Your Community
Hair salons, nail salons, spas, and barber shops serve local communities, so it only makes sense to build and maintain positive relationships with the people in your area. Here are some ways to make connections that can lead to more awareness and interest:
Attend local events — Get a booth at bridal shows, prom fashion shows and other events associated with the beauty industry. You can offer free mini consultations, showcase popular services that appeal to the crowd, offer a special discount for first-time customers, or sell your most popular salon products.
Look for cross marketing opportunities — Discover other local businesses that gel with your audience, like tattoo parlors, massage spas, boutiques, artists & designers, DJs, event venues. Find out where your staff and existing clients are already spending money in your city to help you generate ideas.
Give back to your community — Take inspiration from brands with a CSR (corporate social responsibility) strategy and come up with meaningful ways your business can contribute. You could sponsor local events or charities that align with your brand, participate in programs that recycle or repurpose hair clippings, or offer discounts to teachers, healthcare workers, or first responders (or whichever group resonates with your target market).
9. Offer Something Exclusive
In order to stand out, you need to know what's going on around you. Do some competitor research, look for opportunities to provide a unique experience to your customers, and let the world know!
Check out the competition — Visit and call other salons in your area to get a sense of their ambiance, offerings and prices. Be sure to evaluate their online presence as well!
Gather information — Have a brainstorming session with your staff (you could even make it a friendly competition, or offer incentives) on ways to delight customers without breaking the bank. Let customers know you're open to feedback and suggestions, and make it easy for them to share their thoughts via email, socials, or a good old-fashioned suggestion box.
Be willing to experiment — It may take a few tries before you discover the perks and quirks that work best for your brand and your audience. It could be a fun variety of reading material or coloring books in your waiting area, curated playlists crafted by actual humans, free samples of new products, or unexpected snacks and drinks from an international grocery store.
Even something as simple as having different types of phone chargers on hand for customers to use can really make someone's day. Once you start looking for ways to include small but meaningful perks in your salon, word will get around!
How to Create a Salon Marketing Plan
As a salon owner, it will be your responsibility to determine how your business is marketed. After you come up with a list of marketing ideas that align with your business and brand, you'll get the best results by organizing those ideas into a strategic plan.. As you get started on creating a marketing plan, here are some important factors to consider.
Shop Minerva Beauty's Salon Equipment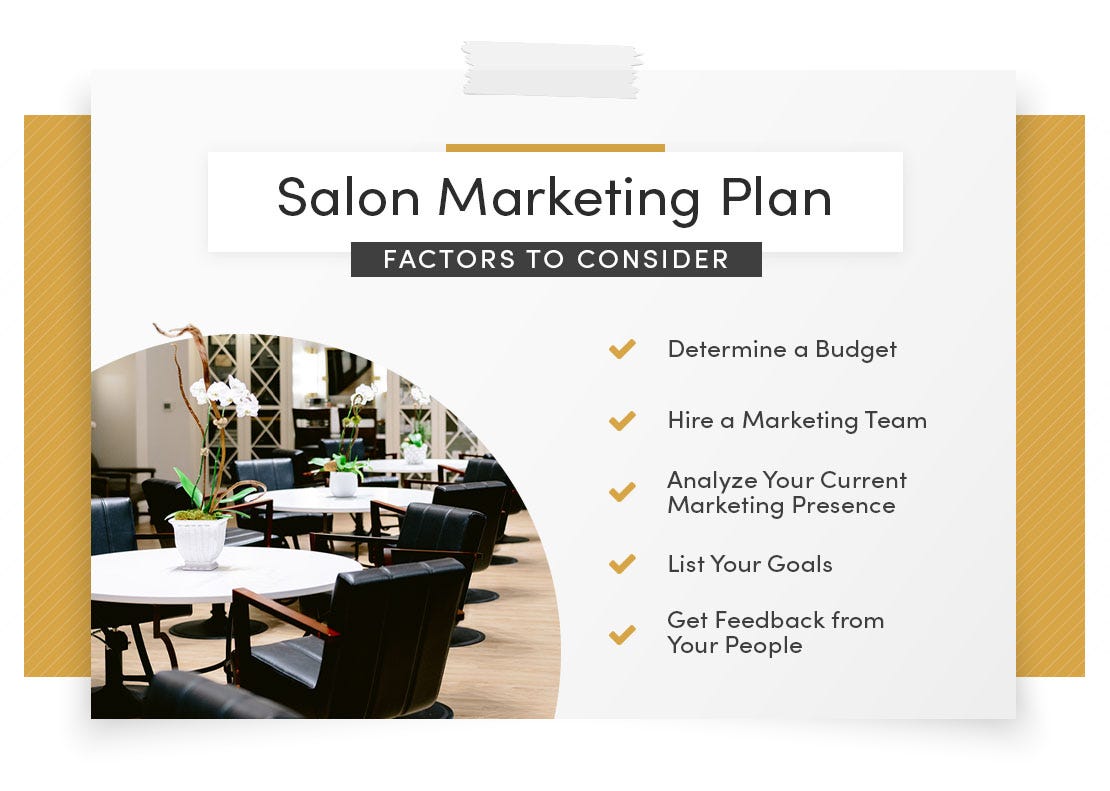 A salon marketing plan helps you act on your creative ideas effectively
Determine a Budget – Before a marketing plan is set into place, it's critical to determine what your marketing budget is. Similar to how you budget for essentials like high quality salon supplies, you will also need to set aside money to invest in marketing. Your budget should obviously be practical for you and your business, but it should also be a good portion of your expenses because marketing is what will keep your business thriving.
Hire a Marketing Team, Agency or Consultant – There are many reasons why a salon owner may decide to handle marketing in-house or hire an agency, but the most important factor deciding might be the budget. It will be more expensive to hire an agency to handle marketing; however, if marketing isn't your strong suit, this could be the most effective way to market your business. But if you do have a marketing background and you have stylists and estheticians who are also marketing and social media savvy, you may be able to craft a thorough and unique marketing plan that you can handle in-house. One size does not fit all when it comes to salon marketing plans, so it'll be important to consult your people and any other important stakeholders.
Analyze Your Current Marketing Presence – As you start crafting your marketing plan, ask yourself what marketing strategies and techniques your salon already has in place. If your salon is already on social media or has an email list or certain outreach software in place, how are those methods performing? It can be helpful to take insights and gather data on what is working for your salon and what isn't as you shift focus into a new marketing strategy. Do you have a website? Make sure you are checking out the website's performance with a tool like Google Analytics and figure out how you can reach your goals, like getting more referrals or new bookings.
List Your Goals – When you're developing a new marketing strategy, listing out your goals and determining what your company wants to gain from its marketing initiatives can help lead you in the right direction and to help you understand how your company needs to market itself.
Get Feedback from Your People – Your stylists and estheticians can be one of your biggest marketing tools on social media, so before you make any big decisions about marketing, it could be a great idea to consult your people and get any feedback or ideas on how your salon can improve or create a marketing plan.
It's time to start effectively marketing your salon! We hope you feel confident now that you have more insight about the tools and efforts needed to create a comprehensive and effective marketing strategy and brand presence. When in doubt, a good rule of thumb is to try different things, invest more in marketing efforts that are already working, and discontinue strategies that aren't giving you a return on your investment. For even more help promoting your salon, learn about Minerva Beauty's exclusive discounts for Square Appointments!
Image Credits: Africa Studio/Shutterstock.com