Back to Blog
The Essential Esthetician Supplies List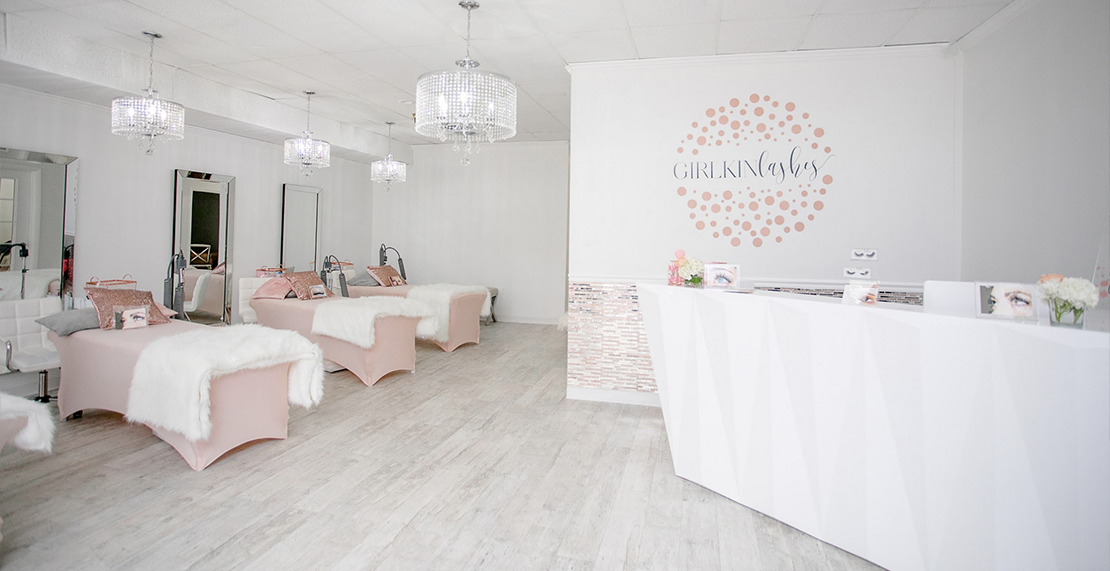 Equip your esthetics spa with essential supplies to set your team up for success
Essential Esthetician Supplies & Equipment
Are you opening a salon or a spa? There are so many things to keep top of mind when you are starting your business, including a variety of supplies to check off a list. At Minerva Beauty, we are not only your one-stop shop for all things skin care equipment, but we also want to be a resource that you can count on to support and grow your business.
That's why we have created a checklist for essential esthetician supplies so you can feel confident that you aren't missing anything. From purchasing skin care technician chairs to shopping for waxing supplies, this comprehensive list will help you open your esthetics spa with complete confidence.
Esthetician Supplies for Every Aspect of Your Business
There are many aspects of your spa or salon that you will need to take care of, which is why we have broken this down into separate categories. From the legal aspects to purchasing equipment sanitizers, this list will ensure you have everything ready.
Licenses and Signage
Before you open your salon or spa and start shopping for skin care lighting, there are many legal aspects and logistics to nail down. Every state and region is different so it's important to make sure you research local laws and certifications needed for salons and spas, as well as esthetician licensing requirements for staff. Because some clients are still concerned about COVID-19 transmission, it's also critical to research local and state regulations in regards to wearing personal protective equipment (PPE) and social distancing.
Here is a list of items that should be taken care of before your grand opening:
State licenses for all estheticians

Signage

expressing any dangers associated with chemicals the salon or spa is using, which is required by state law

COVID-19 signage stating policy on masks and social distancing

Handwashing signage

A list of health and safety rules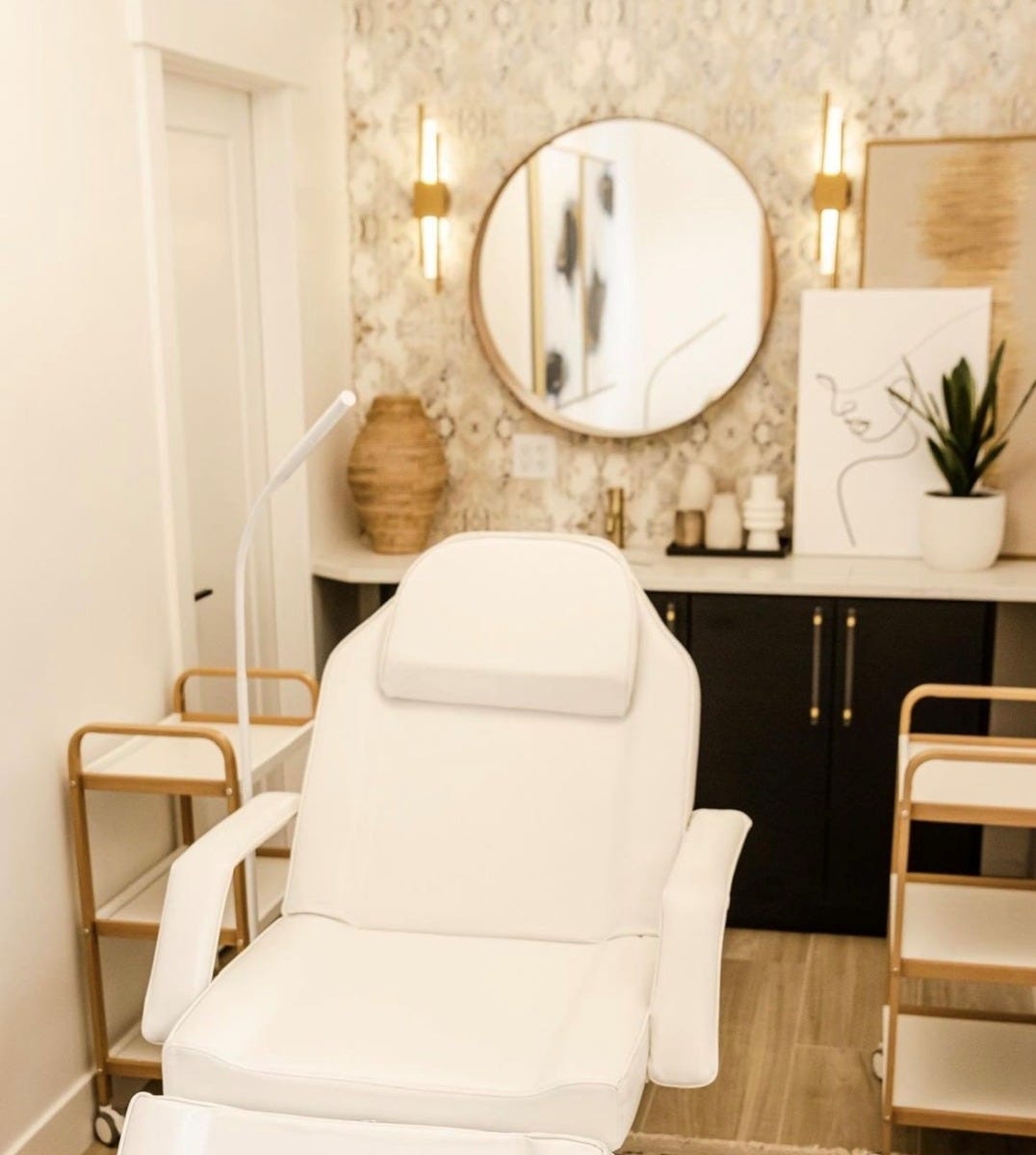 Equipment and Supplies for Skin Care Procedures
For esthetics spas and medspas, you will need to make sure you have state-of-the-art equipment to offer premium services. From facial beds to waxing supplies, here is everything you will need to stock up on:
Dedicated skin care equipment & components:

Sunscreen
Shop All Esthetician Equipment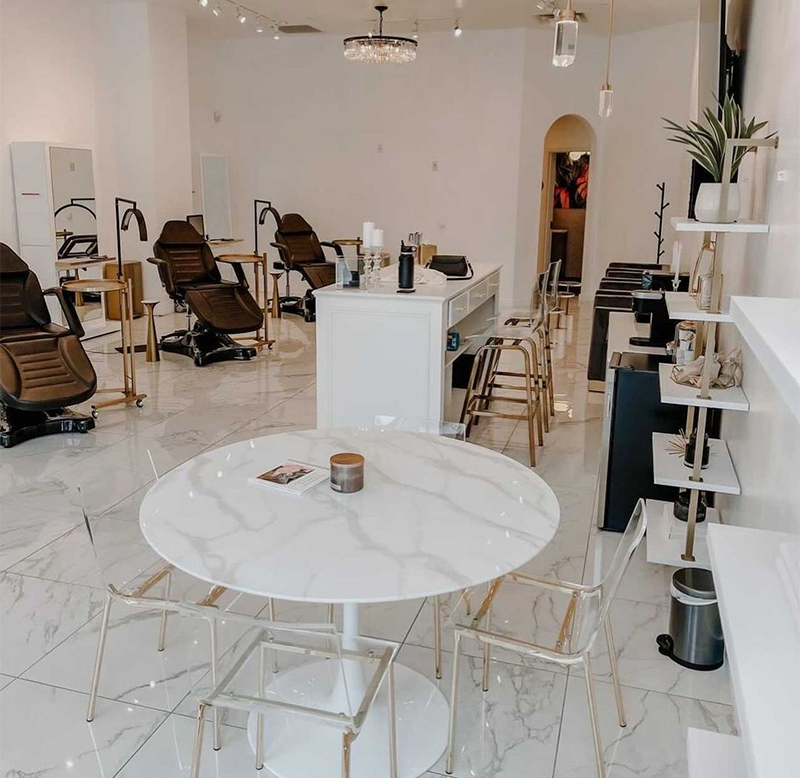 A chic and well-appointed esthetics spa makes a beautiful first impression on guests
Basic Esthetician Supplies to Stock Up On
Estheticians use highly specialized tools and equipment to provide professional skincare treatments, but there are also essential esthetics supplies you can find at a drugstore:
Baby wipes

Tissues

Hand sanitizer

Microfiber washcloths

Cold cream makeup remover

Astringent/toner

Cotton rounds

Sponges/wedges

Extractors

Tweezers

Facial moisturizer
Because estheticians work in close proximity to their clients' faces, having the right supplies on hand to maintain proper sterilization and prevent the spread of germs is critical.
Spa Cleaning and Sanitation Supplies
Sanitation and cleaning is something salon and spa owners cannot skimp out on. There are a variety of ways to keep your esthetician equipment, supplies, tools and room sanitary, which is why we have put together this list of cleaning and sanitation supplies you need to protect your clients and staff.
Personal Protective Gear for Salons and Spas
Since older adults and other at-risk populations may still have concerns about COVID-19, it's important to provide protective gear for those taking extra precautions. However, even in a non-COVID-19 world, salons and spas still use a variety of protective measures to keep their spaces clean and sanitary. Here are some of the essentials:
Disposable liners for spa chairs

Facial bed and massage table liners

Gloves

Masks

Table shields

Aprons and drapes

Robes

Disposable towels
Every salon and spa is unique, which means that your esthetician business may require special equipment or tools for the specific services you will be offering. It's always a great idea to ask your estheticians for feedback on the kinds of supplies they need and want to do their job to the best of their ability.
Keep reading: Minerva Beauty is a proud sponsor of The Spa Industry Association, which offers free memberships and many benefits for spa owners and estheticians.