Back to Blog
The Ultimate Guide to Barber Shop Design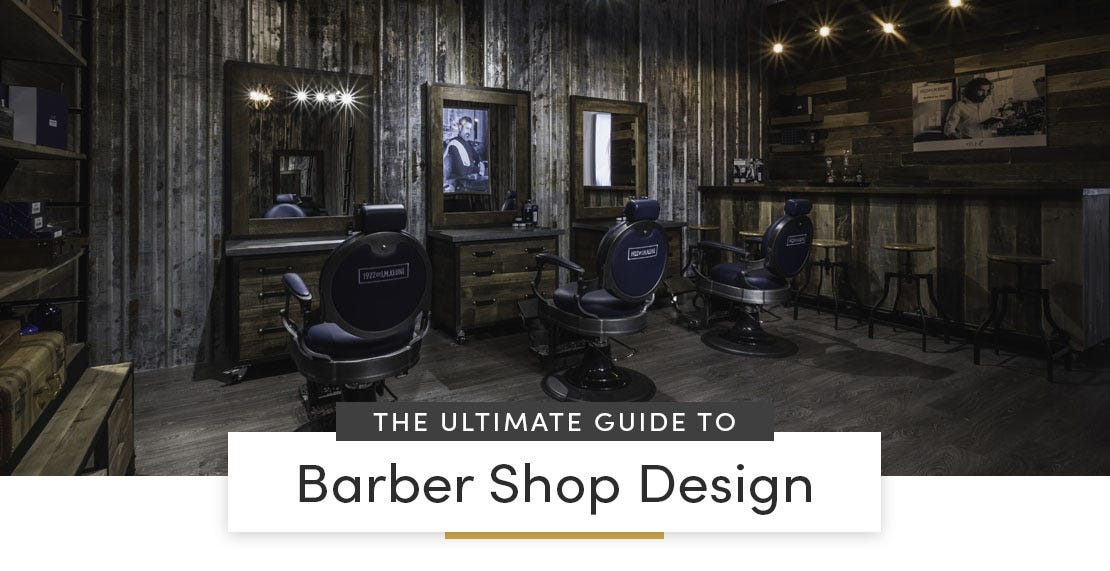 Whether you are opening a new barbershop or renovating your existing place, you will need to determine your shop's aesthetic and the goals you have for the interior design and layout.
Luckily, you have come to the right place. Not only is Minerva Beauty your one-stop shop for purchasing barber equipment, but we are also a resource to leverage as you open your barbershop, renovate it or redesign it. In this article, we will discuss all aspects of designing your salon, but we also encourage you to check out our blog to learn more about the latest design trends for barbershops.
There are many steps and considerations you will need to take as you begin to design your barbershop. In this article, we will walk you through each step to ensure you check all of the boxes.
But let's start with the fundamentals.
Shop Minerva Beauty's Barbershop Equipment
Why Good Barbershop Design is Important
While your stylists' incredible work and your shop's remarkable customer service will be large determining factor's in your barbershop's reputation, the design of your space also plays a big role. While the saying "Don't judge a book by its cover," is quite popular, prospective clients will most likely judge your shop by its appearance before they decide to visit. Your existing clients will most likely also appreciate a nicely-designed barbershop. Here are a few reasons why design is critical to a barbershop's success:
A good design and strong aesthetic attracts customers.

Your barbershop's design can further demonstrate your company branding.

Salons that are designed nicely attract more talent.

Client and talent experience is enhanced with a great-looking design.

You could charge more for your services if you

purchase barber chairs

and equipment that make your shop look more modern and luxe.

The Different Kinds of Barbershop Aesthetics
Most barbershops will center their design and look around one kind of aesthetic. There are a variety of popular looks and so many opportunities to create your very own vibe. However, if you want to pay homage to classic barbershops while giving your space a unique vibe, we highly recommend looking into these barbershop aesthetics.
Classic and Vintage
Envision a traditional or vintage barbershop with wood grain finishes and classically designed barber stations. While this classic aesthetic pays homage to older-looking barbershops, there are a variety of ways to elevate the aesthetic by adding accents like checkered floors or a new barber pole.
Industrial
Barbershops that are located in lofts with exposed pipes and prioritize stainless steel finishes have a masculine, industrial feel. This is a popular aesthetic for barbershops. You can translate the style into your barbershop by purchasing barber mirrors that have an industrial or reclaimed look to them.
Modern
Modern barbershops prioritize bold and refreshing colors with clean lines and sleek furniture. When you're shopping for the best barber chairs, you want to make sure you're filling your barbershop with modern, clean pieces that are also timeless. Modern shops also prioritize minimalist design principles.
Mid-Century Modern
If a blend between classic and modern is more your shop's style, the mid-century modern aesthetic may be for you. The mid-century modern aesthetic takes vintage accents and applies them to modern pieces. This aesthetic is a very popular choice for salons and barbershops.
Do you see an aesthetic that rings true to the look and feel you want to bring into your barbershop? You can also adapt each look to make it unique to you, your people and your business.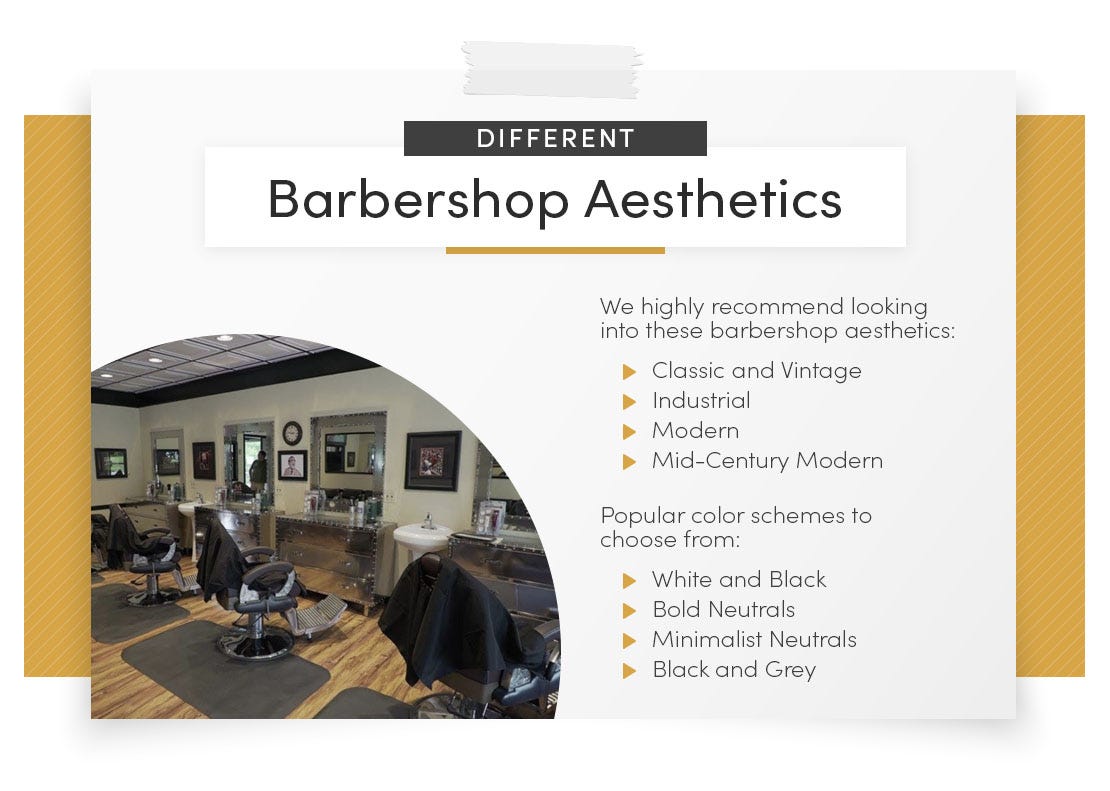 The Best Barbershop Color Schemes
Another important design factor that you will need to consider is the overall color scheme for your barbershop. Color plays a big role in how your clients and people feel. Colors can enhance moods if used correctly and paired well, which is why we think it's important to determine a color scheme. If your barbershop's logo and branding currently use specific colors, you will want to weave those colors into your shop's overall color scheme—unless you are redoing your branding. Determining your aesthetic before you choose your color scheme will help you align with your design needs and wants for a more cohesive look. Here are some popular barbershop color schemes to choose from.
White and Black
If you're going for a modern and minimalist look, you can't go wrong with black and white.
Bold Neutrals
For mid-century modern salons, using neutral colors like military green, burnt orange and beige will play well with the kinds of furniture and decor you will fill your shop with.
Minimalist Neutrals
If you're going for a traditional or classic barbershop, use muted neutral tones. Since these tones are so versatile, you can easily work in a bold pop of color like red or blue if you want to.
Black and Grey
Different shades of gray and black will add a masculine and edgy feel to your barbershop. If you want to create a moody and edgy atmosphere, these colors will get you there.
Align Branding with New Design
Your barbershop's branding should also be renovated with the design of your shop. The two should blend seamlessly together as your shop's design should take notes from your branding and logo. As you redesign your barbershop, make sure to reinforce your branding throughout the space. Whether that be with a large logo above the reception desk or with colorful wall murals and decals. Your barbershop's branding should be consistent and apparent throughout.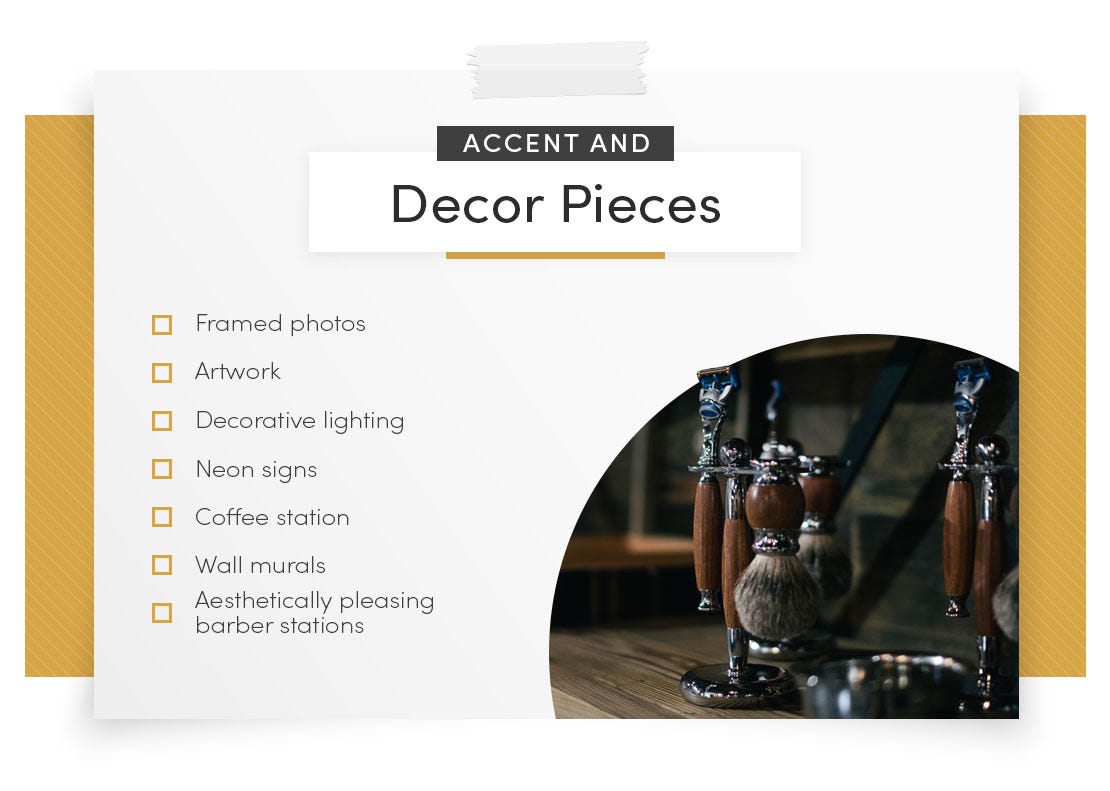 Use Decor to Give Your Barbershop Personality
Are you curious about how you should decorate your barbershop? If you want a cohesive design that aligns with your aesthetic and is appealing to your clients and people, we have some advice on which decor to prioritize. We highly suggest creating a mood board once you have determined your barbershop's aesthetic and color scheme, which will help you identify the direction your decor needs to go in. Here are some accent and decor pieces that will look great in your barbershop.
Framed Photos

– Framed sentimental photos that have a personal tie to the barbershop can give your space a personality and add a nice touch.

Artwork

– Artwork that matches your barbershop's aesthetic will give your space a sophisticated look.

Aesthetically Pleasing Barber Stations

– Barber stations that align with your aesthetic can also serve as decor.

Neon Signs

– Neon signs are a great way to reinforce your branding and welcome clients. They also add a unique and modern touch.

Decorative Lighting

– If your shop's aesthetic is moody, you may be able to decorate with lighting.

Wall Murals

– Wall murals are a great way to bring the outside inside and they can give your shop a truly unique piece of art that draws clients in.

Bar Cart or Coffee Station

– Treat your clients with a drink or coffee with your barbershop's very own bar cart or coffee station. This amenity can also serve as decor!
Optimize Barbershop Storage
How do you currently store barber essentials? An important aspect of having a barbershop design that works for its people is having storage that is organized and easily accessible. Storage isn't necessarily hidden in every barbershop, which is why it's important to think of it as a design aspect. If you find that your barbershop isn't organized neatly, part of your shop's new design could incorporate more organization and cleanliness to give the space an instant boost. Here are some storage techniques that are also aesthetically pleasing.
Floating wall shelves for retail products and towels

Sleek cabinets

Barber stations with built-in storage

Barber trolleys and carts

Plan for Any Renovations
Whether you have purchased a new space or you are planning to renovate your existing barbershop, renovations can be helpful in creating the best space for your clients and your people. However, they may not be necessary for every shop. Here are some questions to consider that can help you determine if you need renovations.
Does my current space and layout work well for my business, people and clients?

Is my floor plan and space conducive to my business growth?

Are there any areas of the shop that could be renovated?

Does my barbershop accurately reflect my business and where it's heading?

Do we need more space?

Do we need additional rooms or areas?
Shop Minerva Beauty's Barber Stations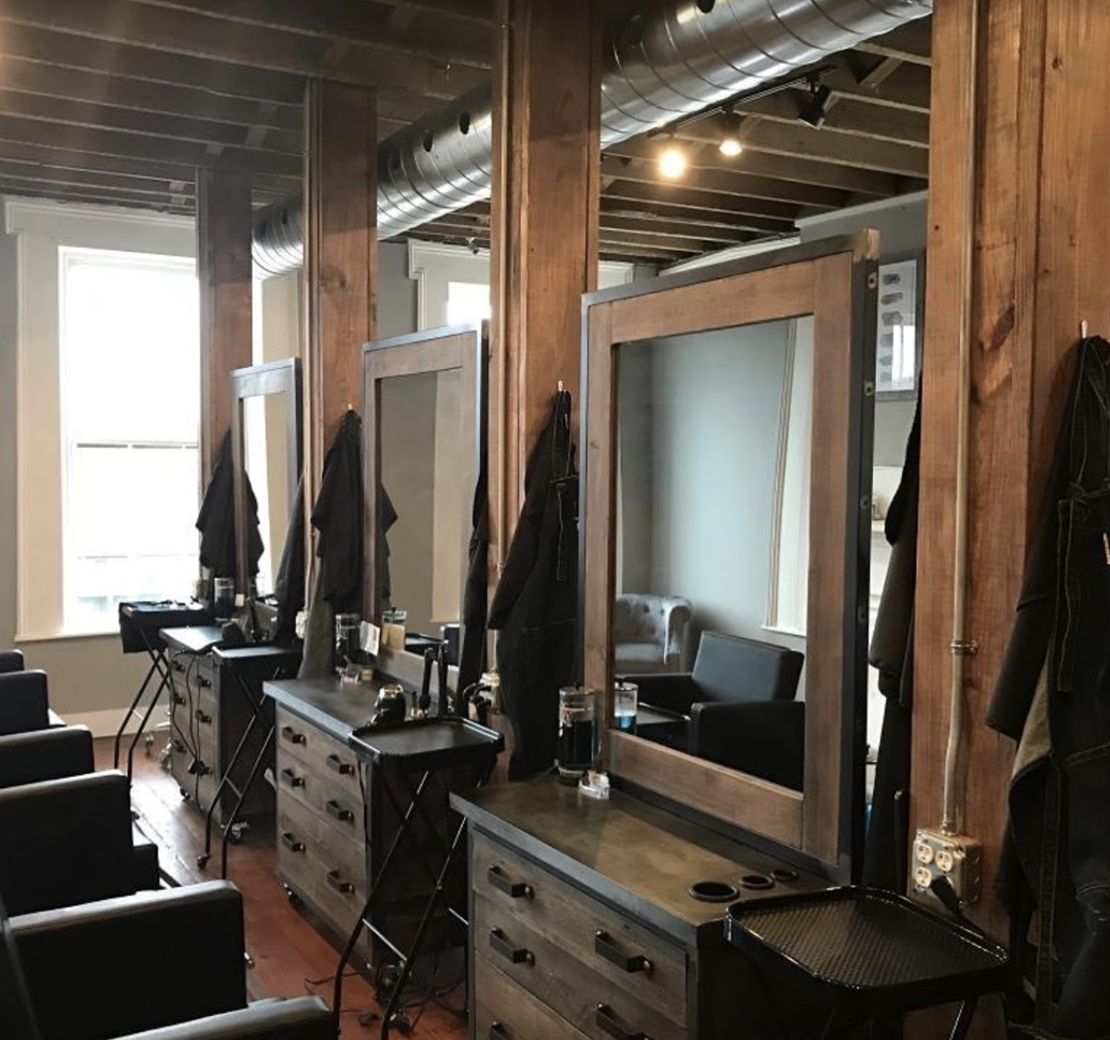 Get the Barbershop Lighting Right
One of the most overlooked, but important aspects of barbershop design is the lighting. Not only do your barbers and people need to be able to clearly see the services they are performing, but it's also important for clients to see their new style in stellar lighting. Here are some ways that you can improve the lighting situation in your barbershop as you design or renovate your space.
Prioritize natural light by leveraging large windows.

Replace existing light bulbs to improve overall lighting.

Use large mirrors to bounce natural light throughout the shop.

Replace the entire lighting system to improve your shop's lighting.

Invest in good lighting.
Design the Reception and Waiting Area with Clients in Mind
You want to make sure your barbershop prioritizes your clients in every way. With the waiting room and reception area, you have an opportunity to make your clients feel comfortable and welcome. With that being said, this is an area of your shop that you should prioritize when it comes to designing it. Decorate the space with artwork that matches your shop's aesthetic, comfortable and sleek furniture, retail products and a welcoming reception desk.
Don't Forget the Facade
The look and feel of the outside of your barbershop is just as important as the inside. With that being said, could your shop use new signage or a fresh coat of paint? If so, you may want to focus on designing the facade. Here are some things to prioritize for the outside of your shop.
Repaint the exterior with a new, bold color.

Renovate your barbershop's signage.

Decorate the exterior with chairs, tables, plants, etc.

Replace windows or doors.

Hang up signage that showcases promotions, hours of operation and your services.

Create a Budget for Design
After you have taken all of your design needs into consideration, it's time to create a budget. Of course, redesigning your barbershop can be expensive, but if you create a thorough budget that has room for flexibility, you can achieve everything you desire well within your means. Here are some important budget items to include when planning out your expenses.
The amount of money you feel comfortable spending

Cost of paint and a painting service

Lighting costs

Decor costs

Cost of

purchasing barber supplies

and equipment

Exterior renovations

Flooring repairs
Get Feedback About Your Barbershop's Design
As you begin to design or renovate your barbershop, you can solicit feedback from your clients and your people about your shop's current design and your future plans. Gathering feedback can be very insightful when it comes to determining what's most important to your clients and your people. Feedback can also illuminate any pain points your people may be feeling around the shop, for example, a layout that doesn't allow them to freely move about the shop. With this feedback, you can prioritize design initiatives that stand to have the biggest impact.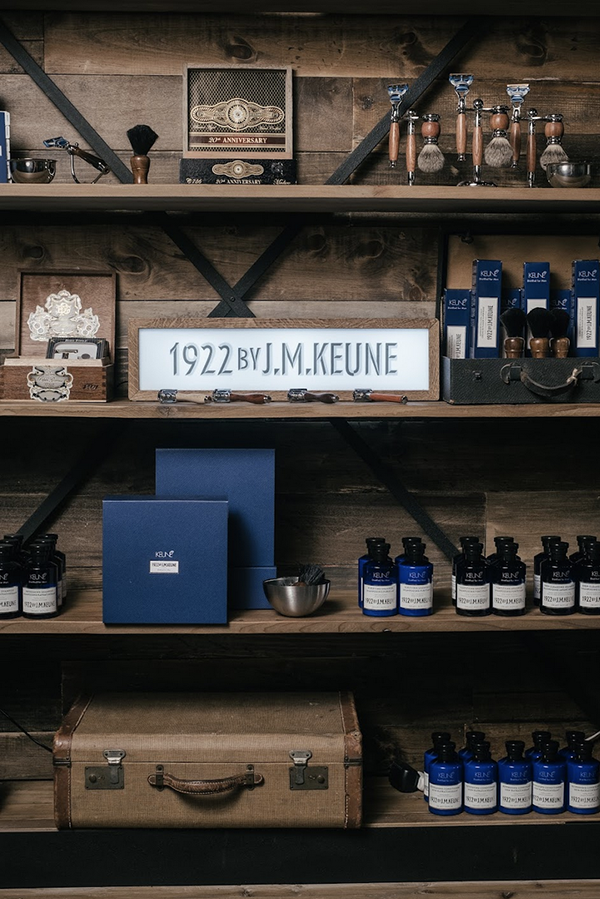 Planning out all aspects of designing your barbershop may be overwhelming, but we hope we have laid out a plan and guide for you to use. Don't forget to leverage Minerva Beauty's blog posts on barbershop design ideas and color schemes to help plan your renovation.